GOTHIQUE
UN CADAVERIA ENCORE FRAIS
La formation de black/gothic metal italienne CADAVERIA présentait début septembre son nouveau clip, « The Woman Who Fell to Earth ».
Ce titre était sorti en juin sur les plateformes en tant que single. Le clip a été tourné dans un vieux village du Piémont, au Nord de l'Italie. Les images évoquent l'existence de dimensions parallèles et d'une présence féminine multiforme, parfois mystérieuse, qui visite notre planète malade pour lui donner une nouvelle énergie. La vidéo montre également un aperçu de certains bijoux faits à la main, un collier et un pendentif portés par la frontwoman Cadaveria elle-même, qui sont désormais disponibles à la commande sur ce lien http://bit.ly/shopcadaveria !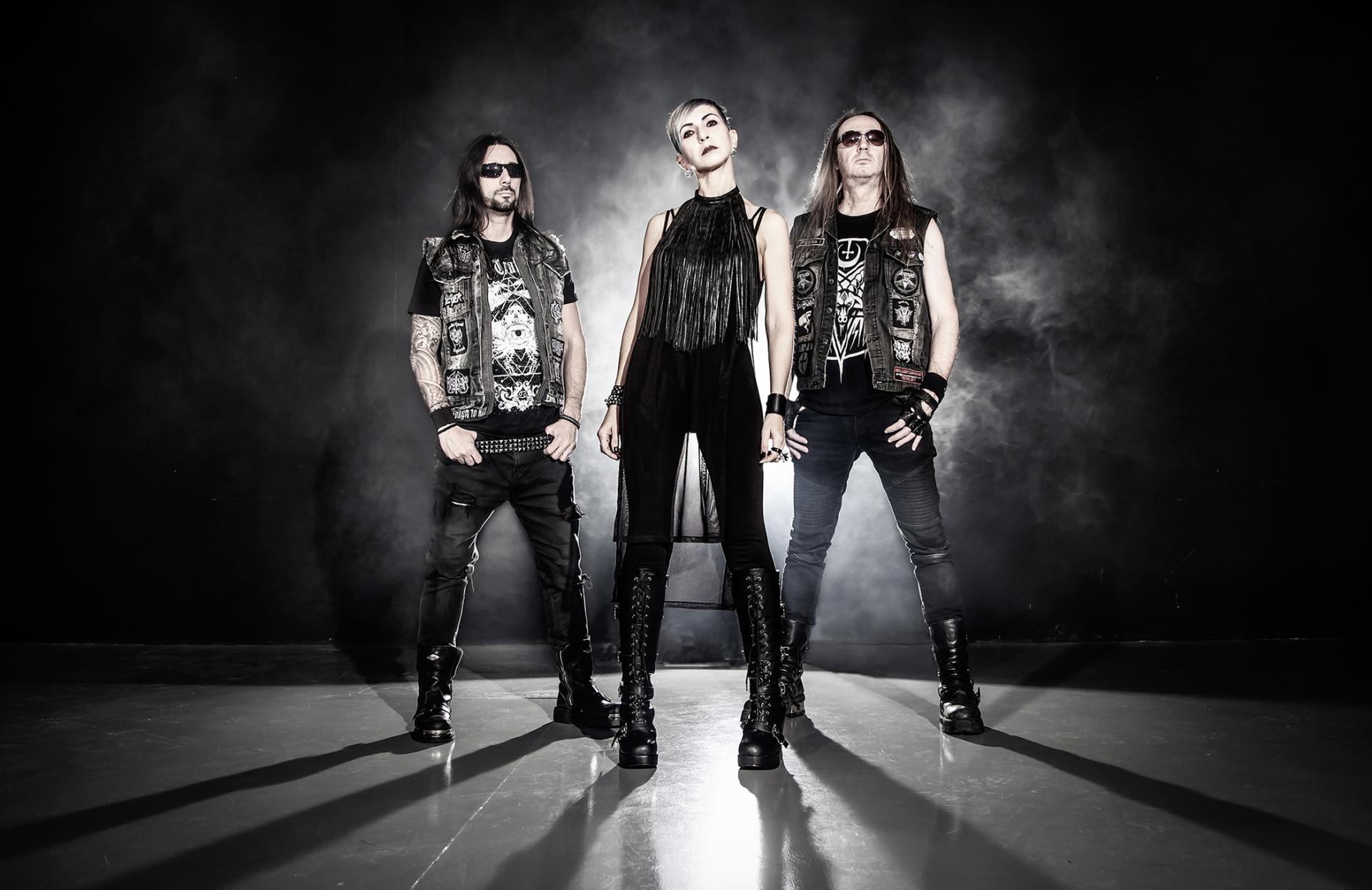 Le single « The Woman Who Fell to Earth » peut être écouté et téléchargé ici : http://bit.ly/twwfte
Groupe :
Invading Chapel

Album : Ghostly Rock Season (2020)
Genre : Metal Gothique / Doom
Origine : Ile de France
Par Ahasverus
Le Groupe :
Invading Chapel existe depuis 1996. Il se cristallise autour de Loïc Malassagne (
Hot Hell RooM
) qui assure le chant, la basse, les guitares et les claviers.
En 1999, Invading Chapel présente "Songs Of The Night", son premier album.
Il sera la démo du mois de "Hard 'N' Heavy" et le titre "Zombie Night" apparaîtra sur le CD sampler du magazine aux côtés de Grip Inc., de Misanthrope et de Galactic Cowboys.
Six albums suivront.
En 2020, Invading Chapel revient avec un huitième opus...
"GHOSTLY ROCK SEASON"
L'Album :
"Ghostly Rock Season" est un onze titres de quarante-quatre minutes.
Il est défendu par le clip "Insanity" :
Autour de Loïc Malassagne, Ludovic Rouix (Hot Hell Room) et Jim D assurent la batterie.
Jan D pose des soli de guitare sur les titres "Her Last Season" et "At Nightfall".
Lullangel (
Onirik Illusion
) partage le chant sur "Mina Harker" et "Paris Spleen".
Mina Harker est un personnage de Dracula, le roman de Bram Stoker.
L'album contient en septième piste "It's No Good", un morceau de Dépeche Mode figurant sur l'album "Ultra" (1997).
Notre Avis :
Sombre comme un Type O Negative, puissant comme un Danzig (Insanity), Invading Chapel est avant tout une signature vocale remarquable, celle de Loïc Malassagne.
Sachant saupoudrer son Doom de Heavy (arrangés différemment "Injury And Sin" ou "Snowy Grave" pourraient être du Hot Hell Room) "Ghostly Rock Season" reste viscéralement désespéré (Forsaken Place, Her Last Season, Mina Harker), la voix de basse de Loïc tirant l'opus vers le dark.
Subtilement dosés, les titres se parent pourtant d'une certaine légèreté (Paris Spleen, The Courtesan of Dream, It's No Good) qui donne des respirations à l'atmosphère doom de l'ensemble.
Parfaitement assimilée et fondue dans l'album, la cover de Depeche Mode passe comme un titre original du groupe.
La plume foisonnante de Loïc Malassagne saura aussi durablement imprimer ses mélodies dans votre mémoire (Zero Absolution). Il livre avec "Ghostly Rock Season" un bel album de Metal Gothique, un rendez-vous avec un vampire, l'occasion de découvrir, si ce n'est fait, un artiste prolifique et romantique d'une grande originalité, au timbre et au phrasé bien identifiables, pas encore reconnu au niveau qui lui revient.
Les Liens :