English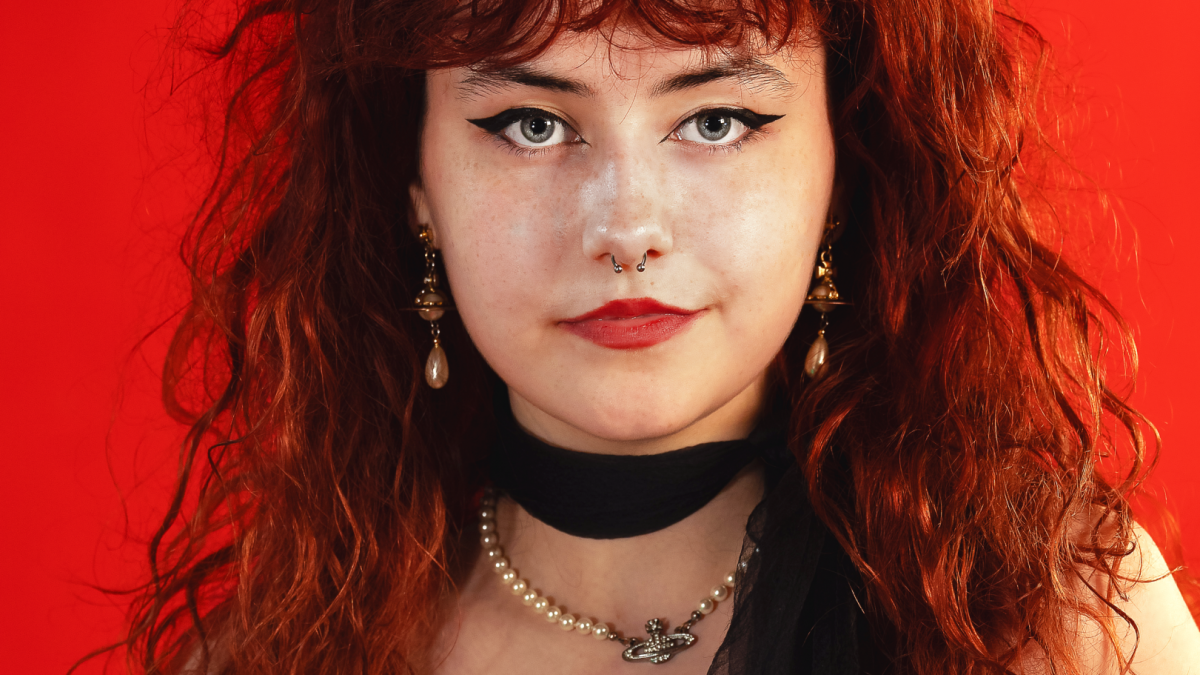 ALYSSA GALVAN - The number of years.
« My biggest love is to play music for whoever is willing to listen. »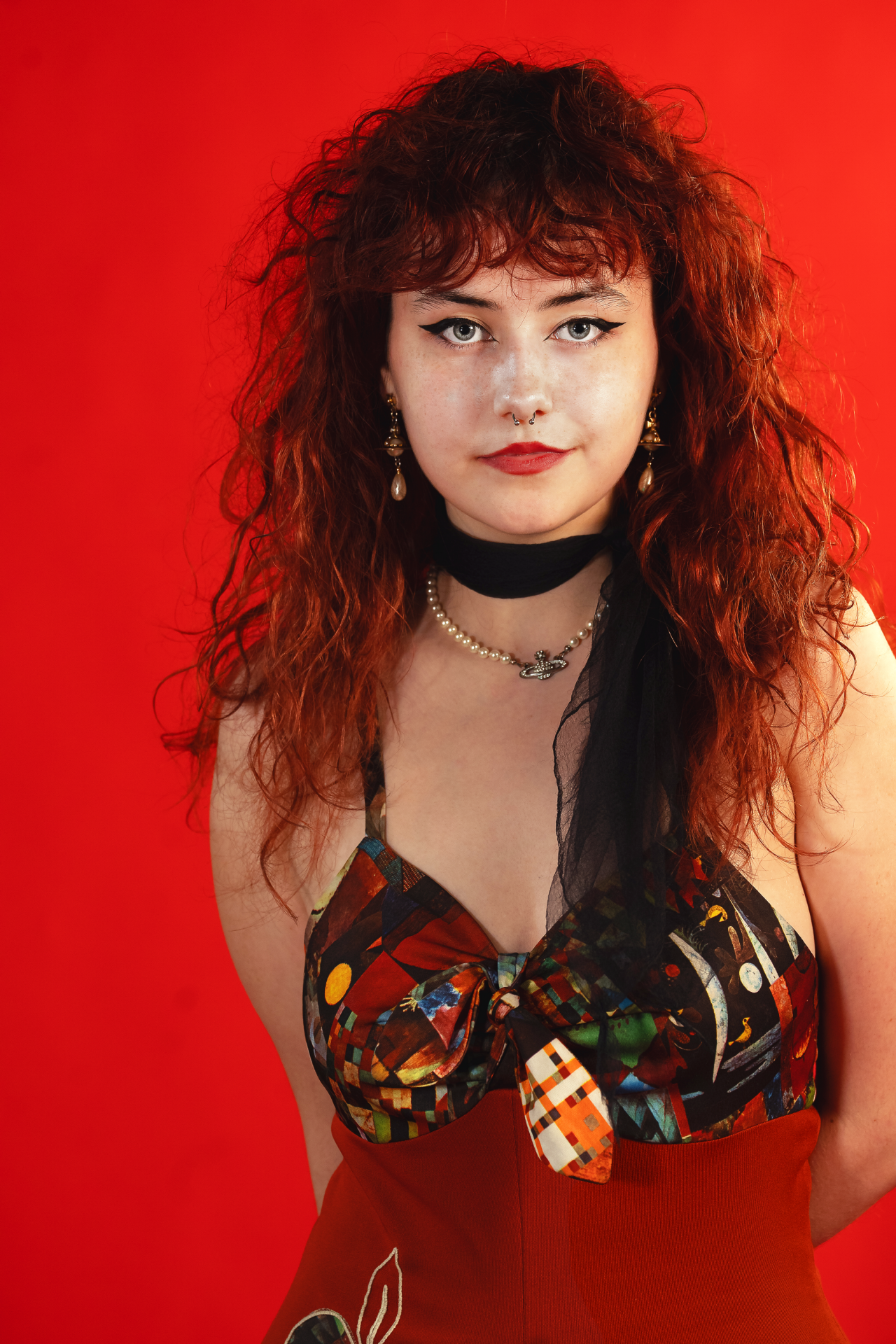 Alyssa Galvan is an American songwriter who released her first album in 2021 at the age of sixteen.
After touring the USA from festivals to clubs, after having played in France and Croatia, she's preparing a French tour for the summer 2024 with the Alyssa Galvan Band.
At only eighteen years old, Alyssa is one of those artists who came to music as an evidence. This interview offers you to know more about this remarkable young singer who reminds us that «value does not wait for the number of years». Based on what she has already shown, her name could be one day written in golden letters on the pediment of the international musical landscape. Do not wait any longer to discover her !
Interview released by email by Ahasverus in November 2023.
---
Ahasverus : Hello Alyssa Galvan. What is the first memory that connects your life to music?
Alyssa Galvan : When I was young growing up, there was always music being played around the house or in the car. I always found myself asking my parents to play certain songs and certain singers that I really liked, particularly women. After many years I asked for a guitar and finally received one when I was ten years old. That was an opening to a whole new world for me.
Ahasverus : What event made you think : "I want to become a musician"?
Alyssa Galvan : I had first started performing at open mics and jams, it was the best start for someone like me. Being so young and having no real idea of how to pursue a musical career, these places were the best for my beginning. When I had the opportunity to play my first gig at thirteen I felt like I had reached a whole new level. It inspired me and helped me believe that music could really be something I pursue rather than just a hobby on the side.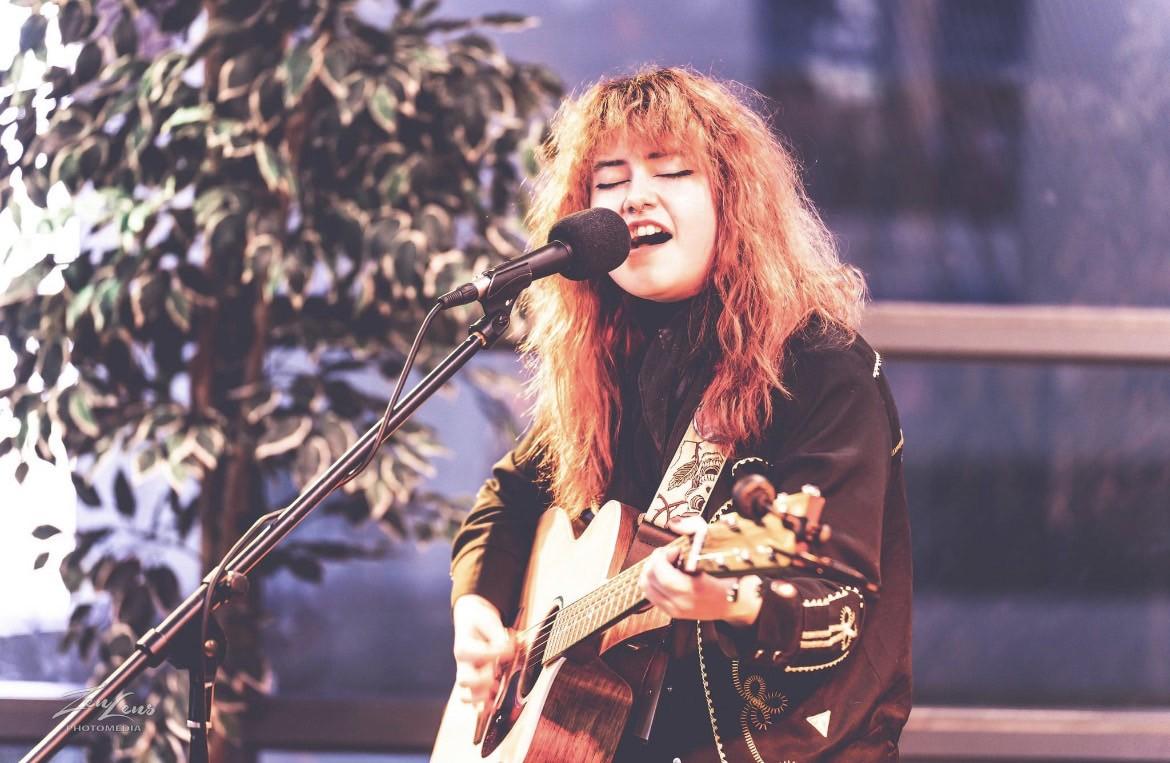 Ahasverus : Tell me more about your music learning...
Alyssa Galvan : When I was ten I enrolled in guitar lessons at a music store local to me and had an incredible teacher. He helped me learn all of the basics before encouraging me to take a different path. Being instructed, whether it be in music or school, was always more difficult for me and I found myself becoming more dedicated to practicing on my own. As my guitar skills progressed I slowly started to try singing and playing at the same time. Luckily for me, this came naturally. Over time I have continued to grow with both my guitar skills and singing skills with solo practicing
« As soon as I dove into learning and writing music, it's all I have ever done. »
Ahasverus : When did you write your first song ?
Alyssa Galvan : Before I even learned simple chords on the guitar I remember creating my own melodies and lyrics. Looking back- it was always something I seemed drawn to. For me, my first real original composition is a song I called "Thanatos" that I composed when I was twelve years old.
Ahasverus : Your age is often put forward to emphasize the maturity of your music, your singing, your songwriting. What inspires you?
Alyssa Galvan : I've always been naturally drawn to music. Everything about it has always felt so right for me. I was lucky to find my ambition for this early on. As soon as I dove into learning and writing music, it's all I have ever done. I think I was able to connect and grow from a young age because I was always an outsider from those my age growing up. My interests were always different from my peers which only led me to indulge in music further.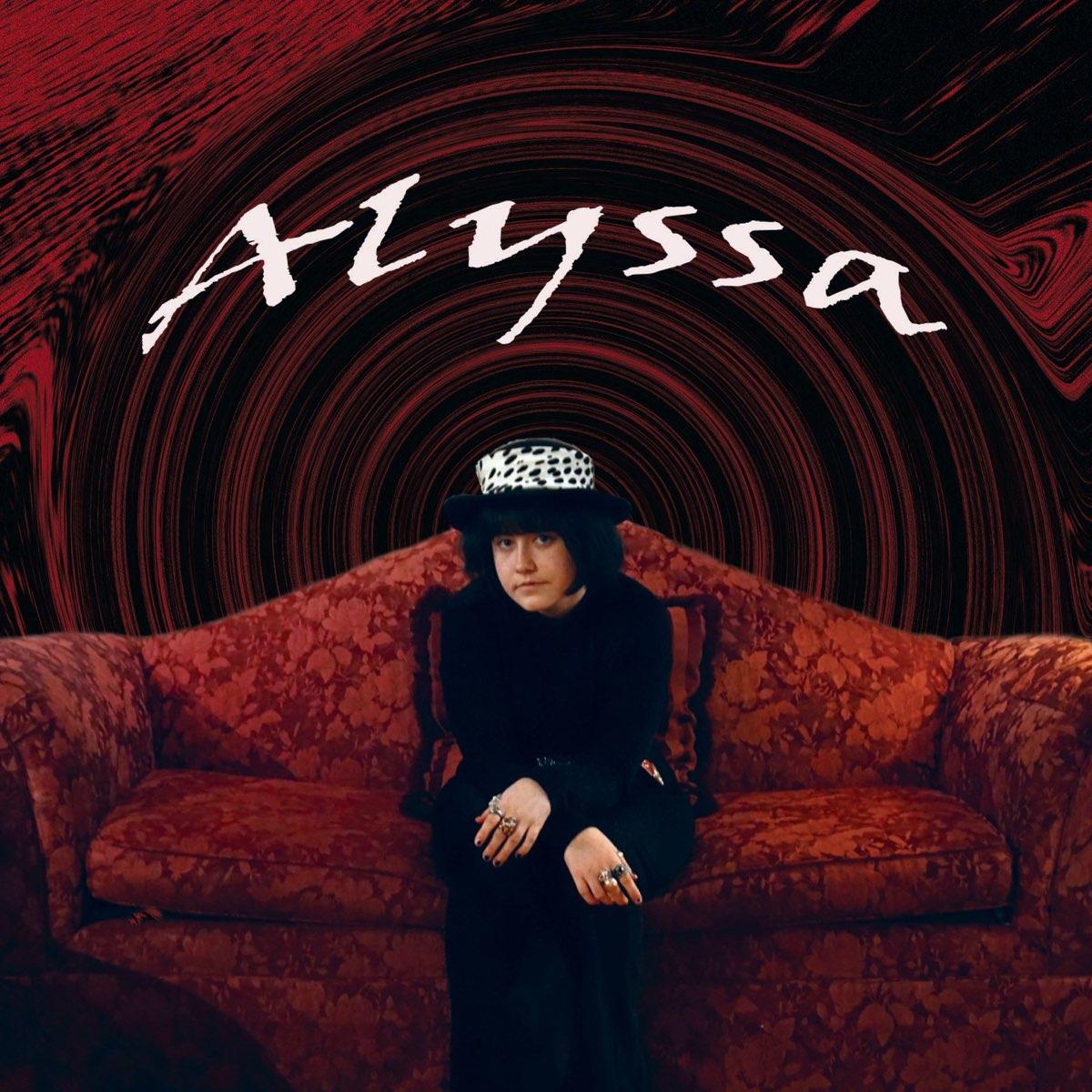 Ahasverus : Who are your models?
Alyssa Galvan : The first two musicians I found when I was around eleven years old who really inspired me to become a performer were Iggy Pop and Lou Reed. These two remain close to my heart and they were my introduction into the music scene of 1970's New York. This era sparked the beginning of my real love for music. I was drawn to the punk rock, new wave, glam, and experimental attributes of these bands that performed at Max's Kansas City and CBGB. From Iggy Pop's several covers of Muddy Waters and John Lee Hooker, I dug deeper and found the roots of blues music. Early 1900's delta blues was the first to grab my attention before I was drawn to the later on electric blues. I especially look up to the strong fundamental women in blues such as Big Mama Thornton, Sister Rosetta Tharpe, Memphis Minnie, etc.
« .Early 1900's blues artists put their heart and soul into every song they wrote. While I do not have the same struggles to share as they did, I am always reminded to say what you mean and mean what you say. »
Ahasverus : When you're singing, your voice seems to be totally «letting go». Which artists inspire you?
Alyssa Galvan : My songwriting comes from things I see, things I hear, things I experience. Whatever is around me. If I have an idea- I will write it. I have a love for all kinds of music which allows me to pull influences from everywhere. Early 1900's blues artists put their heart and soul into every song they wrote. While I do not have the same struggles to share as they did, I am always reminded to say what you mean and mean what you say. Some songwriters I draw inspiration from for my solo work are Tom Waits, Leonard Cohen, Elliott Smith, Melanie Safka, and Nina Simone.
Ahasverus : You are an American citizen and you've already shared the stage with many renowned artists. Which one impressed you the most?
Alyssa Galvan : I've had the opportunity to connect with Bob Margolin who joined Muddy Waters and his band as his guitar player in 1973 for seven years. He's shared a lot of advice and stories with me each time we meet and has always been incredibly supportive. He's never afraid to act the way he wants on stage and I admire that. I remember the first time I shared the stage with him and he announced my name in the microphone. It was like my head was under water and I knew I just needed to play stronger than I ever had before. This past summer I had the chance to learn from Doug MacLeod who has worked with a numerous amount of incredible musicians, my favorite being Big Mama Thornton. Doug's guitar skill inspires my own and I learned a lot of things from him. He's another who is full of phenomenal stories and advice. He's truly got "cool" written all over him.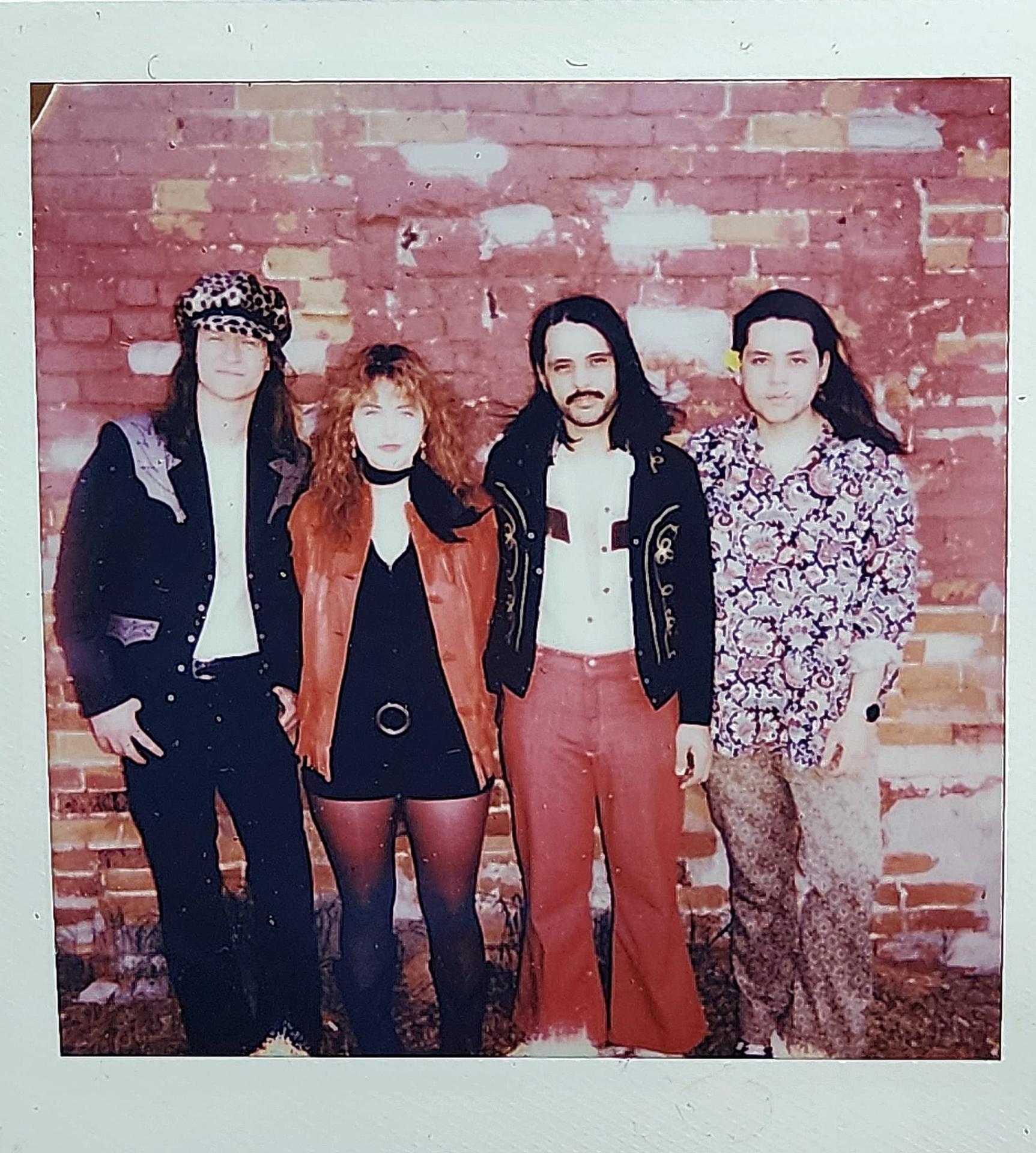 Ahasverus : Tell us more about The Pink Amoebas...
Alyssa Galvan : With The Pink Amoebas we have one full length album that is finished and ready to be released any time now. We have a few singles from the album available to stream on all streaming platforms just under "The Pink Amoebas". This is a band that was formed with a very good friend of mine, Pamu Rufio. We first met because he runs his own studio and is incredibly talented in all things recording and video. We decided to put our varying music tastes together to create a fun band that people can sing and dance to. The best way I can describe this group is "alternative doo-wop".

Ahasverus : Your present is also the Alyssa Galvan Band. What does this project bring you?
Alyssa Galvan : Alyssa Galvan Band allows me to bring a whole new life to my songs. I've never been able to fully work my music in a blues/soul/funk style like I have now. This band gives me the chance to share my songs in a different powerful way from my other projects in the past and present. Not only the presentation of my songs but working with all French musicians has opened me to an entirely different audience. My biggest love is to play music for whoever is willing to listen and this group gives me the opportunity to take my music to a country foreign to me and do just that.

Ahasverus : The musicians accompanying you are French. Can you introduce them?
Alyssa Galvan : I'm honored and humbled to work with three incredible French musicians in this band. Each of them bring their own individuality to the group. On bass is Pierre Cabirol who first found interest in music for fun before pursuing it. He took a few lessons before going to music college and has a degree in jazz musicology. He found he worked successfully on his own, taking perspectives from his teachers. He is giving a hand to the superior pole of music in Toulouse. On drums is Lucas Lopes who began learning music at nine years old in a conservatory and maîtrise. This was something he did for many years before moving to the south of France to continue in another conservatory focusing in classical drums. He is now a conversatoire specialized in drums. Then we have Matéo Perfetti on keyboard. His musical background begins as early as six years old when he learned violin. Later on he began to teach himself on other instruments, form bands, and started playing gigs at seventeen. He currently has a bachelor's degree in music and he validated a degree in jazz musicology. Not only does he add a richness to the music on keys, but he's a mastermind behind the band. I have been fortunate to form such a strong bond with him in life just as in music. He's incredibly talented and has a great ear for arranging- which he does for all of our songs. I admire all the hard work he does to advance this project to be the best it can be. At this point in my life I couldn't imagine working so closely with anyone else.
« I've formed many new relationships with French musicians and individuals and have always felt welcomed. »
Ahasverus : Your music is known in the USA, where you're starting to get notoriety. Why are you interested in a small country like France where you plan to tour in 2024?
Alyssa Galvan : My first experience in Europe this last summer with a previous international project was something I could have only dreamed of doing. It was an incredible experience to perform in both Croatia and France. The biggest goal for me is to travel and share my music around the world with whoever is willing to listen. I've formed many new relationships with French musicians and individuals and have always felt welcomed. It's a beautiful country and I'm honored for the opportunities to share my first international experiences there.
Ahasverus : Your creations have a strong personality. As I listened to them, I thought of Janis Joplin and Amy Winehouse.
Alyssa Galvan : I've always loved both Janis Joplin and Amy Winehouse. I've heard this from several people over the past few years and it is always a very sweet compliment. I think I do draw inspiration from these two artists because they're both strong women full of soul and grit, which I've always admired. I take inspiration from several artists which allows me to be me.
Ahasverus : What's happening in the next six months?
Alyssa Galvan : I've taken just a step back from constantly performing locally to focus on writing new original material for not only the Alyssa Galvan Band but for my solo career and The Pink Amoebas. While I do have some local shows on the calendar, writing is taking up a lot of my time. In January 2024 I will be attending the International Blues Challenge again for the first time as a spectator. The last two years I have performed in the youth showcase but this time I will be exploring other talent and focusing time on networking. As well as a feature on the Women In Blues radio, who has their own showcase in the IBC event. Alyssa Galvan Band is planning on our first official performance in April just a little while before the summer tour. More details for this show will be announced in the future. We are working with KBKC Artistes for a full summer tour around France. We've got many dates lined up so far and are just waiting to announce it for everyone to see. Just as there's ideas of an album with this band I am working on my second solo album, with a release date set for early 2024. Overall, a lot of writing is being done and preparation for the Alyssa Galvan Band French tour 2024!
Ahasverus : Thank you Alyssa Galvan for answering my questions.
Alyssa Galvan : Thank you so much for reaching out and having a strong interest in all forms of new music.

« Everybody pulls each other up. It's an Akiavel's law! »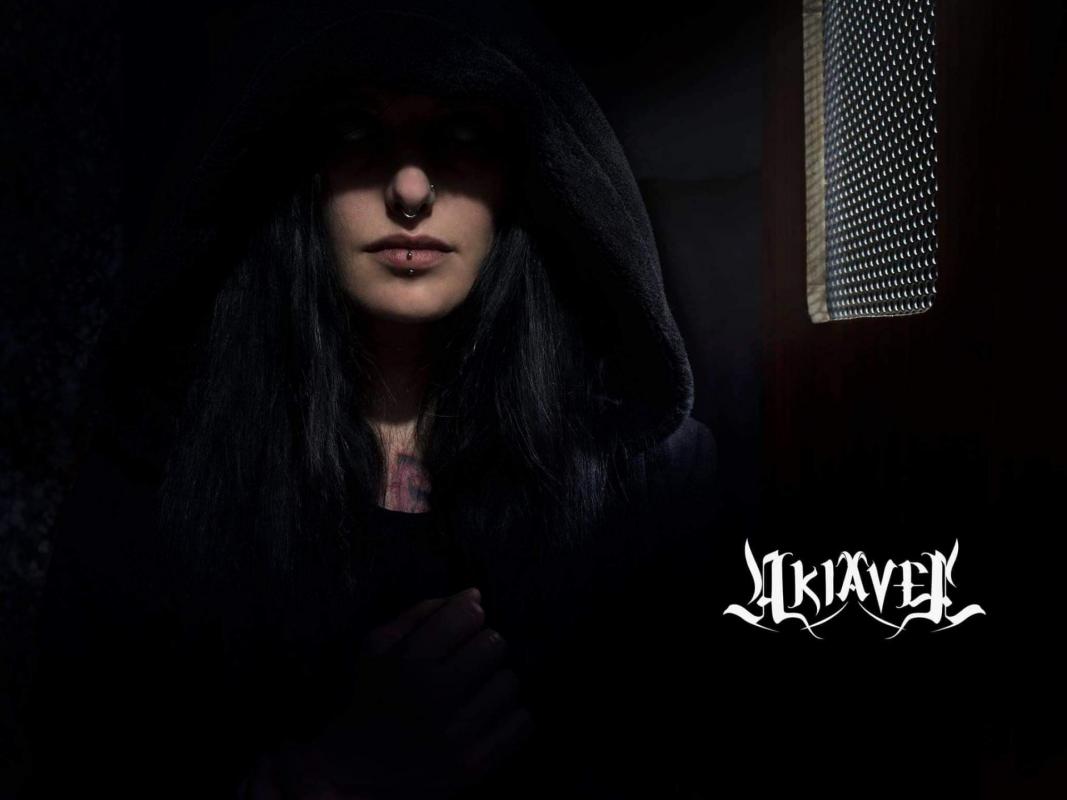 Photograph : Mr Cana Photography
Technical, inspired image, and imagination.
Last February 2020 death metal band Akiavel launched "V", a first out of norms album. A string of video clips followed, each better than the next.
End of the year just coming in and having understood that Akiavel is already preparing some new sweets, we went to meet Auré, its lead growl singer.

By Ahasverus - English translation by Matthieu Horrent.
---
Hello Auré. Did your father make you discover metal ?
Auré : Hi Ahasverus! Yes we can say that this man made me discover metal. I grew up into hard rock, my father made me sang when he played guitar. Afterward, while in metal, I made my way following my instinct! We didn't have internet access like nowadays, so I collected magazines like "Rock Hard" or "Metallian", I went to concerts a lot to build me a culture.
You have been quickly fascinated by extreme metal and death metal…
Auré : Absolutely! Due to several metal gigs in Amiens, I quickly found which music style made me vibrate: Death metal ! Its spirit, the pit, lyrics, guitars riffs… Singing came later to me because I didn't think a woman could handle a microphone in such a music style! When I listened to albums with female growl singers I knew it was possible !
With the help of Julien Truchan (Benighted)…
Auré : Yes! That's true ! He made me discover female growl singers bands !
Year 2018. You explain to Nonoise Nogood: "I make music for around 10 years. I went through several projects but they never were mine. Each time I replaced a singer. This time, something new is maturing…" How did you approach this new step ?
Auré : Akiavel is my baby. An identity built through the five of us. It's the most important project in which I've been integrated, the most serious and the strongest in friendship. We have each our own role in addition to our instruments. Everything was built naturally, real osmosis !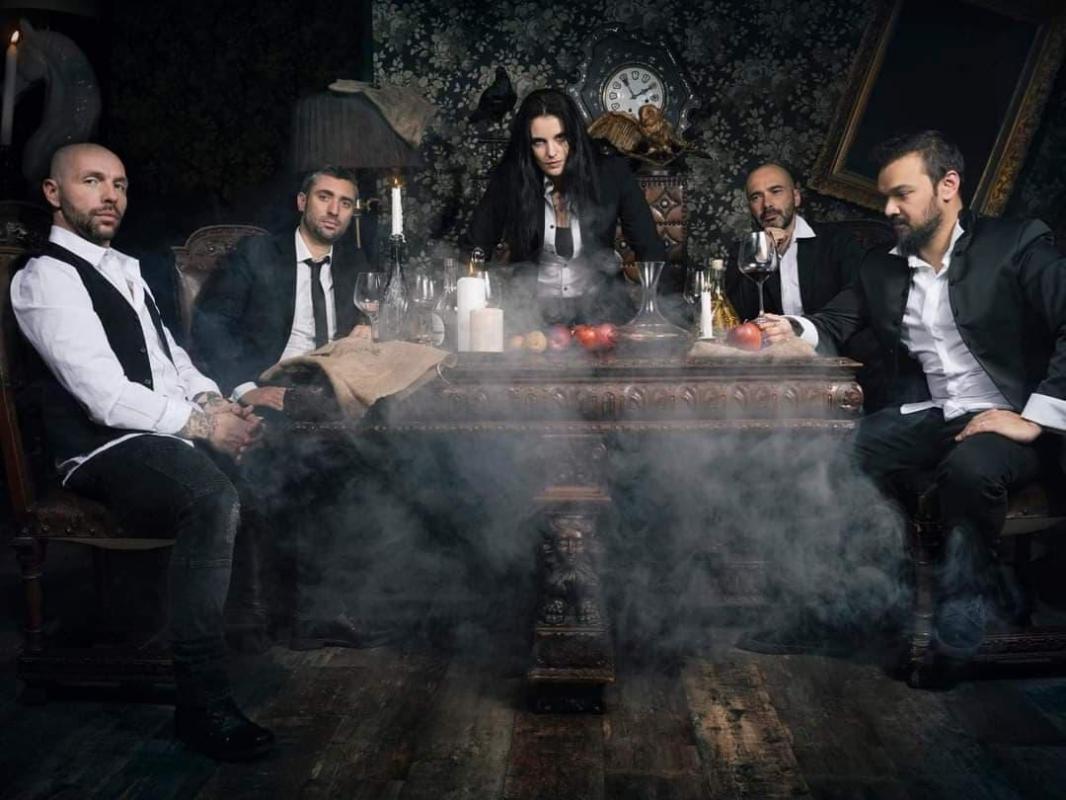 Photograph : Mr Cana Photography
Akiavel is very much like a family affair: your buddy Julien Truchan does a featuring on "V", Cynthia who is the former bassist of the band T.O.Y.S appears in one of your videos, and also Sébastien Camhi and his famous Artmusic's studio…
Auré : That's it ! We all have our own circle of friends, all have mastered talents. We love this kind of family, we stay close to those who deserve to improve their own art. With some partnerships, we have all positive motions. Everybody pulls each other up. It's an Akiavel's law !
I also love Akiavel's image very much, which is developed by Mr Cana Photography, another faithful people of your bans.
Auré : Yes ! Mitch (Mr Cana) used to play with Jay at a time. They are close friends, so are we now the four of us. We immediately have been hooked to his photo style and asked him to make our first video clip. It was a success! Exactly what we were looking for! He's listening, has the equipment and has great ideas which we don't think about! Now, Mitch and Mimi can make videos with Mr Cana Productions structure.
They have been able to shoot our last clip "Kind of Requiem" with the help from Geo and William. We wish them great success ! They are truly extraordinary people, humanly, in work, and friendliness !
---
"We didn't rest on our laurels! We won't be ground down by this virus!"
---
Apart from Clisson's Off festival, did COVID-19 prevent you to defend the album ? Did the situation affect you ?
Auré : We all have been frustrated due to this forced stop… Like all bands, and I also think about gigs promoters and venue which would welcome events… Unfortunately, it's like that, we have to deal with it. Regarding Akiavel, we have decided to continue with the news. We didn't come to a halt for once even if lockdown could force us to do so. OK, we could neither play nor rehearse, but we thought about how to make Akiavel continue to live. That's why we naturally composed a brand new album. When you're passionate you do not stop. We love our band. Nothing will stop it. During this forced pause, we had the chance to answer to many interviews, taking part in metal video broadcasts. The second album is at its composing end, the recording date is fixed, we have decided what will be the visuals and the subject, set up the next videos' dates. We also planned a surprise in the news of Akiavel before the end of 2020! We didn't rest on our laurels! We won't be ground down by this virus !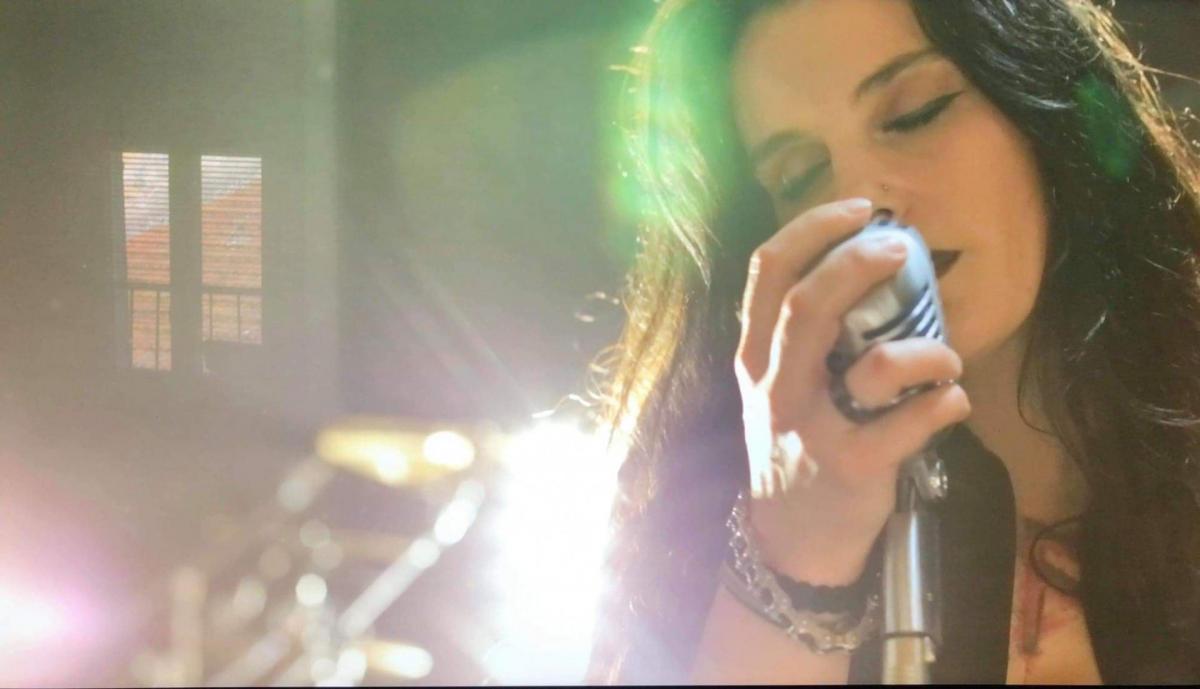 Photograph : Mr Cana Photography
You sing for around 15 years. Can you tell us about your voice and the place it occupies in your life ?
Auré : The voice is an everyday job. I do breathing exercises, some vocalizations. I also work on my concentration.
Saturated vocals are for studio, rehearsal, or concerts. About such, there are few more exercises, some days before in order to be ready right in time. Including in diet and lifestyle. For example, I avoid anything that is acidic, too greasy, and I do more meditation to stay focused. Self-confidence, when you're at the microphone, is paramount. I quit smoking, dramatically reduced alcohol and coffee. You can't change your vocal cords like you change a string on a guitar. So we have to take care of it every day to keep the voice's grain and the punch !
You do your own lyrics. In "V", you've been inspired by "Les cinq blessures de l'âme" (The five wounds of the soul) by Lise Bourbeau. Is writing important to you ?
Auré : Totally! This book explains that we all suffer at least one of these five wounds. I proposed to expose those wounds like this: five sides executioner, five sides victim. Next, push to the extreme each story. Some of them are very personal experiences.
Research, reading books, watching videos about the subject covered is my main working part into Akiavel. It's when I know something at my fingertips that I can let my artistic mind write. And when I listen to Chris' compositions which are sent by Jay and Mitch, ideas of placing come naturally. I just need to be alone when I have my headphones. While working on lyrics, I'm in the zone.
Growling isn't the better style to taste the lyrics of a song. Isn't it frustrating ?
Auré : Not at all! Lyrics I write are meant to be screamed. I try to bring out rage, torture, things that make us weird… I also try to find words or sentences which can be repeated in my lyrics. Due to such, I could see the public singing at the same time! That was just awesome ! If people who are listening to us are curious to read my lyrics, they all are written in our album !
I found out that you're interested in fortune-telling and runic divination ?
Auré : Absolutely! It's very personal. I've always been interested in occult sciences, metaphysics. My philosophy of life is governed by the Toltec agreements. Fortune telling is something I wanted to develop, I like it very much. Runic divination is another approach, I am a fan of Nordic mythology, the history of the Vikings fascinates me !
I was interested in runes because of their fabulous mystic and historical side! It talks to the soul a lot.
Your second album is on its way. What can you tell us about it ?
Auré : Not many at this time ! (Laughs)
The main subject will be… bloodier! Still a hidden message on the backside of the album, visual is almost done, stories for two next videos have been written…
Release party will take place at La Maison Hantée in Marseille.
We keep some surprises !
A big thank you, Auré, for your welcome and your kindness.
Auré : Thanks to you Ahasverus for your support and interview proposal! It was a pleasure to take part in it !
Also thanks to all readers, followers, supporters, and those who are sharing news and things! I still maintain that without all of you, we do not exist! We all have faith to see you on stage !
---
LINKS :
https://www.facebook.com/Akiavel/
https://open.spotify.com/artist/14M2CyExjuwWrJlJGYvg6T:
https://shop.season-of-mist.com/band/akiavel/
https://twitter.com/AkiaveL?s=09
https://www.instagram.com/akiavel/?hl=fr
https://www.youtube.com/channel/UCY52nn6ZxtfjlxYTPDWjSvA?view_as=subscriber

Photographs & videos : Mr Cana Photography.
http://www.mrcana-photography.com