Par Dam'Aël

Crédit photo : FloRiane F. Photos
HISTOIRE :
Self_Exploited_Whore est un duo originaire de Bourgogne-Franche-Comté formé par Ségolène SanGluten et Furax, un duo sur scène comme à la ville puisque Madame et Monsieur sont mariés. Actifs depuis 2015 avec initialement des reprises de Municipal Waste, Cradle Of Filth, Shaka Ponk, Simon and Garfunkel, Nirvadonna (Nirvana vs Madonna ), ces fous furieux décident de former Self_Exploited_Whore en novembre 2021 et de réaliser leurs propres - ou moins propres d'ailleurs - compositions qui les amènent à un certain nombre de scènes. Et c'est notamment une prestation live remarquée aux côtés de Witches, Savage Annihilation et Iron Flesh (entre autres) ainsi que la diffusion de quelques uns de leurs morceaux sur des radios Française, Anglaise et Irlandaise, que le label de metal extrême France, Black, Death, Grind va décider de leur proposer la réalisation de leur premier album. Naissance sans forceps de PORNAGOG et pas dans la demi-mesure puisque le nouveau-né propose pas moins de 15 titres, certes, mais des titres assez courts pour une écoute de 19'24 mn. La version numérique a été proposée le 10 avril et sa version Digipack le 12 août dernier ( https://youtu.be/OM37L6ZDVBY?si=-o3_IgIgD4ZONgRH).
Furax, renard libidineux et guitariste de Self Exploited Whore et sa femme Ségolène "SanGluten" au chant forme un duo atypique de deathgrind français composé d'un chant principal assuré par Madame et d'un chant additionnel assuré par Monsieur qui, parallèlement, manie la guitare ; le tout est chanté en anglais. Et sa décoiffe sa m***, ça dég*** dans le caniveau, mais le duo réveille aussi les consciences.
PORNAGOG a été enregistré, mixé et masterisé par Son Altesse Furax - Productions ( https://www.youtube.com/channel/UCQ_4CS_J3Bxlr0d1jTTJcQA )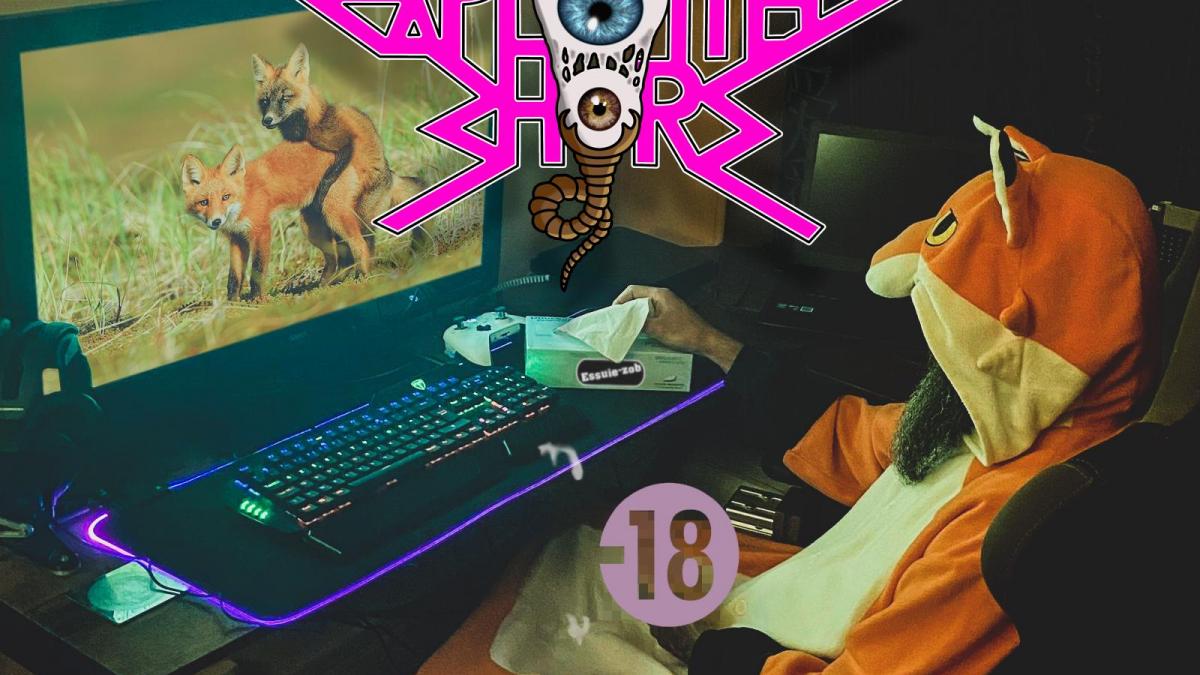 REFLEXION :

La caractéristique d'un art est qu'il s'adresse à tous, sans pour autant plaire à tous, mais avec une intention majeure, celle de tenter d'ouvrir chaque esprit à la découverte. Pas de 100% de réussite, sans doute plus de pourcentage d'échec, mais l'initiative est princeps pour cette ouverture d'esprit sur l'univers très complexe qu'est l'ART.
Je vous rappelle mon manque d'adhésion au Death, Black et Dark, cependant chroniquer c'est aussi parler d'album qui sort de sa zone de confort. Et celui-ci en fait partie d'autant que le duo en rajoute à la pelle pour interpeler, sidérer voire même choquer. Je ne décrirai pas techniquement cet album PORNAGOG, le premier de Self Exploited Whore, mais je vais vous le présenter sous la forme d'une video récapitulative : au menu une galette aux parfums variés, forts, épicés voire même aigres.
Pourquoi?
Parce que cela m'amuse de le faire!
What else?
Heuuuuuu! Encore juste une petite chose, soyez curieux, allez jusqu'au bout de la video...
1.The art of farting 01:09
2.Dead people smell better 01:43
3.menstruation feast 01:24
4.Iron? I run! 00:40
5.21 steps to reject you 00:21
6. Daddybarrow 00:50
7.Human deletion crusade 03:14
8.Breathe 00:10
9.Time to hang you out 00:40
10.Torn to pieces and sodomized 00:44
11.Pornagog 01:55
12.Grandma's advice 00:25
13.Waste sweet waste 01:35
14. Shitbag 00:50
15.T.B.W.B. (The Brutal Woods Boy) 03:33
Les liens :
http://facebook.com/sonaltesse.furax
https://selfexploitedwhore.bandcamp.com/album/pornagog
http://Linktree S.E.W. https://linktr.ee/selfexploitedwhore

http://https://france-black-death-grind.sumupstore.com/

Mots clés : death metal metal blastbeats deathgrind grind grindcore growl guttural pig squeal France