« Everybody pulls each other up. It's an Akiavel's law! »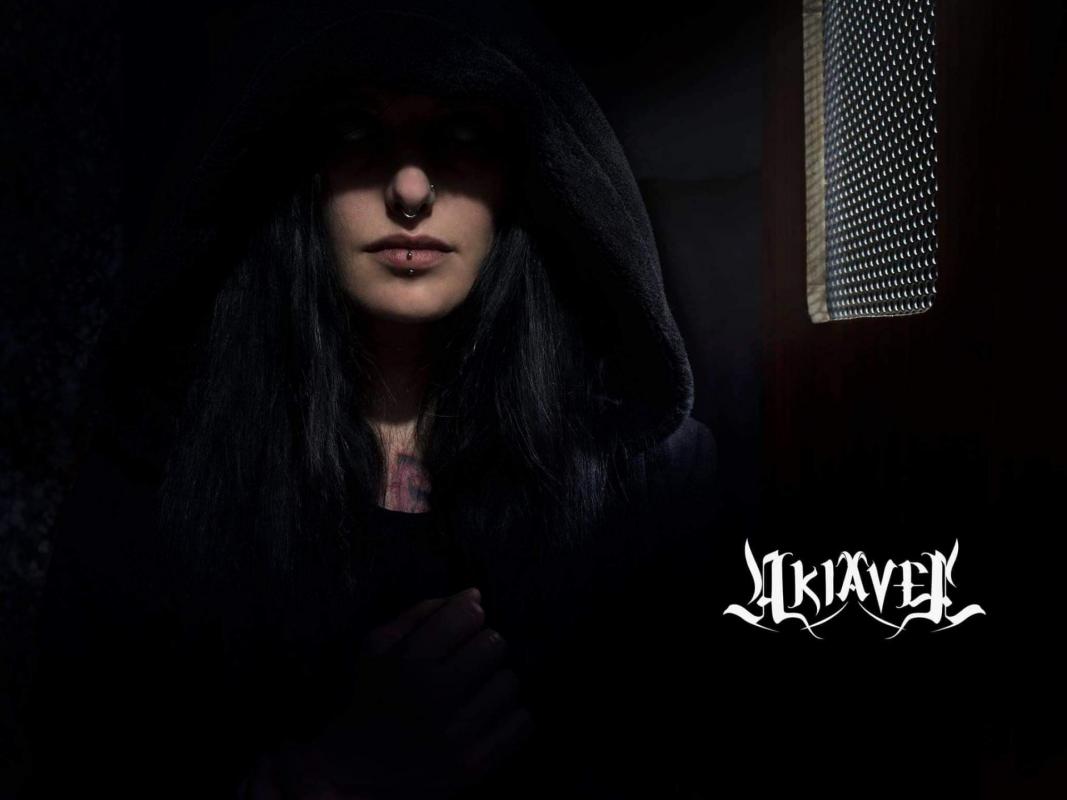 Photograph : Mr Cana Photography
Technical, inspired image, and imagination.
Last February 2020 death metal band Akiavel launched "V", a first out of norms album. A string of video clips followed, each better than the next.
End of the year just coming in and having understood that Akiavel is already preparing some new sweets, we went to meet Auré, its lead growl singer.

By Ahasverus - English translation by Matthieu Horrent.
---
Hello Auré. Did your father make you discover metal ?
Auré : Hi Ahasverus! Yes we can say that this man made me discover metal. I grew up into hard rock, my father made me sang when he played guitar. Afterward, while in metal, I made my way following my instinct! We didn't have internet access like nowadays, so I collected magazines like "Rock Hard" or "Metallian", I went to concerts a lot to build me a culture.
You have been quickly fascinated by extreme metal and death metal…
Auré : Absolutely! Due to several metal gigs in Amiens, I quickly found which music style made me vibrate: Death metal ! Its spirit, the pit, lyrics, guitars riffs… Singing came later to me because I didn't think a woman could handle a microphone in such a music style! When I listened to albums with female growl singers I knew it was possible !
With the help of Julien Truchan (Benighted)…
Auré : Yes! That's true ! He made me discover female growl singers bands !
Year 2018. You explain to Nonoise Nogood: "I make music for around 10 years. I went through several projects but they never were mine. Each time I replaced a singer. This time, something new is maturing…" How did you approach this new step ?
Auré : Akiavel is my baby. An identity built through the five of us. It's the most important project in which I've been integrated, the most serious and the strongest in friendship. We have each our own role in addition to our instruments. Everything was built naturally, real osmosis !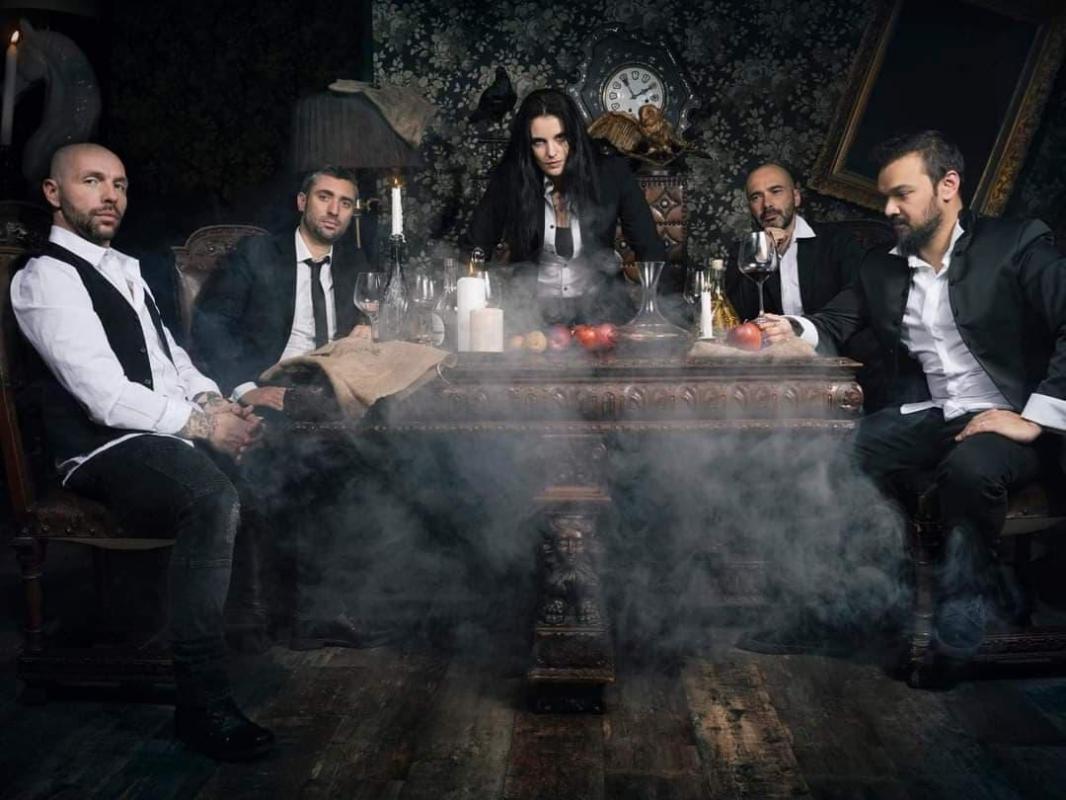 Photograph : Mr Cana Photography
Akiavel is very much like a family affair: your buddy Julien Truchan does a featuring on "V", Cynthia who is the former bassist of the band T.O.Y.S appears in one of your videos, and also Sébastien Camhi and his famous Artmusic's studio…
Auré : That's it ! We all have our own circle of friends, all have mastered talents. We love this kind of family, we stay close to those who deserve to improve their own art. With some partnerships, we have all positive motions. Everybody pulls each other up. It's an Akiavel's law !
I also love Akiavel's image very much, which is developed by Mr Cana Photography, another faithful people of your bans.
Auré : Yes ! Mitch (Mr Cana) used to play with Jay at a time. They are close friends, so are we now the four of us. We immediately have been hooked to his photo style and asked him to make our first video clip. It was a success! Exactly what we were looking for! He's listening, has the equipment and has great ideas which we don't think about! Now, Mitch and Mimi can make videos with Mr Cana Productions structure.
They have been able to shoot our last clip "Kind of Requiem" with the help from Geo and William. We wish them great success ! They are truly extraordinary people, humanly, in work, and friendliness !
---
"We didn't rest on our laurels! We won't be ground down by this virus!"
---
Apart from Clisson's Off festival, did COVID-19 prevent you to defend the album ? Did the situation affect you ?
Auré : We all have been frustrated due to this forced stop… Like all bands, and I also think about gigs promoters and venue which would welcome events… Unfortunately, it's like that, we have to deal with it. Regarding Akiavel, we have decided to continue with the news. We didn't come to a halt for once even if lockdown could force us to do so. OK, we could neither play nor rehearse, but we thought about how to make Akiavel continue to live. That's why we naturally composed a brand new album. When you're passionate you do not stop. We love our band. Nothing will stop it. During this forced pause, we had the chance to answer to many interviews, taking part in metal video broadcasts. The second album is at its composing end, the recording date is fixed, we have decided what will be the visuals and the subject, set up the next videos' dates. We also planned a surprise in the news of Akiavel before the end of 2020! We didn't rest on our laurels! We won't be ground down by this virus !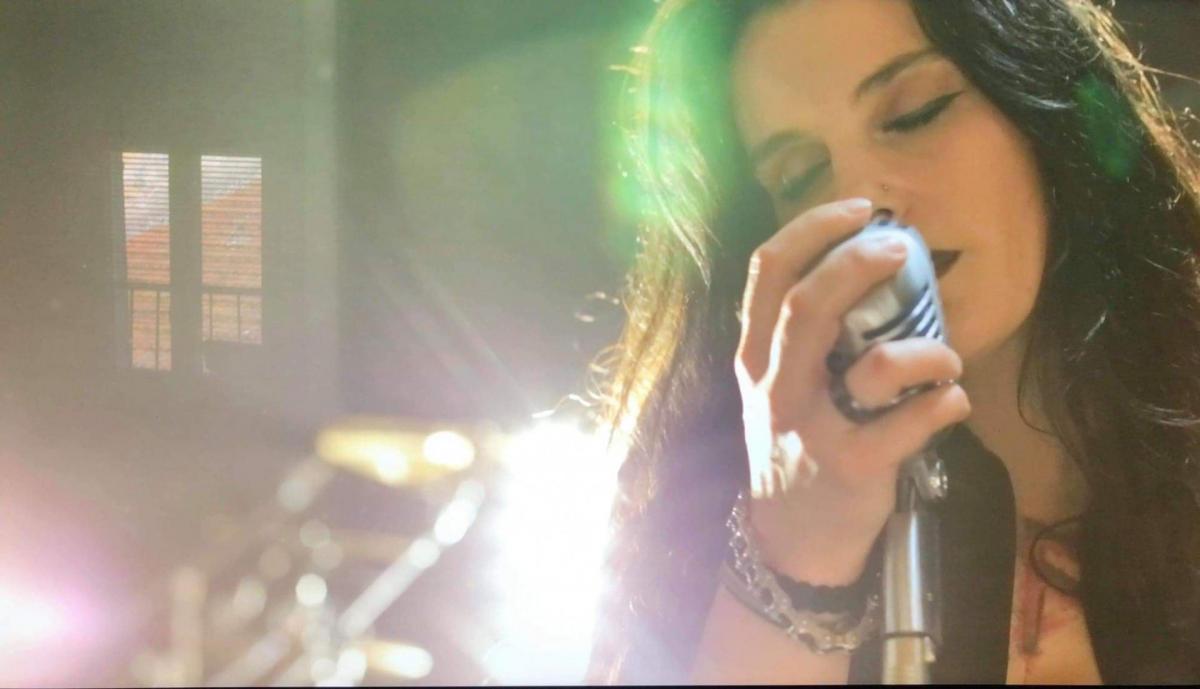 Photograph : Mr Cana Photography
You sing for around 15 years. Can you tell us about your voice and the place it occupies in your life ?
Auré : The voice is an everyday job. I do breathing exercises, some vocalizations. I also work on my concentration.
Saturated vocals are for studio, rehearsal, or concerts. About such, there are few more exercises, some days before in order to be ready right in time. Including in diet and lifestyle. For example, I avoid anything that is acidic, too greasy, and I do more meditation to stay focused. Self-confidence, when you're at the microphone, is paramount. I quit smoking, dramatically reduced alcohol and coffee. You can't change your vocal cords like you change a string on a guitar. So we have to take care of it every day to keep the voice's grain and the punch !
You do your own lyrics. In "V", you've been inspired by "Les cinq blessures de l'âme" (The five wounds of the soul) by Lise Bourbeau. Is writing important to you ?
Auré : Totally! This book explains that we all suffer at least one of these five wounds. I proposed to expose those wounds like this: five sides executioner, five sides victim. Next, push to the extreme each story. Some of them are very personal experiences.
Research, reading books, watching videos about the subject covered is my main working part into Akiavel. It's when I know something at my fingertips that I can let my artistic mind write. And when I listen to Chris' compositions which are sent by Jay and Mitch, ideas of placing come naturally. I just need to be alone when I have my headphones. While working on lyrics, I'm in the zone.
Growling isn't the better style to taste the lyrics of a song. Isn't it frustrating ?
Auré : Not at all! Lyrics I write are meant to be screamed. I try to bring out rage, torture, things that make us weird… I also try to find words or sentences which can be repeated in my lyrics. Due to such, I could see the public singing at the same time! That was just awesome ! If people who are listening to us are curious to read my lyrics, they all are written in our album !
I found out that you're interested in fortune-telling and runic divination ?
Auré : Absolutely! It's very personal. I've always been interested in occult sciences, metaphysics. My philosophy of life is governed by the Toltec agreements. Fortune telling is something I wanted to develop, I like it very much. Runic divination is another approach, I am a fan of Nordic mythology, the history of the Vikings fascinates me !
I was interested in runes because of their fabulous mystic and historical side! It talks to the soul a lot.
Your second album is on its way. What can you tell us about it ?
Auré : Not many at this time ! (Laughs)
The main subject will be… bloodier! Still a hidden message on the backside of the album, visual is almost done, stories for two next videos have been written…
Release party will take place at La Maison Hantée in Marseille.
We keep some surprises !
A big thank you, Auré, for your welcome and your kindness.
Auré : Thanks to you Ahasverus for your support and interview proposal! It was a pleasure to take part in it !
Also thanks to all readers, followers, supporters, and those who are sharing news and things! I still maintain that without all of you, we do not exist! We all have faith to see you on stage !
---
LINKS :
https://www.facebook.com/Akiavel/
https://open.spotify.com/artist/14M2CyExjuwWrJlJGYvg6T:
https://shop.season-of-mist.com/band/akiavel/
https://twitter.com/AkiaveL?s=09
https://www.instagram.com/akiavel/?hl=fr
https://www.youtube.com/channel/UCY52nn6ZxtfjlxYTPDWjSvA?view_as=subscriber

Photographs & videos : Mr Cana Photography.
http://www.mrcana-photography.com