HEAVY
Groupe :
ANIMALIZE

Album : Tapes From The Crypt (EP - 2020)
Genre : Heavy Metal
Origine : Lyon
Le Groupe :
Animalize est une formation de Heavy Metal originaire de Lyon.

Le projet naît vraisemblablement autour de 2013.
A ce jour, Animalize évolue en trio (le groupe avait pensé un temps opérer à deux guitares).

Son line-up est composé de Coyote (basse/chant - ex-Sentinhell), Dante (guitare - ex-Swine Diamond) et Reyvah (batterie - ex-Double Face).
En septembre 2019 Animalize assure la première partie d'Adam Bomb à Lyon (Rock'N'Eat).

En avril 2020 sort son premier EP :
"

TAPES FROM THE CRYPT"
L'Album :
Tapes From The Crypt est un EP cinq titres d'une durée d'environ vingt minutes.

Coyote a signé la musique et les textes des cinq compositions.

Les trois premiers titres sont en Anglais. Les deux derniers en Français.

L'artwork est une photo de Louise Durel - Photographies. Il a pour modèle Chloé An'go. Robin Chave s'est occupé du design.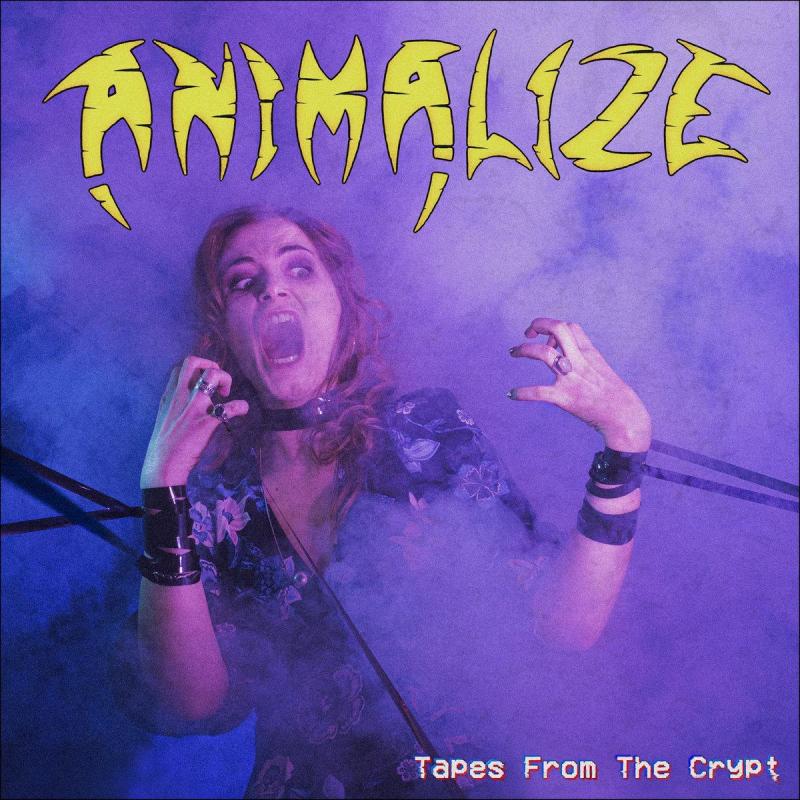 L'EP est sorti en version dématérialisée. Une sortie en format CD est à l'étude car le groupe a privilégié une édition vinyle éditée en trois-cents exemplaires, avec une face A en Anglais et une face B en Français.
Animalize joue beaucoup sur l'imagerie 80's, comme en atteste "L'Aigle de la Route", leur premier clip, filmé en mode "VHS".
La ligne mélodique de L'Aigle Noir, de Barbara, est reprise dans un solo de guitare de la quatrième piste de l'EP, "Sous l'Oeil du Charognard".
Ces données énoncées, voyons maintenant ce qu'en disent...
Une première vraie révélation 2020 pour ce style !


https://www.zone-metal.net/t12590-animalize-tapes-from-the-crypt

Ce groupe va mettre votre nuque à rude épreuve. Comment rester insensible à son Metal et ne pas headbanguer tellement ce qu'il propose est excellent ?

http://france.metal.museum.free.fr/chros/a/animalize_01.htm


Il reste à vous donner...
Notre Avis :
Jouant à fond la grandiloquence du Metal 80's à la manière d'un
The Darkness
en mode Speed-Metal, Animalize frappe un joli coup avec un premier EP totalement réussi. Le chant haut perché s'éclate et prend des risques (Jungle Dance), les rythmiques enfoncent l'accélérateur, et on fête le retour du guitar-hero chez un trio qui n'aime pas jouer en regardant ses chaussures.
On ne peut que se réjouir de la naissance vinylique de ce jeune groupe débridé qui conjugue talent et toupet : il pourrait éclairer de sa fraîcheur nos prochaines années. Animalize n'a peur de rien, il lâche les chevaux, il a le talent pour les monter. A découvrir et à suivre de près.
Les Liens Utiles :
Groupe :
Kingcrown

Album : A Perfect World (2019)
Genre : Heavy Power Metal
Origine : France
Le Groupe :
En 2015, des divergences au sein du groupe Nightmare, pilier du Metal français né au début des 80's, incitent Jo et David Amore, respectivement chanteur et batteur, à reprendre leur liberté.
Entourés de Markus Fortunato (Basse), Steff Rabilloud et Florian Lagoutte (Guitares), trois musiciens particulièrement aguerris, ils forment Öblivïon.
Le quintette sort en 2018 son premier album, "

Resilience

", un opus au Heavy/Power Metal ravageur défendu par le clip "

In the Arms of the Queen

".
Début 2019, le groupe se voit contraint pour une question de droits à changer son nom en KingCrown.
En novembre 2019, c'est donc

KingCrown

qui présente un nouvel opus :
"A Perfect World"
L'Album :
"

A Perfect World

", c'est onze titres pour quarante-six minutes.
Son artwork est signé par l'un des guitaristes du groupe, Steff Rabilloud.
L'album est sorti le 01/11/2019 chez ROAR - rock of angels records.

Il est mixé et masterisé par Roland Grapow (Helloween).

"The Flame Of My Soul", qui ouvre l'album, est le premier clip proposé par le groupe.
Dans un registre Power/Heavy Metal, les compositions sont classiques, leurs structures savent se faire modernes et changeantes.

La ballade "Over The Moon" aère l'album en son centre.
"Over The Moon" est le deuxième clip choisi par KingCrown pour représenter A Perfect World.
Cette ballade réapparaît dans une version acoustique particulièrement réussie en onzième piste de l'album.
Notre Avis :
En 2018, KingCrown démontrait avec "

Resilience

" son savoir-forger des albums dans le meilleur Metal .
En 2019 La récidive est totale, avec cette circonstance aggravante que Roland Grapow a trouvé une place pour chaque tête de l'hydre.
On apprécie pleinement le jeu très actif du batteur David Amore, tout comme les enchaînements basse/guitare/guitare du trio Fortunato/Rabilloud/Lagoutte.
Le travail de Markus Fortunato est agréablement mis en valeur - sa basse allant bien au-delà d'un soutien rythmique il aurait été dommage qu'elle reste en arrière-plan.
Quant à Jo Amore, sa voix se fait tantôt agressive comme un Dickinson, tantôt lumineuse comme un Dio. Il nous rappelle dès ses premières lignes de chant qu'il est un taulier du Heavy français.


A Perfect World est la nouvelle oeuvre d'un quintette inspiré et aguerri, l'un des meilleurs opus français de cette année 2019. Digne successeur de Resilience, il vous sera tout aussi indispensable.
Les Infos Utiles :
Groupe :
Chrysis

Album : Never Say Never (2019)
Genre : Heavy Metal
Origine : Reims
LE GROUPE :
Chrysis est un groupe de Heavy Metal originaire de Reims.
Il est fondé en 1976.
En 1981 il auto-produit son premier 45trs.
En 1984 il édite une démo trois titres qui fait l'objet d'une chronique dans le numéro 21 du magazine Metal Attack.
Le groupe est également programmé à la télévision, notamment sur FR3.
En 1985, les membres de Chrysis se séparent.
En 2009, le groupe se reforme.
Il sort, en 2010, l'EP quatre titres "Here We Are !"
En 2015, il met en ligne le clip "We Are Nothing
Cette vidéo annonce un futur album, paru en cette année 2019.
Il s'agit du très justement intitulé "Never Say Never".
L'ALBUM :
Never Say Never
comporte neuf pistes pour une durée de trente-huit minutes.
Les compositions sont toutes signées Patrick Gestède (chant) et Dominique Merlin (guitare).
L'album s'ouvre sur le morceau "Never Say Never", qui donne son nom à l'opus et qui fait l'objet d'un nouveau clip mis en ligne en janvier 2019.
A propos de l'album "Never Say Never", Patrick Gestède déclarait au webzine Hard French Metal en mai 2018 :
"On a voulu éviter la répétitivité, et s'il y a une prédominance de ce que j'appelle du "Metal classique" - je n'aime pas trop le terme Metal 80's - certains titres peuvent flirter avec le Power ("We are nothing"), le Hard-rock ("Everything I need"), voire le Rock sudiste ("Not a day to die")."
NOTRE AVIS :
Chrysis
, ou "Comment recevoir une leçon de Heavy en neuf points".
De "
Never Say Never"
à
"No Regrets"
, les titres s'enchaînent sans se ressembler. Zéro défaut, impossible de ne pas headbanguer ! La batterie virevolte, la guitare solo vous grave ses mélodies dans la tête, tout est carré, bien exécuté, bien emballé. L'ensemble est bâti sur des fondations rythmiques impeccables, agrémentées de ponts non prévisibles, construits à la lumière d'une expérience qui confirme qu'on n'apprendra pas aux vieux singes à faire la grimace. Cet album de Heavy sent le métier. Il est capable de jouer des épaules pour se frayer une place de choix dans votre lecteur CD et pour y rester un moment.
Une réussite de bout en bout, et un groupe expérimenté qui a su tenir ses promesses. Du bon boulot !
INFORMATIONS UTILES :

L'album peut être commandé directement sur la page Facebook du groupe, que vous n'hésiterez pas à liker :
https://www.facebook.com/metalchrysis/