Groupe : Sweet Needles
Album : « Tormenta » (26/11/2021)
Genre : Heavy rock vagabond
Origine : Paris
On aime : Un chanteur très impressionnant
Par Ahasverus
Après neuf ans d'activité, quelques tremplins, trois EP et des affiches prestigieuses (le Raismes Fest 2019 aux côtés de Glenn Hugues), Sweet Needles franchit un cap en présentant en cette fin d'année 2021 son premier long format :
« Tormenta »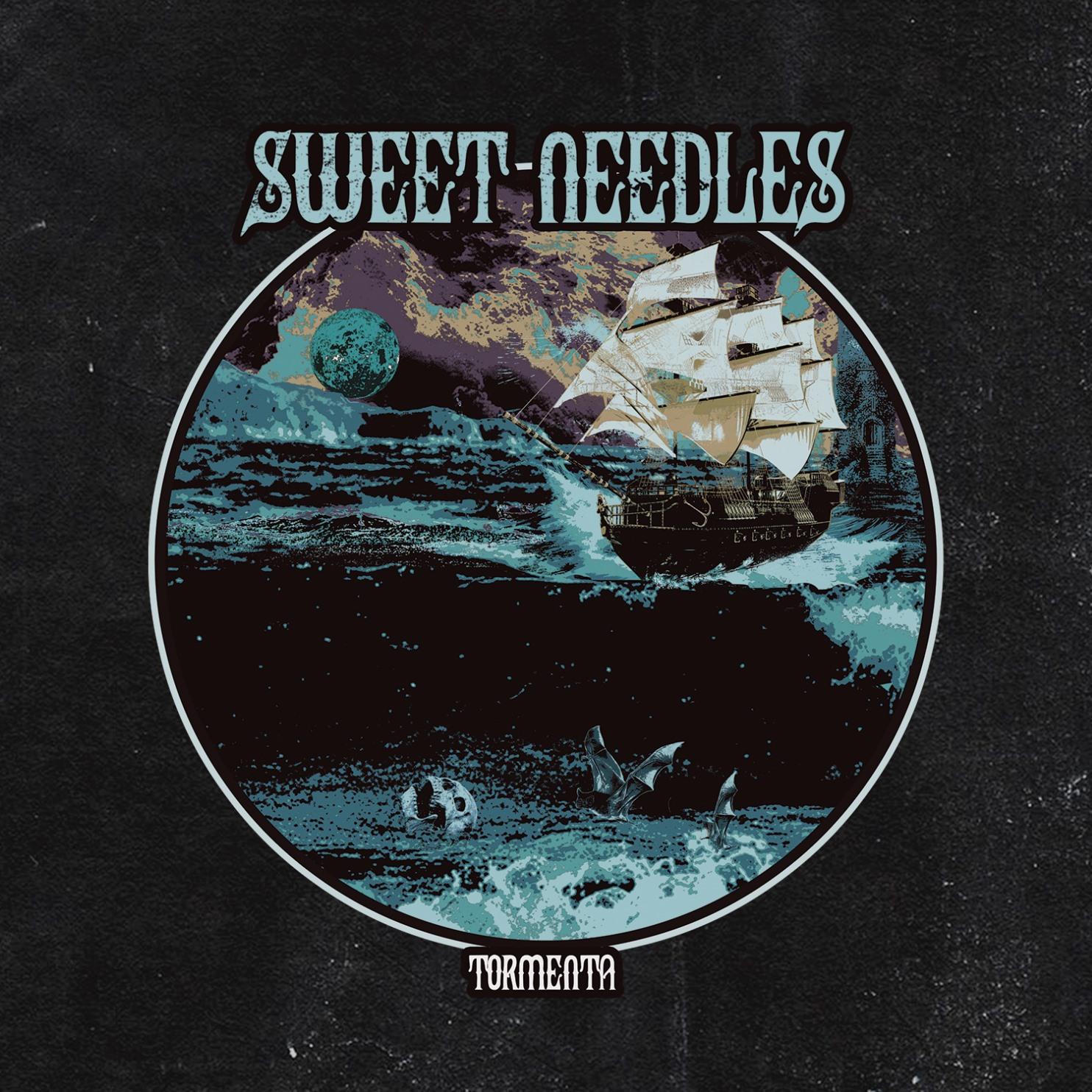 Onze pistes pour cinquante-deux minutes, et un opus réalisé en autoproduction grâce à un crowdfunding qui dépassait les attentes en atteignant 140% du budget demandé ; c'est vous dire si ces Parisiens ont une fanbase solide, acquise à coup de concerts, de single et d'EP !
A ce point de carrière, un album relève du passage obligé. Hippolyte Bordes (batterie) précisait son sentiment sur les longs formats dans une interview accordée fin 2020 à Sensation Rock :
« L'album est un prétexte pour exister car on a l'impression que les gens n'écoutent plus vraiment les albums en entier ou avec moins d'attention que pour des singles ou des formats courts comme les EP. La différence de nos morceaux et la surprise qu'ils peuvent provoquer en s'enchaînant pourra au moins tenir la pleine attention des gens jusqu'au bout. »
Le mot-clé est lâché : « surprise », et c'est effectivement ce que cultive Sweet Needles tout au long de ce « Tormenta »...
Première surprise : il s'ouvre sur un titre très heavy, très compact, et d'une durée inhabituelle (01:30), autant dire presque une intro. Cette piste donne son titre à l'album. Sa structure est assez punk.
Après cette mise en bouche oreilles, les choses sérieuses commencent avec « Not The Only One ». Des guitares torturées et une voix polymorphe capable d'envoyer des screams dignes des premiers Skid Row. Oscar Bonnot a du coffre. Il ne nous en prive pas.
Le court (2:30) « Shake It! Groove It!» enfonce le clou de la diversité en infusant du boogie dans son heavy.
Le démarrage blues/funk de « Egotrip » permet à Oscar Bonnot de donner un aperçu de l'étendue de son registre vocal. Un titre un peu inclassable, mais avec du métal dedans...
« Be Bop » démarre assez bas et nous ramène avec ses riffs lourds vers une structure plus familière.
« Headache » se plait à emprunter à nouveau les chemin de traverse, avec une intro blues et un chant à la RHCP. La basse claque et Sweet Needles brouille à nouveau les styles.
« Thirteen » est un morceau plus classique mais qui connaît une rupture dans sa structure sur la dernière partie.
« Better Late Than Never » est un titre très énergique, immédiat, avec des choeurs en avant - on imagine bien sa transposition sur scène.
L'intro de « Black Haze » a un côté psychédélique, et cette composition blues rock prend des allures de stoner avant de s'intensifier.

« From Hisingen To Paris » invite le Suédois Chris Blood (The Last Band) à déchaîner la foudre. C'est l'un des titres les plus brutaux de l'album.

« Another Land » est un mid-tempo heavy, avec des guitares mélodiques très présentes. C'est le titre le plus long de l'album ; il est également sa conclusion.
---
Pari réussi pour Sweet Needles : « Tormenta » est un album bigarré qui se renouvelle de titre en titre, tout en conservant sa cohérence. Le songwriting est exigeant, il est surtout magnifiquement servi par un chanteur doué d'une voix peu commune, dans la lignée d'un Whitfield Crane (pour l'étendue du registre) ou d'un Sebastian Bach (pour les screams).
De ce savoir-faire et de ce don, il résulte un album d'une belle qualité, fait d'un métal dont les musiciens ont pris un malin plaisir à décoller l'étiquette de temps en temps. C'est évidemment à découvrir sans attendre.
Sweet Needles donnera sa release-party le 01/12/2021 au Supersonic de Paris (dans le quartier Bastille).
« Tormenta », les critiques en disent :
« On conseille vraiment à ceux qui seraient tentés de dire que le rock est mort en France d'aller y jeter une oreille avant de se prononcer. »


http://www.zicazic.com

« Ils ont trouvé la substance musicale qui rend accro. Vite, un nouveau shoot ! »


https://www.lagrosseradio.com
---
Tracklist :
Tormenta
Not The Only One
Shake It! Groove It!
Ego Trip
Be Bop
Headache
Thirteen
Better Late Than Never
Black Haze
From Hisingen To Paris feat. Chris Blood (The Last Band)
Another Land
Line-up :
Chant : Oscar Bonnot
Guitare : Simon Dillinger
Guitare : Arthur Bonnot
Basse : Arthur Calonne
Batterie : Hippolyte Bordes
Discographie :
Opus 33 (EP - 2014)
Broken Bones (EP - 2016)
Sweet Needles (EP - 2019)
Tormenta (Album - 2021)
Les Liens :