Groupe : Slowpoke
Album : « Self Titled » (21 août 2021)
Genre : Doom/Punk/Psychedelic
Origine : Canada
On aime : l'éclectisme
Par Ahasverus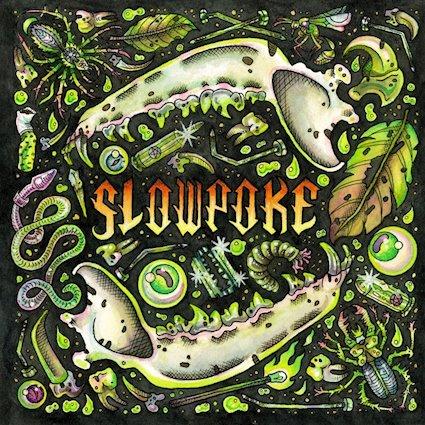 Saint John's Newfoundland. Saint-Jean De Terre-Neuve, si vous préférez. C'est au Canada.
Ville la plus orientale d'Amérique du Nord, elle dispute à Québec le titre de l'agglomération la plus ancienne du pays.
C'est là que s'est formé Slowpoke en 2018, autour de Ben Chapman-Smith (Basse, Chant) et de Cameron Legge (Guitare).
Début 2019, ils sont rejoints par Adam Young (Batterie).
Après trois ans d'existance, le groupe propose un premier album éponyme assez étonnant par sa diversité.
Sept titres, dont certains dépassent les neuf minutes.
C'est d'ailleurs par un morceau de ce calibre que débutent les hostilités, neuf minutes au cours desquelles « Stony Iommi » nous égare en nous laissant croire qu'on a affaire à un album de stoner. Mais la donne change dès « Slumlord », la seconde piste. Car s'il garde un fond de fuzz, Slowpoke surfe au gré de ses humeurs sur les courants du rock. Il présente des passages épiques, progressifs et psychédéliques puis passe à une écriture plus instinctive, d'inspiration punk-rock. Clutch, The Melvins, Muse, Queens of the Stone Age et Black Sabbath sont au menu des références.
Slowpoke a fait appel aux services de Rick Hollet, au studio Redhouse Recording (sHeavy, Hey Rosetta!) pour le mixage, et à Chris Keffer aux Magnetic North Studio (The Black Keys, Cheap Trick) pour le mastering.
Un album un peu inclassable, qui s'amuse avec les codes.
A découvrir.
Line-Up :
Cameron Legge : guitare
Ben Chapman-Smith : chant, basse
Adam Young : batterie
Les Liens :