Groupe : Siren's Rain
Album : « Rise Forth » (08/10/2021)
Genre : Folk Metal
Origine : Tacoma, (USA)
Par Ahasverus
Après les EP Nightmares from the Abyss (2019) et Beneath the Narrors (2016, réédité en 2018), Siren's Rain revient en cet automne 2021 avec un nouvel opus de neuf pistes :
« Rise Forth »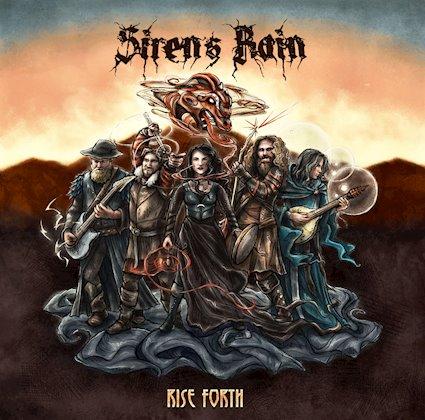 Explorant les possibilités du folk metal avec une belle variété dans le style, Siren's Rain utilise une vaste gamme d'instruments folkloriques traditionnels (mandoline, harpe, mais aussi nyckelharpa, un instrument à cordes suédois) parfaitement mis en avant, avec une alternance de chant clair et saturé et des choeurs martiaux qui sont l'une des réussites de cet album.
Fondé en 2014, ce quintette cite pour influences Eluveitie, Korpiklaani et Nightwish.
Une grande partie de l'écriture de « Rise Forth » s'inspire de la mythologie du nord-ouest du Pacifique, s'aventurant parfois plus loin avec des légendes inscrites dans la mémoire collective et des histoires de fantômes. « Pennies for the Ferryman » puise par exemple dans la mythologie grecque du passeur qui transporte les âmes du monde des vivants vers le monde des morts. L'atmosphère de chaque morceau complète bien l'élément thématique.
Le groupe présente ainsi son opus :
« Siren's Rain est ravi d'annoncer la sortie de son premier album complet, Rise Forth. Cette œuvre revisite la harpe et la mandoline et introduit la nyckelharpa dans l'instrumentation du groupe. Cet album explore les thèmes de l'abandon, de la trahison, de l'espoir, du désespoir et de la résilience. Plus heavy, plus rapide et galopante, cette œuvre met en valeur la croissance musicale du groupe. »
« Rise Forth » aligne tous les arguments pour convaincre et séduire les amateurs de folk metal.
Il est à découvrir.

Line-Up :
Ed Miller- Guitares, nyckelharpa, choeurs
Micahel Heaney- Guitares, mandoline
William Beritich- Basse, choeurs
Scott Eugene Jones- Batterie, percussions
Rena Hellzinger- Chant, harpe, percussions
Les Liens :