Disponible depuis le 11/11/2021 sur vos plateformes et chez M&O Music, « Silent Beholders » est le troisième EP de Rest In Furia, formation francilienne fondée en 2015.
Il est livré dans un artwork signé par Alicia Pansardi.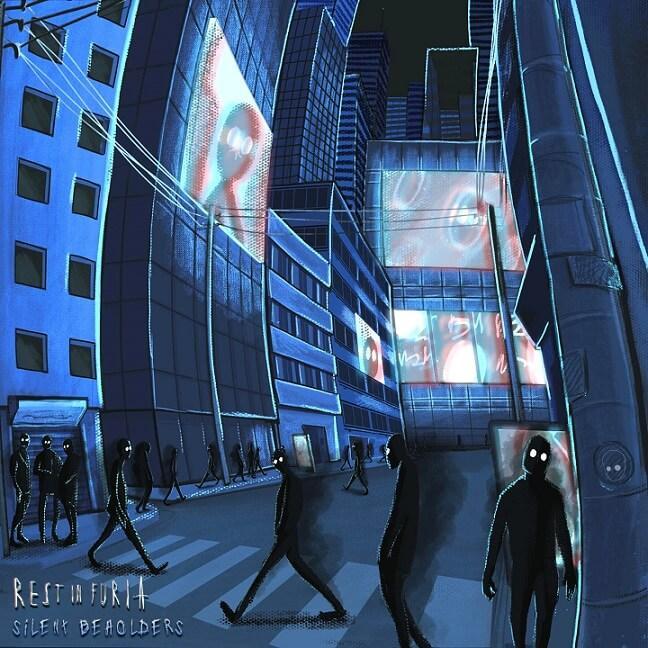 A propos de « Silent Beholders » (traduisez « Spectateurs Silencieux »), Rest In Furia expliquait à Divertir :
« L'univers de Silent Beholders parle de tous ceux qui sont passifs, ceux qui contemplent, ceux qui voient et passent sans rien dire, ceux qui acceptent sans se plaindre, ceux qui se laissent porter sans voir où ça les amène, qui se laissent contrôler. C'est comme ça que l'on décrirait cet univers. Il n'y a pas de jugement, seulement des questionnements sur la finalité à laquelle cette passivité amène. »
L'EP a été produit aux Hybreed Studios de Fontenay sous Bois (Hot Hell Room, Jades, Furies), avec lequel le groupe a déjà collaboré.
---
La créativité ne manque pas, et la production et l'exécution sont à la hauteur du propos.
---
Ce cinq titres s'ouvre sur « No Project », un titre puissant, qui dévoile les facettes du quatuor : grosses guitares, ton moderne et un chant clair et hurlé. Le gros son est contrebalancé par un clavier plus léger. Un pont au milieu donne du champ à la composition. La guitare sait se faire mélodique.
« Others » enchaîne sur un mode hypnotique, avec des lignes presque orientales. Sa structure étrange s'éloigne du métal traditionnel qui se rappelle pourtant à nous par la puissance de la production. Une belle pièce, aux allures progressives.
« Waving Crowds » est un titre oppressant qui s'arme d'un chant hurlé. Le quatuor parvient encore à glisser dans un métal classique une ritournelle inattendue.
« Those Empty Eyes » est assez tribal. Il s'intensifie et devient envoutant, bien servi par une mise en son qui sait lui donner, quand il le faut, l'emphase nécessaire.
« Out Of The Kingdom » démarre par des guitares mélodiques suivies par un bon riff. Ce morceau bien travaillé clôture un opus de vingt-huit minutes.
Moderne sans renoncer à une certaine musicalité, Rest In Furia tire parti de ses influences pour mieux actualiser son propos. Le quatuor se signale par l'originalité qu'il est capable d'insuffler à ses compositions, maintenant l'intérêt par la tournure inattendue qu'il sait leur donner. La créativité ne manque pas, l'exécution et la production sont à la hauteur du propos. Aussi « Silent Beholders » est un EP que vous placerez sans hésiter sur le haut du panier du métal moderne.
---
Les critiques disent :
« Rest In Furia a tous les outils en mains pour jouer dans la cour des grands et est armé pour se défendre. »


https://amongtheliving.fr/

« Un immense disque, où tout semble parfait, original, cohérent, puissant, beau et merveilleusement produit. »


https://www.loudtv.net
---
Line-Up :
Thomas Valentin : chant, guitare
Quentin Lagache : guitare lead
Mélanie Bardano : basse
Sébastien Léger : batterie.