DERNIERE MINUTE : REGARDE LES HOMMES TOMBER complètera l'affiche que nous vous annoncions (ci-dessous) à l'Olympia en octobre 2022.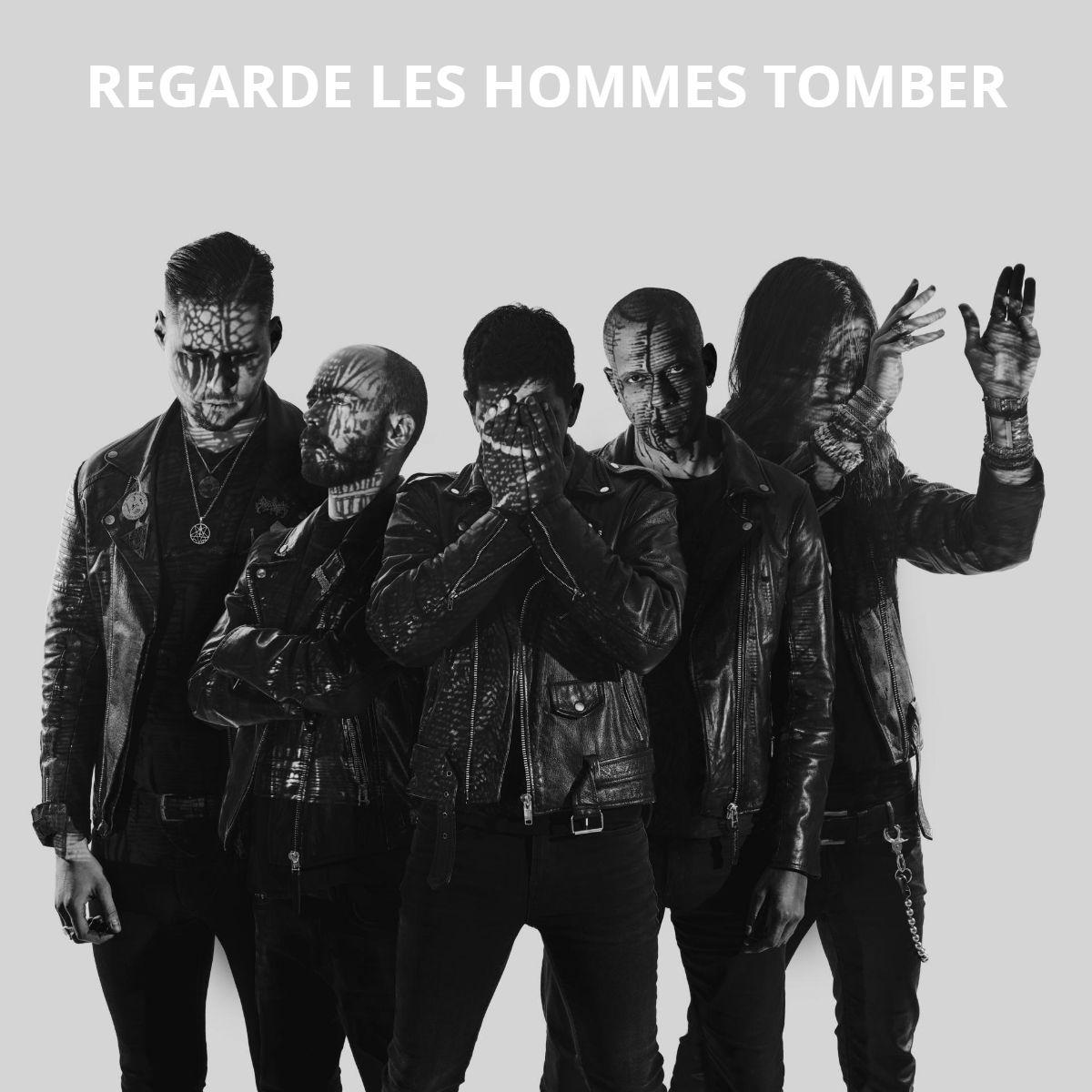 Photographie © David Fitt
Formé en 2011, le groupe Nantais est considéré comme l'un des porte-étendards de la scène post-black metal tricolore. En trois albums, dont « Ascension » sorti en 2020 chez Season of Mist, le quintet s'est forgé un univers sombrement lourd entre fatalisme et mélancolie. Après des tournées hexagonales et européennes, divers passages dans les festivals spécialisés (Hellfest), Regarde les Hommes Tomber sera lui aussi sur la scène de l'Olympia le 07 Octobre prochain.

---
Perturbator donne donc rendez-vous à ses fans à l'Olympia le 07/10/2022 pour une affiche sur laquelle le compositeur de synthwave a également convié HEALTH et Author & Punisher.
Initialement guitariste de black metal, James Kent, alias Perturbator, alimente les fans de musique électronique depuis 2011, année pendant laquelle il commença à définir les contours d'une musique qui allait devenir quelques années plus tard un genre à part entière. Premier de cordée d'un nouveau style, défini le plus souvent comme Cyberpunk, Perturbator n'a eu de cesse de surprendre album après album, en proposant une musique toujours plus avant-gardiste, en perpétuelle mutation.
« Lustful Sacraments », son cinquième album, est sorti en Mai 2021. Il contient notamment « God Says », un titre avec Hangman's Chair.

Perturbator, c'est également une expérience live.
Toujours plus abouties et surprenantes, musicalement et visuellement, les performances scéniques de Perturbator ont su conquérir un public conséquent, des Etats-Unis à l'Australie en passant par l'Europe, le Japon et la Russie, programmé dans quelques-uns des plus grands festivals, à la fois Metal (Download, Hellfest, Roadburn, Graspop) ou plus généralistes (Sziget, MEG, Rock Am Ring). D'ailleurs, qui dit nouvel album, dit nouvelle tournée et donc nouvelle scénographie pour Perturbator !
Compagnons de fortune sur la tournée globale UK et Europe de Perturbator, Health et Author & Punisher proposeront également aux parisiens leurs sets attendus.


Perturbator par Valeriya Serpent
---
Formé à Los Angeles en 2006, Health c'est un son âpre, unique et sans concession au service de paroles cryptiques. Sur son parcours, la formation de rock expérimental s'est produite de nombreuses fois à guichet fermé, a réalisé plusieurs bandes son de jeux vidéo (Max Payne 3, Grand Theft Auto V), a sorti quatre albums et autant de disques de remixes ou de collaborations. 2022 verra d'ailleurs l'arrivée d'un nouvel opus, « DISCO4 : Part II », avec pour invités Nine Inch Nails, Poppy, Lamb Of God ou encore… Perturbator !


Health par Faith Crawford
---
Troisième convive de la soirée parisienne : Author & Punisher. Derrière ce nom se trouve Tristan Shone. Author & Punisher est son terrain de jeu depuis 2004, un univers entre metal industriel, drone et expérimentations pour lequel la plupart de ses Drone Machines et Dub Machines, sont conçues et fabriquées sur mesure. Author & Punisher, c'est aussi des tournées en compagnie de Tool, Cattle Decapitation ou encore Neurosis et surtout pas moins de neuf albums dont le récent « Krüller » sorti en Février 2022 chez Relapse Records.

Cette date qui promet d'être aussi visuelle que sonore sera produite par The Link Productions.
Les Liens :