Groupe : Visions Of Dystopia
Album : A Nightmare On Dystopian Street (16/04/2021)
Genre : Métal progressif cinématographique
Origine : Montpellier
Par Ahasverus
Le Groupe :
Visions of dystopia est né de l'association de deux compositeurs montpelliérains, Eric Juskewycz et Damien Maurel, réunis autour d'une passion commune pour la musique et le cinéma
Spécialisé dans les musiques à thématique cinématographique, le duo a reçu le prix de la meilleure bande originale de film au Screamfest 2020 pour Les Animaux Anonymes.
Les Animaux Anonymes, film de Jean-Baptiste Rouveure (sortie en salle le 23/06/2021)
En 2021, Visions Of Dystopia présente son nouvel album :
« A Nightmare On Dystopian Street »
L'Album :
« A Nightmare On Dystopian Street » est un huit titres d'une durée d'environ trente-deux minutes.
Le titre de l'album est un clin d'oeil au premier film de la série des Freddy, "A Nightmare On Elm Street".
Tirés de films d'horreur, les dialogues qui illustrent l'album sont ici réinterprétés par des "voix" professionnelles, (détail in fine, rubrique tracklist).
L'artwork, signé par le designer écossais Sam Hayles (DOSEprod), nous renvoie à plusieurs films d'horreur. La référence aux Griffes de la Nuit est évidente.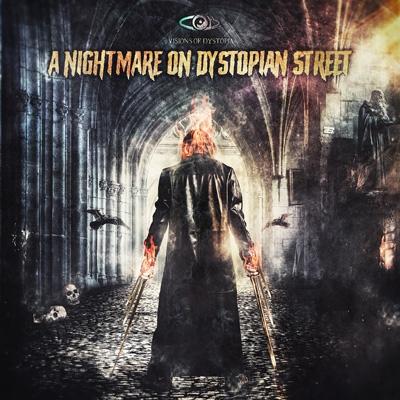 VISIONS OF DYSTOPIA, "A Nightmare On Dystopian Street" (2021)
"A Nightmare On Dystopian Street" a été masterisé au Tower Studio de Montpellier par Brett Caldas-Lima (Ayreon, Pain Of Salvation).
C'est une sortie M&O Music.
L'album est illustré par le clip "Shapeless Dreams", réalisé par Alexis Lartot.
Les Critiques :
"Tout est interprété à la quadruple croche près, tellement métronomique qu'on peine à croire que de simples humains sont derrière les instruments."


https://www.pavillon666.fr

"U

n moment stressant mais paradoxalement très plaisant, tout comme le ferait un bon film d'horreur."


https://www.unitedrocknations.com

"Un album réussi, mais qui restera réservé à un public restreint."


(https://www.themetalart.eu)
Notre Avis :
Rompus à illustrer musicalement avec succès et trophées les images des autres, Eric Juskewycz et Damien Maurel s'offrent un espace de liberté et prennent le pari inverse de faire naître dans nos esprits des images à partir de leur musique.
Beaucoup de choses frappent l'imagination, à l'écoute de cet album : la dextérité, la vitesse d'exécution des musiciens, la diction des répliques et leur placement si précis qu'elles en deviennent une composante de la musique.
Musicalement, nous encadrerons « A Nightmare On Dystopian Street » entre un Yngwie Malmsteem et la BOF de l'Exorciste par Mike Oldfield. La qualité perce à tous les étages, de la composition au mastering, en passant par le casting. On est souvent dubitatif, à la rédaction, devant des opus estampillés "cinématographique", genre de plus en plus revendiqué ; rarement un album aura autant mérité cette étiquette tant convoitée tant il sait jouer de la mandoline à notre imagination.
« A Nightmare On Dystopian Street » est certainement l'un des exercices les plus réussis du genre, il faut impérativement l'écouter. Si vous aimez les classiques du cinéma d'horreur, la question ne se pose même plus.
La Tracklist :
1 – Shapeless Dreams (voix : PawPaw Greg Gidney & Oddie Beau) 5:15
2 – Kill The Fear (voix : Derek Daisey) 5:44
3 – From the Depths of Hell (voix : J.C. BigVox) 4:47
4 – The Call (voix : Alice Himora & Oddie Beau) 3:12
5 – The Devil Inside (voix: Alice Himora & Oddie Beau) 2:15
6 – Be Afraid 2:57
7 – Till The End (voix : Kat Jones) 2:52
8 – Suffering Games (Voix : Jeff Linley) 5:26
Les Liens