Le Groupe : Stone Horns
L'Album : "Rise Of Apophis" (23/04/2021)
Genre : Death Metal
Origine : Marseille
Par Ahasverus
Le Groupe :
Stone Horns est un quartet fondé à Marseille en 2016. Il s'agit initialement d'un projet solo.

"J'ai fait partie de pas mal de groupes avant cette aventure là, et à chaque fois j'étais le dernier arrivé. Difficile d'imposer ta vision quand tu débarques", expliquait Devf, son fondateur, à Daily Rock France.


(https://www.daily-rock.fr/interview-stone-horns-devf-compositeur/)
Stone Horns est désormais un quatuor.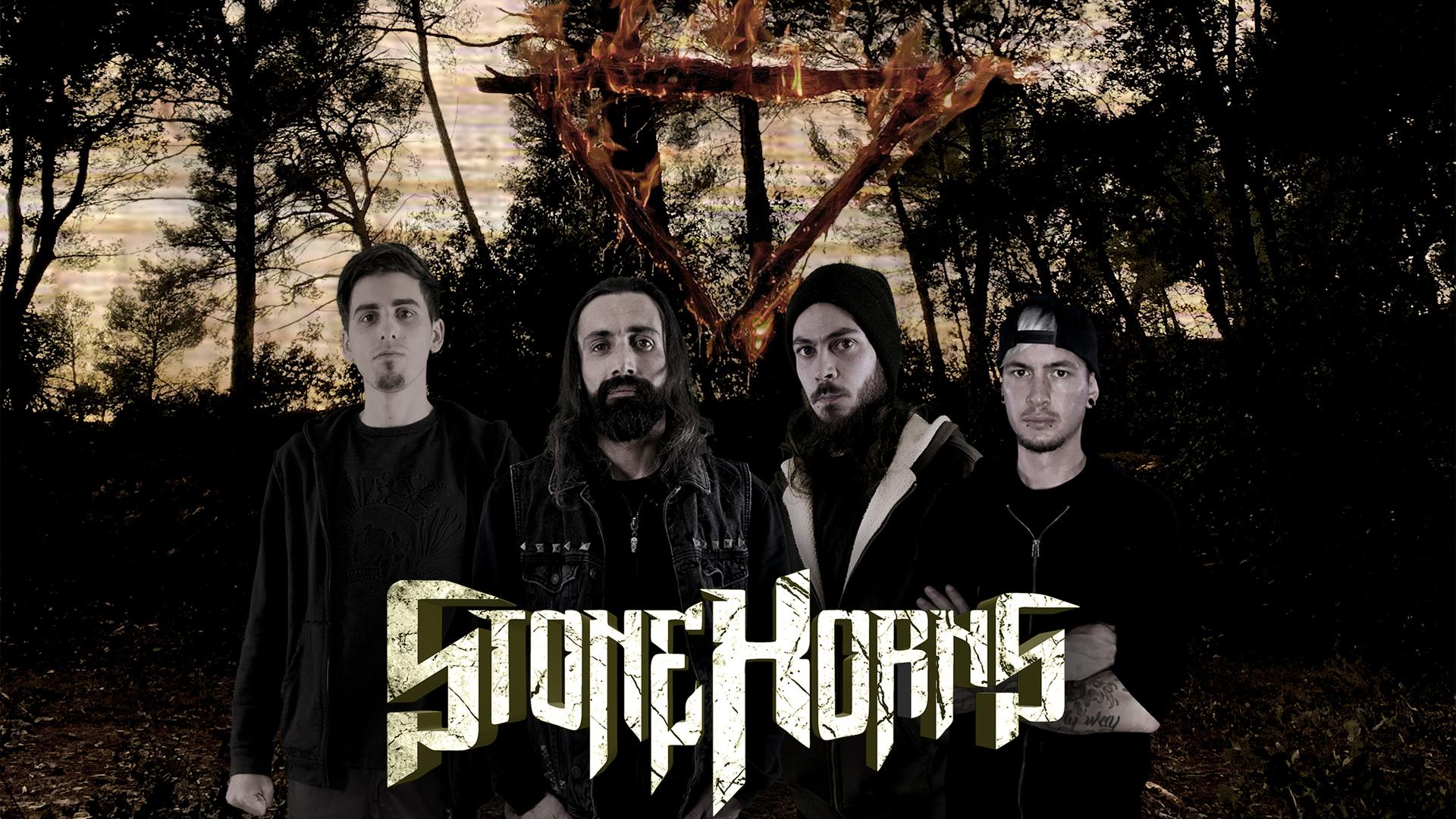 STONE HORNS - de gauche à droite : Antoine (guitare), Devf (chant), Vincent (basse) et Loïc (batterie)
Son univers musical se compose de death, black et de groove metal.
Sur leurs inspirations, Devf raconte à French Metal :
"Au tout début, Stone Horns était très inspiré Machine Head et DevilDriver, deux groupes qui nous influencent encore aujourd'hui (en omettant le " Catharsis/ Catastrophe " de Machine Head). Sur ce nouvel album sont venues se greffer de nouvelles influences. Tout d'abord, en moderne, Jinjer, qui avec son djent qui tabasse et son accordage en La est venu fortement titiller mes oreilles. Dans le plus classique, on pourra citer Slipknot, qui ont dû influencer un paquet d'autres groupes avant nous. On finira par Behemoth. Pour ça, il faudra remercier mes copains d'ACOD avec qui j'ai pu travailler quelques temps derrière la console. Le Black et le blast, ça contamine vite !"


(

http://nawakposse.com/french/metal/stonehorns/interview.html

)

Le premier album de Stone Horns,

«

The Beast Inside », sort en 2018.
En 2021 Stone Horns revient avec un nouvel album :
«

Rise Of Apophis »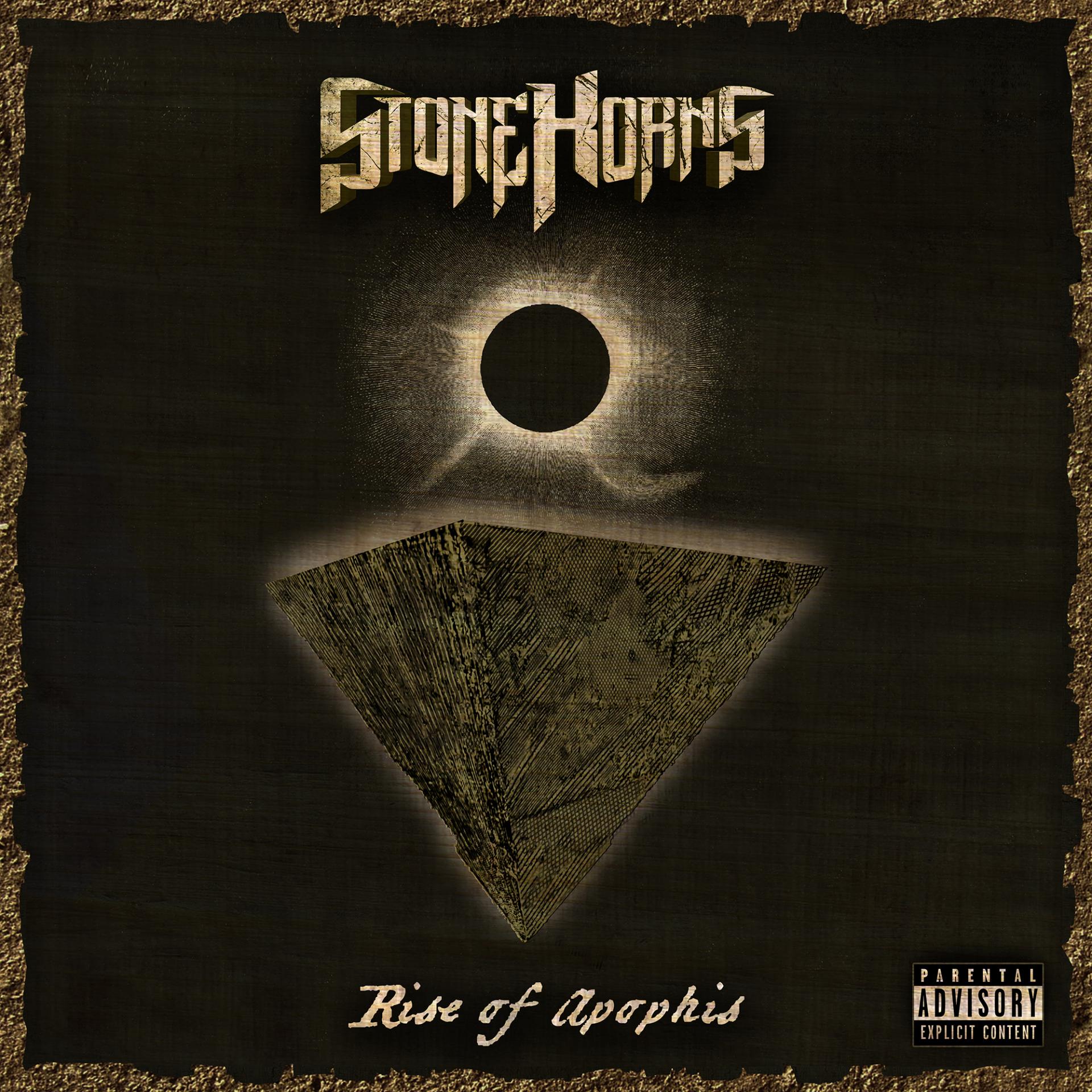 STONE HORNS, "Rise Of Apophis, (2021)
L'Album :
«

Rise Of Apophis » est un neuf pistes d'environ trente-neuf minutes.
Enregistré dans les Bouches du Rhône, à dBd Studio. (Double Bass Drum Studio), et au Stone Horns Studio, il est mixé et masterisé par Beast Production.
Sur l'évolution du son de Stone Horns, Devf explique dans une interview à Hard Force :
"Après avoir bien lu et entendu toutes les critiques liées à la sortie premier album, la mission de « Rise Of Apophis » était claire : faire plus court, plus violent, plus diversifié. Je pense que nous avons su combiner les attentes du public et les nôtres sur ce nouvel album."
(https://hardforce.com/actu/36293/stone-horns-interview)
Les compositions sont signées Devf et Antoine Roszak ; les arrangements et les paroles sont de Devf.

«

Rise Of Apophis » est un concept-album. Son fil rouge est Apophis, dieu-serpent de la mythologie égyptienne, personnifiant le chaos, le mal, et l'obscurité, cherchant à anéantir le monde.
Apophis selon sa représentation égyptienne. Dans la plupart des représentations il est soumis, battu ou tué, pour représenter le triomphe du bien. (source Wikipedia)
L'artwork est signé Devf. Il s'inspire d'un symbole mythologique d'Apophis, essayant de manger le soleil chaque soir au couchant.

«

Rise Of Apophis » est distribué par M&O Music, Season of Mist et Believe Digital.
Il est notamment appuyé par le clip "Surging Out The Nile"
Les Critiques :
"Un opus qui risque de faire du bruit et de donner quelques frayeurs à Machine Head et Devildriver s'ils ne réagissent pas vite et s'ils ne veulent pas se faire dépasser."


https://odymetal.blogspot.com

"Il y a une pluralité d'influences qui font de cet album une explosion en bouche."


https://www.daily-rock.fr

"Un album accrocheur et motivant."


https://actainfernalis.com

"Rise Of Apophis est rafraîchissant dans la façon dont il tourbillonne autour de ceux qui pensent avoir tout vu et tout entendu dans le métal moderne."


https://worldofmetalmag.com

"La voix du chanteur, Devf, est plutôt dans les tons médiums entre le Death et le Black. Cela lui permet de « chanter » sur les parties mélodiques et d'user de plus de puissance sur les parties agressives."


https://metalalliancemag.ch
Notre Avis :
Il a beau être de Marseille, n'espérez pas de Stone Horns qu'il vous serve l'anisette : « Rise Of Apophis » entre directement dans le vif du sujet avec un « The Unborn», qu'on pourrait sous-titrer « 4'32 minutes de bonheur ». (NDLR : Les artistes en demande sous-titres de leurs futurs morceaux peuvent envoyer un mail à ahasverus06@free.fr, la rédaction fera suivre)
Cette mise en jambes tonique vous ayant cueilli, l'album conserve un ton particulièrement agressif, en réussissant le tour de force d'insuffler des arabesques dans ses riffs. Stone Horns parvient en effet à installer son décor égyptien au sein d'un max de titres impressionnants de densité (Molten River, Shores Of Kismeth). Ah mais tiens donc ? Les égyptologues feraient-ils désormais leurs fouilles au marteau-piqueur ?
Si vous cherchez un album de métal moderne, du genre du pervers narcissique qui déshonora votre cousine, c'est à dire très séduisant mais fermement décidé à déboîter tout ce qui bouge, « Rise Of Apophis » est réglé pour vous. Vous vous en sortirez à minima avec une otite moyenne aigüe (ça n'arrive pas qu'aux enfants !) à chaque oreille. Autant vous dire que « Rise Of Apophis » est bon pour ce que vous avez, et qu'on vous le recommande !
Les Liens :
Distribué par M&O Music via Season of Mist et sur toutes les plateformes par Believe Distribution Services.
écouter/commander : www.cutt.ly/riseofapophis
Merch : www.stonehorns.bigcartel.com