Groupe : Akiavel
Album : Vae Victis (23/04/2021)
Genre : Death Metal
Origine : Toulon
Par Ahasverus
Le Groupe :
Akiavel est un groupe de death metal originaire du Var.
Il se compose d'Auré (chant), Chris (guitare), Jay (basse) et de Butch (batterie).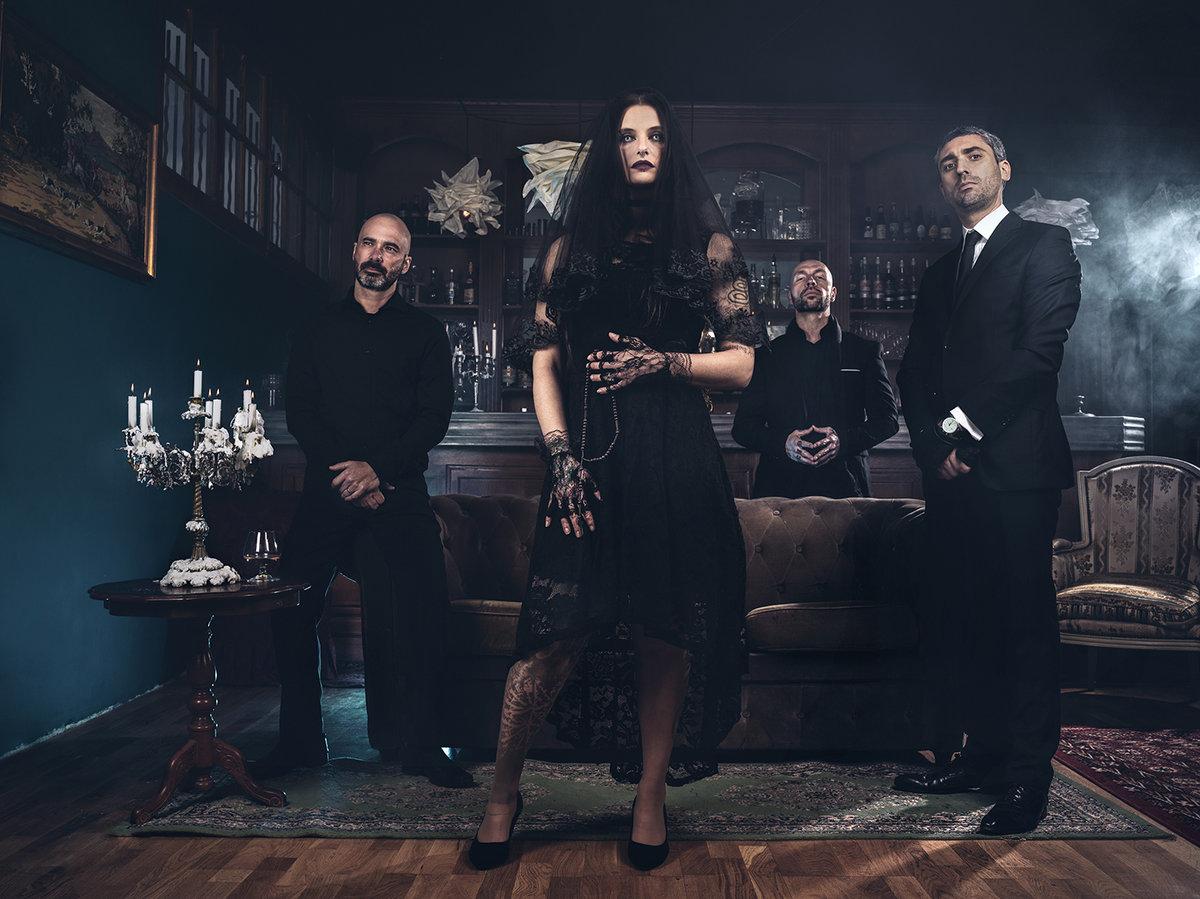 AKIAVEL par Mr Cana photography (http://www.mrcana-photography.com/)
Son nom s'inspire du penseur florentin Nicolas Machiavel.
Le quatuor - initialement quintette - se constitue à partir en 2017, mais les quatre musiciens sont déjà très expérimentés, ayant fourbi leurs armes dans plusieurs formations du Sud-Est.
Dans une interview récente accordée au webzine hollandais Metal Maniac, Auré définit ainsi l'univers du groupe :


"La musique d'Akiavel est un mélange de tous les styles de métal que nous aimons tous les quatre : thrash, death metal et même hardcore. Nous venons tous d'horizons musicaux très différents, tous liés au métal à un moment donné, nous avons donc beaucoup de références différentes en tête quand il s'agit d'écrire de nouvelles chansons. C'est pourquoi notre musique est difficile à étiqueter, c'est une sorte de mélange de beaucoup d'influences qui apporte, au moins à notre avis, notre propre style. Disons que c'est un mélange entre Arch Enemy et Hatebreed, avec quelques notes de Testament et de Benighted."

En 2018 Akiavel sort un EP trois titres sur lequel Soil Chronicles écrit :


"Akiavel et son EP éponyme sont déjà au sommet avec trois titres méchamment biens construits."


(https://www.soilchronicles.fr/chroniques/akiavel-akiavel)
En 2019, Akiavel joue au Hellfest Off de Clisson et partage quelques morceaux avec avec Stéphane Buriez (Loudblast).
En 2020 sort un premier album, "V", un concept-album tournant autour des cinq blessures de l'âme définies par l'écrivaine Lise Bourbeau. Il constitue pour le webzine Nightfall In Metal Heart,

"l'une des plus belles découvertes de 2020"

.l'une des plus belles découvertes de 2020."
Ce premier album sera illustré par de nombreux cips brillamment mis en image par Mr cana production, dans lequels le groupe se forgera une image particulièrement stylée.
En 2021, Akiavel revient avec un nouvel album :
"VAE VICTIS"
L'Album :
A l'instar de son prédécesseur, "Vae Victis" est un concept-album. Sa thématique est la suivante :


"Væ Victis - « Malheur aux vaincus ». Cet album concept plonge dans les parties les plus sombres de la psyché humaine et explore les profondeurs de la dépravation des humains les plus monstrueux : les tueurs en série."

(source Bandcamp)
Pour enregistrer et mixer ce nouvel opus, Akiavel fait à nouveau confiance à Sebastien Camhi et à son Studio Artmusic.
"Vae Victis" a fait l'objet de très belles éditions vinyles colorées en séries limitées. La plupart sont épuisées.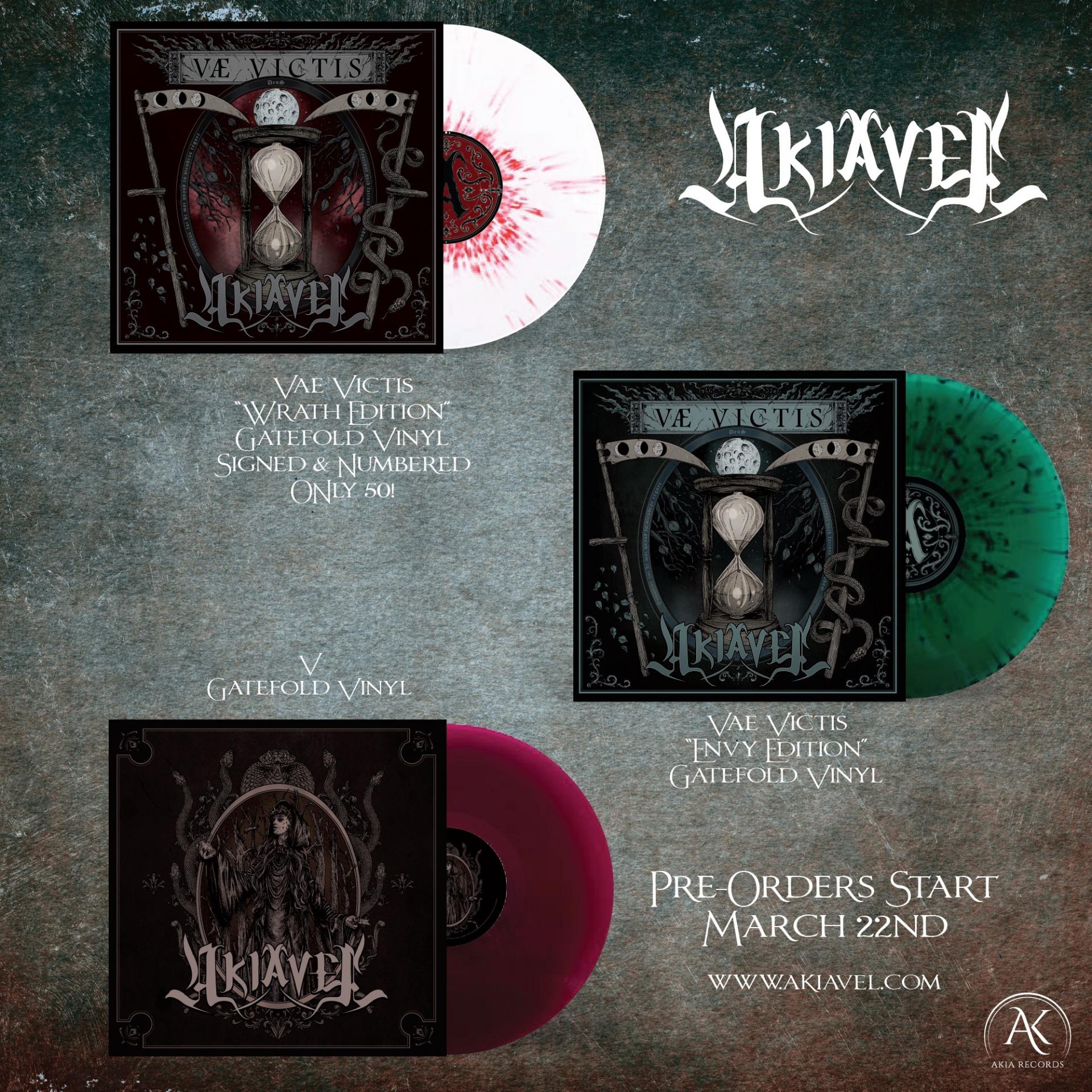 Mimi Canavaggia prête sa voix claire sur le titre "Lady Of Death".
Un choeur d'enfants à deux voix se fait entendre sur le titre "Comrade". Ce titre parle du tueur en série ukrainien anthropophage Andreï Tchikatilo, surnommé le tueur de Rostov, auteur d'une cinquantaine de meutres de femmes et d'enfants. Auré voit dans ce titre un hommage à ces enfants disparus.
L'album est soutenu par le clip "Frozen Beauties", réalisé par Mr cana production. Ce titre évoque Ivanova Tamarin et sa fille de dix-sept ans, Olga. Ces tueuses en série estoniennes du début du vingtième siècle, chez qui l'on découvrit vingt-sept cadavres et des instruments de torture, furent convaincues de cannibalisme. Et oui, cet album d'Akiavel, c'est un peu "La Grande Bouffe" en version métal !
Les Critiques :
"« Malheur aux vaincus », ce qui signifie que ceux qui sont vaincus au combat sont entièrement à la merci de leurs vainqueurs et ne doivent pas attendre ni demander la clémence. Il en va de même pour l'auditeur."


https://www.metaltalk.net

"Malgré son aura noire profonde, cet album est toujours très mélodique."


https://www.stormbringer.at

"Avec son deuxième album, Akiavel devient une force sérieuse de la scène Death Metal des années à venir et « Vae Victis » devrait faire partie de la collection de tous les fans de Metal."


http://www.metal-temple.com
---
Notre Avis :
Akiavel aurait pu jouer la facilité et surfer en douceur deux ou trois ans sur la vague "V" ; il a choisi de battre le fer métal tant qu'il est chaud et ranime les braises pour un nouvel album (et il parle même déjà du suivant !) servi par le même trio gagnant (Raf The Might sur l'artwork, Mr Cana sur l'image, Sébastien Camhi sur le son) pour un opus conceptuel au sujet sulfureux : les tueurs en série.
Akiavel annonce donc la couleur : sa dominante sera rouge. Vitesse d'exécution, ambiances de plomb, il enfonce le clou planté dans VOTRE chair par son prédécesseur. Cependant il y a quelque chose de plus musical ("Blind Torture Kill", "Zombie") dans cet album qui pourtant emprunte aussi au brutal death.
La sauce prend, les structures bousculent l'auditeur et le tiennent en haleine, les titres sont calibrés au millimètre, faits d'accélérations, de ruptures... Le son est toujours aussi puissant, mais il s'ouvre à d'autres voies. L'impressionnante Auré, cette furie grècque, varie ses growls ("Zombie") avec talent. L'adjonction du choeur d'enfants sur "Comrade" et de la voix claire sur "Lady Of Death" sont des petites cerises sur notre forêt noire. Tout cela amène un album très dense, oppressant, mais brillant et qui ne s'essouffle pas. Purée ! On frémit d'avance à l'idée de ce qu'on va prendre dans la gueule quand Akiavel montera sur scène !
Un son puissant et sombre, une image soignée, une écriture documentée et intelligente, une dextérité dans l'interprétation, une attitude, une "gueule", tout concourt à faire d'Akiavel LE groupe qu'on aime aimer et LA révélation de l'année 2020 qui, enfin, transforme l'essai. Akiavel poursuit donc son ascension, et il porte en son sein et dans son entourage une telle conjugaison de talents qu'on ne voit pas ce qui pourrait l'arrêter. Autant vous dire la vérité : Akiavel a déboulé, il veut tout bouffer, et vous n'avez déjà plus aucune chance de lui échapper !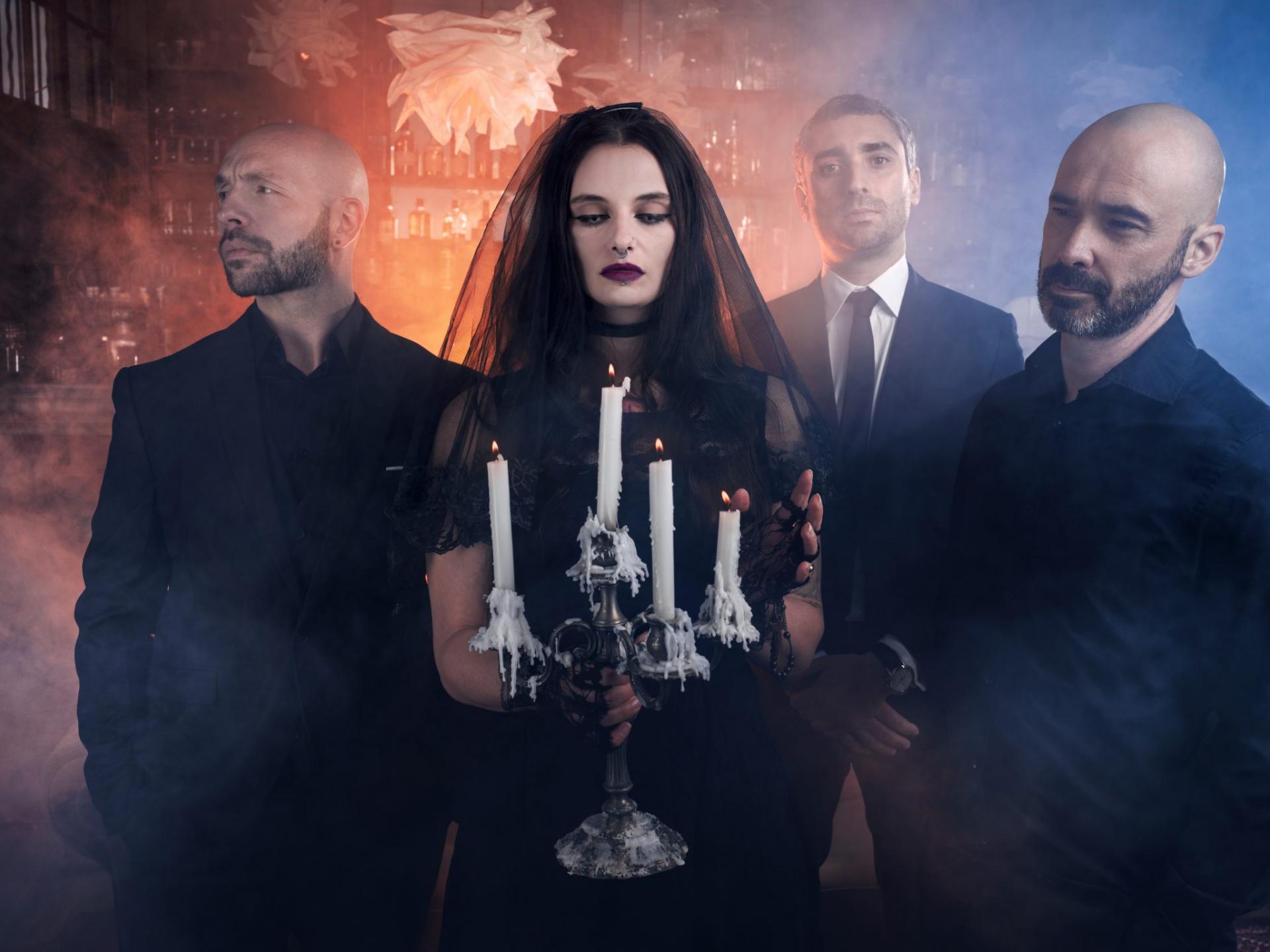 AKIAVEL par Mr Cana photography (http://www.mrcana-photography.com/)
---
La Tracklist :
Frozen Beauties
Bind Torture Kill
Zombie
Needles From Hell
Comrade
Medium
The Lady of Death
Pentagram Tattoo
Mommy I'm Capable
Matrimonial Advertisements
---
Les Liens :