SHOCK ROCK
Interview réalisée par Vanessa et Ahasverus pour https://www.lalegionunderground.com - Mis en ligne le 14/02/2019.

​"Nous étions signées sur une major dès notre plus jeune âge.
Quand on regarde en arrière, on peut être fières de la réussite,
mais nous étions bridées dans notre créativité et,
même si la route peut sembler plus facile,
elle ne l'était pas à bien des égards.
C'était comme voler avec des ailes de plomb."

Avant la sortie du nouvel album (dont le titre de travail était Chain) et en attendant que le Girl Next Door Tour ne frappe la France, voici une interview de The SoapGirls, le groupe de Shock-Rock sud-africain.
Les soeurs Debray nous racontent leur parcours, parlent de leurs convictions, de leur actualité et de la future tournée.
Il se passe toujours quelque chose avec The SoapGirls, alors bonne lecture...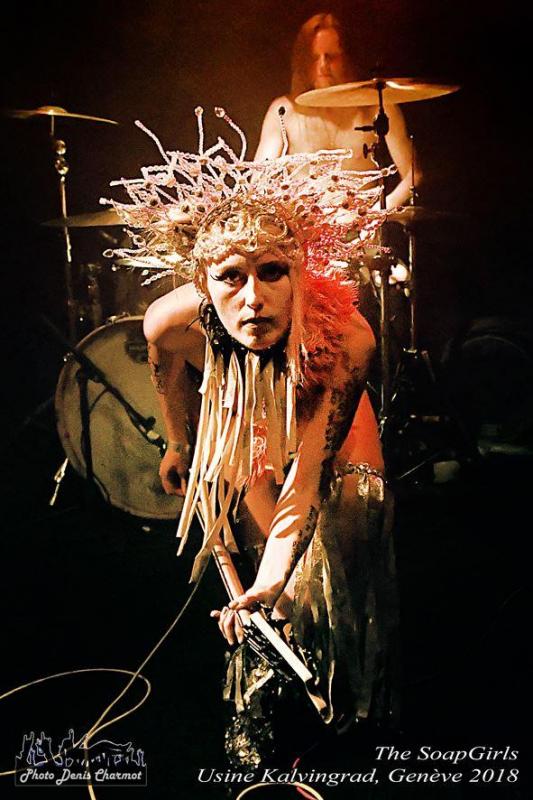 The SoapGirls par Denis Charmot lors du Stinks Like Punk Tour 2018.

Bonjour The SoapGirls. Tout d'abord pourriez-vous présenter votre groupe pour nos lecteurs qui ne vous connaîtraient pas encore ?
Bonjour à tous, nous sommes The SoapGirls, Camille (bass) et Noemie (guitar). Nous sommes deux sœurs nées à Paris et nous avons grandi en Afrique du Sud. A l'âge de huit ou neuf ans, nous avons commencé à nous produire dans la rue, d'abord en vendant des savons pour récolter des fonds pour des enfants hospitalisés, ou pour d'autres causes en Afrique du Sud. Nous avons commencé la musique de manière professionnelle quand nous avons atteint douze ou treize ans. C'était une longue route, un peu folle, mais nous aimons ce que nous faisons. Nous sommes des artistes indépendantes, et nous ne donnons aucune limite à notre liberté d'expression.

L'attitude semble chez vous aussi importante que la musique. Avez-vous des idéaux que vous défendez au quotidien ?
Notre attitude se reflète dans notre musique, et au travers de chaque chose que nous faisons et que nous défendons.
Ce n'est pas facile, dans cette société hypocrite qui raconte aux gens qu'ils sont libres mais qui met en place toutes les limites pour stopper cette même liberté. Nous pensons qu'il est important - et peu importe ce que les autres en disent - de rester fidèle à ce en quoi l'on croit et de dénoncer les injustices et la censure.
Nous venons d'Afrique du Sud, un pays très conservateur, où des femmes se font violer chaque jour. Nous entendons parfois à ce propos des réflexions stupides de personnes qui prétendent que c'est la manière dont s'habillent ces femmes qui est le déclencheur de leur agression. Nous aimons nous confronter aux gens et les sensibiliser à ce sujet, quitte à récolter beaucoup d'emmerdes et à être jugées rien que pour la manière dont nous nous habillons.

Vous sentez-vous féministes ? Quelle en est pour vous la définition et quelle femme incarne le mieux ce mouvement ?
Nos opinions sont partagées en ce qui concerne le mot "féministe". Il représente l'égalité des sexes, mais il semble réservé uniquement aux personnes qui s'habillent et voient les choses d'une certaine manière. Certaines personnes se trompent sur la signification de ce mot, et croient qu'il est un permis qui leur donnerait une légitimité pour attaquer une autre femme sur ses choix. Les hommes semblent ne pas comprendre que le féminisme a été créé afin que nous puissions tous disposer d'un droit égal de vivre sans crainte et d'être comme nous l'entendons. Donc, pour répondre à votre question, nous croyons en l'égalité de tous.
Camille : Me concernant, Madonna personnifie mon idée du féminisme. Elle est forte, elle n'a peur de rien, et elle ose sans jamais remettre en question sa féminité.
Noemie : Pour moi, toute personne de sexe masculin ou féminin qui s'est battu pour ses convictions dans la lutte pour l'égalité est l'épitome d'un "féministe". Il semble qu'il y ait une idée confuse - et j'y vois une manœuvre politique - à propos de ce que doit être une féministe, de la manière dont elle doit agir, vivre, s'habiller ou se comporter. Tout ceci ne correspond absolument pas au féminisme.

Après une tournée européenne de près de cent-trente dates, vous êtes rentrées en Afrique du Sud voici environ deux mois. Vacances ou travail ?
Travail ! On adore ce qu'on fait, et on n'arrête jamais d'écrire, de composer, ou de bricoler des vidéos. Nous sommes toujours sur la route, alors nous aimons aussi profiter de la plage et du soleil quand on n'est plus en tournée.

Vous préparez actuellement le futur album. Pouvez-vous nous en dire plus ?
Ce sera notre troisième album en tant que musiciennes indépendantes. Nous sommes très enthousiastes et nous venons juste de terminer son écriture. Nous l'enregistrerons bientôt puis nous partirons en tournée à partir d'avril avec quinze nouvelles chansons. Chaque album est différent, et celui-ci le sera également car notre son est en constante évolution. Nous avons hâte de délivrer nos titres en live.


"One Way Street", le nouveau single de The SoapGirls, sera sur leur prochain album.
Vous signez vos chansons "Camille Debray/ Noemie Debray" ou "The SoapGirls". Concrètement, comment se passe le processus de composition ?
Chaque chanson est écrite par nous deux, donc signée en tant que The SoapGirls. Quand nous écrivons un morceau, c'est un équilibre. Parfois un refrain vient en premier, parfois un couplet. Nous écrivons toujours à propos de la vie telle que nous la vivons. Chacune de nous apporte un élément différent et une nouvelle dimension aux compositions, et chaque titre que nous écrivons et composons surgit à partir d'une histoire ou d'une expérience personnelle.

Quelle est la part de votre activité artistique que vous préférez ?
Nous aimons toutes les deux aller en studio, enregistrer et donner vie aux chansons qui ont jailli durant la phase de composition, mais rien n'est comparable à l'énergie et à la satisfaction de voir un public réagir et se bouger sur la musique et la performance.
Rencontrer nos fans, c'est un véritable privilège pour nous. Nous aimons voir comment la musique peut rassembler les gens, quels que soient leur âge, leur origine ou leurs croyances.

En 2011, The SoapGirls était un duo de Pop Music qui vendait très bien. En 2015, vous renversez les tables et commettez "Calls For Rebellion", avec son virage revolt rock, que vous confirmerez en 2017 avec l'album suivant, "Society's Reject". Vous n'avez pas choisi la voie de la facilité ! Que s'est-il passé ?
Nous étions signées sur une major dès notre plus jeune âge. Quand on regarde en arrière, on peut être fières de la réussite, mais nous étions bridées dans notre créativité et, même si la route peut sembler plus facile, elle ne l'était pas à bien des égards. C'était comme voler avec des ailes de plomb. Le label ne souhaitait nous voir que d'une seule manière, et c'était une lutte permanente entre ce qu'ils voulaient qu'on fasse et ce qui nous correspondait vraiment. Finalement, après des années de combat pour nous libérer du contrat qui nous liait à eux, on leur a dit d'aller se faire foutre. Peu de temps après, tout ce que nous avions nous a été volé, tout, y compris nos guitares. On n'avait plus rien, sauf qu'on était maintenant devenues indépendantes. Alors on a monté un plan pour partir à New-York afin d'enregistrer les chansons que nous avions envie de faire.
Malheureusement, des gens cupides avaient les mêmes idées que le label, et bien qu'ils nous aient proposé une énorme somme d'argent pour un contrat, nous ne voulions plus perdre notre liberté artistique. Ils ont pris nos chansons et les ont transformées en quelque chose de complètement différent de ce que nous avions enregistré, et nous ne nous reconnaissions pas dans ce que nous entendions. Alors on a quitté New-York. A partir de là, on a bossé très dur, économisé, tout donné pour notre musique, et on a enregistré "Calls For Rebellion". Puis on est parties en Angleterre et on a embarqué pour notre première tournée internationale. Le soutien des fans a été fantastique, et on leur en est grandement reconnaissantes.

Quels sont vos souvenirs scéniques les plus marquants ?
Noemie : L'un des moments les plus drôles que j'ai connus sur scène : je portais un body tout blanc, je jouais, je chantais, je m'éclatais, quand j'ai senti un liquide chaud qui coulait le long de mes cuisses. Je me souviens que le public en face de moi paraissait surpris et choqué. J'ai regardé en bas et j'ai vu du rouge partout. J'avais mes règles, mais certaines personnes dans le public ont cru qu'il s'agissait d'un effet de scène, avec du faux sang. Alors elles prenaient ce sang pour s'en faire comme des peintures de guerre sur le visage... Je n'ai pas eu le cœur à leur dire que c'était vraiment du sang !
Camille : Au cours d'un show au Pays de Galles, une vieille femme de quatre-vingt ans est montée sur scène pour la chanson "Bad Bitch". Elle a enlevé son soutien-gorge et elle a commencé à le faire tourner en l'air. C'était épique de voir quelqu'un d'aussi libre manifester autant de plaisir durant notre show !
The SoapGirls - Calls For Rebellion (2015)
Camille, quel est le plus gros défaut de Noémie ?
Le plus gros défaut de Noemie est qu'elle peut se montrer très impatiente et s'énerver quand tout n'es pas parfait.

Noémie, quel est le plus gros défaut de Camille ?
Elle peut être trop sensible parfois, et prendre les choses trop à cœur. Elle est aussi très dure au travail, où elle peut se montrer autoritaire.

La tournée 2019 démarrera dans quelques mois. Elle passera par les USA et l'Europe, selon mes informations. Avez-vous des précisions quant aux dates françaises ?
The Girl Next Door Tour inclura également les USA pour la première fois.
Nous sommes toujours en phase de réservation des salles, nous n'avons donc pas encore toutes les dates, mais nous avons hâte d'être de retour en France !

Le batteur Sam Ogden, qui vous accompagnait sur le Stinks Like Punk Tour, sera-t-il présent sur la nouvelle tournée ?
Non, on l'a tué lors de la dernière tournée. On plaisante ! Bien sûr, il sera là.
The SoapGirls avec Sam Ogden sur le Stinks Like Punk Tour 2019. Photo Luca Viola.
Crédits photograhiques :
La photo de The SoapGirls est de Denis Charmot https://www.facebook.com/DenisCharmotPhotos/.)
La photo de The SoapGirls avec Sam Ogden est de Luca Viola.

Liker la page Facebook de The SoapGirls, c'est ici :
https://www.facebook.com/thesoapgirls/
Visiter leur site, c'est là :
https://thesoapgirls.com/

Ecouter leurs albums, c'est là :
https://thesoapgirls.bandcamp.com/
This is the english version from an interview released in french for https://www.lalegionunderground.com/
. Hello, The Soap Girls. First of all, could you introduce your group to our readers who wouldn't know you yet ?
Hi everyone ! We are The SoapGirls : Camille (bass) abd Noemie (guitar). We are sisters born in Paris and grew up in South Africa. From ages eight to nine, we start street performing and selling soaps to raise funds for childrens hospitals and other causes in South Africa, and got into music professionally when we were twelve and thirsteen. It's been a long and crazy road, but we love what we do and being independant artists we have no limits on our expression of freedom.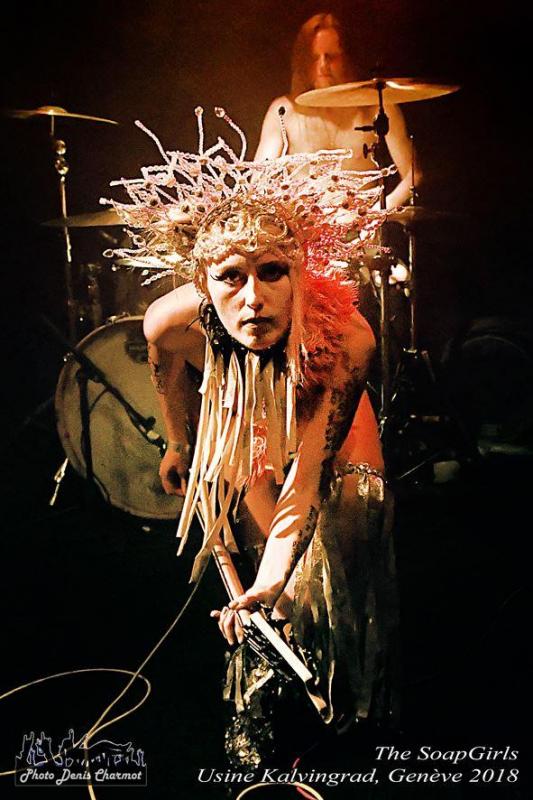 The SoapGirls during the Stinks LIke Punk Tour 2018. Photograph : Denis Charmot (https://www.facebook.com/DenisCharmotPhotos/)

. Your attitude seems as important as music. Do you have any ideals that you defend on a daily basis ?
Our attitude is reflected in our music and everything we do and stand for it's not easy in a hypocritical society that tells people they're free yet imposes every limit to stop that very freedom. We feel its important, no matter what others may say to stay true to what you believe in and speak out against injustice and censorship . We come from South Africa, a very conservative country where woman are raped everyday. So when people say ignorant things such as her clothes caused her to be attacked, we like to confront an educate people on this subject as we get a lot of shit and judgement just for how we dress.
. Do you feel feminist-like? What is the definition of "feminism" for you and what woman best embodies this movement ?
Our opinions are divided when it comes to the word feminist as it stands for equality for all sexes but seems to be reserved solely for people who dress and look a certain way. Some people also confuse the word and think it's a license to attack other woman on their choices, and men, for being men, they don't seem to understand that feminism was created so that we could all have an equal choice and right to live and be the way we want to without fear. So, to answer your question, we believe in equality of all
Camille : Madonna embodies my idea of what feminism is. She is strong, fearless and daring while never compromising her femininity.
Noemie : For me, any person male/ female that has fought for and been true to their beliefs in the fight for equality to me is the epitome of a "feminist". There seems to be a twisted confuse - and I suspect political instigation - into what is a feminist and h0w they should act, live ,dress or be which is completely not what feminism is about

. After a European tour with nearly one hundred and thirty dates, you returned to South Africa about two months ago. Holiday or work ?
Work ! We love what we do and never stop whether it's writing or recording or shooting DIY videos. We're always on the go, we are enjoying the beach and the sunshine while we are off tour aswell.

. You are currently preparing the future album. Can you tell us more ?
This next one is going to be our Third album as independent musicians. We are very excited and have just finished writing it. We will be recording it soon and heading out on tour from April with 15 new songs .
Every album is different and this one is no exception our sound is constantly evolving and we look forward to releasing an performing them live.
One way street is one of the songs of the future album.

. You sign your songs "Camille Debray/ Noemie Debray" or "The SoapGirls". In concrete terms, how is the composition process going ?
Every song is written by both of us so therefore signed off as The soapGirls. When we write a song it's a balance sometimes its a chorus first or a verse and we're always writing about life as we're experiencing it . Each of us brings a different element and new dimension to songs all our songs we write/compose are written from a personal story/experience
. What part of your artistic activity do you prefer ?
We both love going into studio and recording the songs that have been bursting to be released , but nothing compares to the energy and satisfaction of seeing people reacting and moving to the music and performance. Getting to meet our fans is such a privilege for us and we love seeing how music can bring people regardless of age race or creed together
. In 2011, The SoapGirls was a duet of Pop Music that sold very well. In 2015, you overturn the tables and commit "Calls For Rebellion", with its Revolt Rock turn. You did not choose the easy way out! What happened ?
We were signed to a major label at a young age and we can look back now and be proud of that achievement but we were restricted in our creativity and although an easier road in some ways in many ways it wasn't it was like being given wings made of lead. The label only saw us in one way so it was a constant struggle between being true to ourselves or doing what they wanted and in the end after fighting for many years to be released from our contract with them we eventually told them to fuck themselves and were released , we were robbed soon after and everything including our guitars we're stolen so we had nothing except that we were finally independant . We made a plan to get ourselves to New York to record the songs that we wanted to do unfortunately greedy people had the same ideas as the record label and although they offered us a huge sum of money and a record deal we couldn't bring ourselves to lose our creative freedom again. They'd taken our songs and turned them into something completely different to what we'd recorded and we felt no connection to what we heard. We left New York and worked really hard saved up put everything into our music recorded Calls For Rebellion and got ourselves to England and embarked on our first international tour the support of our fans has been amazing and we are so greatful.
The SoapGirls - Calls For Rebellion (2015)

. What are your most striking scenic memories ?
Noemie : Well, this is one of my funniest moments on stage but I was wearing an all white body suit and I was playing singing having fun and during all of this warm liquid was running down my thighs and i remember seeing the audience in the front looking shocked and surprised and I looked down and saw red everywhere. I'd gotten my period but the people in the audience thought it was staged and fake blood so were taking the blood and using it like warpaint on their faces I didn't have the heart to tell them it was real blood .
Camille : We had a show in Wales and this 80's years old woman got on stage during our song bad bitch took off her bra and started swinging it in the air. It was epic seeing someone so free and having so much fun at our show
. Camille, what is Noémie's biggest defect ?
Camille : Noemie's biggest defect is she can be very impatient and gets mad when things aren't perfect .

. Noemie, what's Camille's biggest defect ?
Camilles biggest defect she can be too sensitive sometimes and takes things to heart easily shes also extremely hardworking and can be bossy.

. The 2019 tour will start in a few months. It will go through the USA and Europe, according to my information. Do you have any details on the French dates ?
The Girl Next Door Tour will also include The USA for the first time. We are still booking shows, so we don't have all of the dates yet, but cant wait to be back in france !
. Will drummer Sam Ogden, who was with you on the Stinks Like Punk Tour, be present on the new tour ?
No, we killed him on the last tour... Only Kidding, yes he is !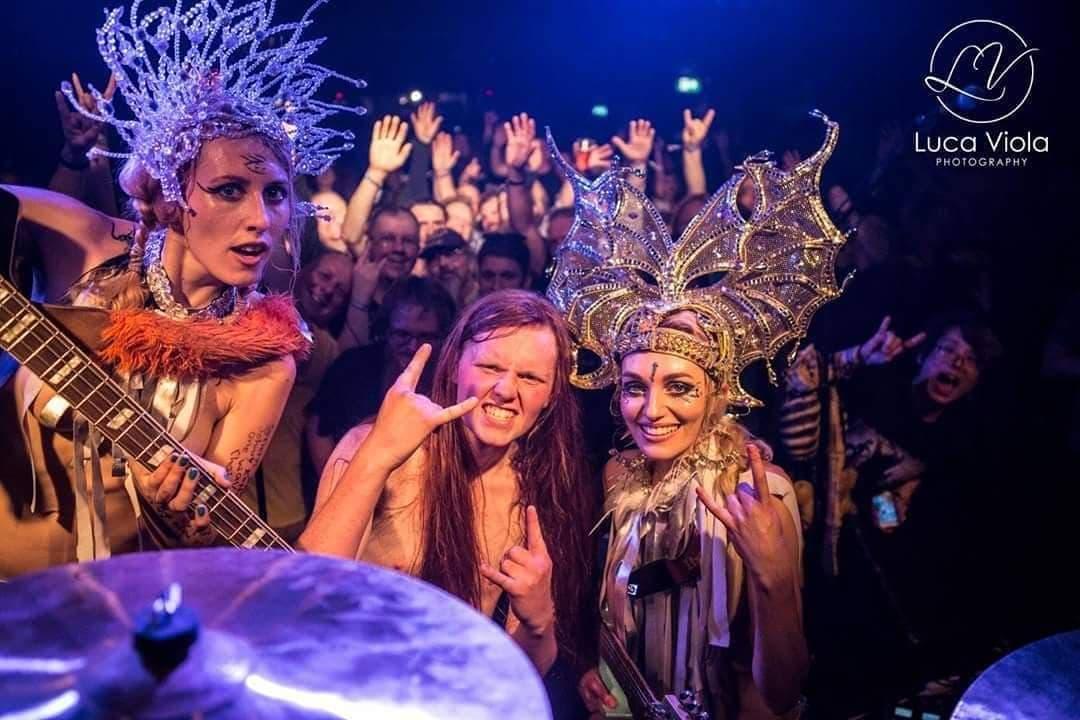 Camille Debray, Sam Ogden and Noemie Debray during the Stinks Like Punk Tour 2019. Photograph from Luca Viola.

. Thank you, The SoapGirls, for answering our questions. You have the last word.
Thank you so much for the opportunity to spread and share our music it is much appreciated !
Thanks to the greed of the politicians amd governments life is getting harder an censorship is on the rise again. Stand your grind and fight for your freedom. You can make a difference !


The SoapGirls on Facebook : https://www.facebook.com/thesoapgirls/
The SoapGirls are also here : https://thesoapgirls.com/
The SoapGirls on Bandcamp : https://thesoapgirls.bandcamp.com/