Accueil

/

Chronique d'album : FORTUNATO (Néo Classique), "Insurgency" (2021)
Chronique d'album : FORTUNATO (Néo Classique), "Insurgency" (2021)
Groupe : Fortunato
Album : "Insurgency" (14/05/2021)
Genre : Néoclassique - Power Metal Symphonique - AOR - Hard & Heavy
Influences : Riot - Manowar - Midnight Sun - Opus Atlantica - Yngwie Malmsteen
Origine : Lyon (2012)
Par Pépé St@kaTTo
Fortunato est le projet de Markus Fortunato, bassiste, chanteur, compositeur prolifique, en activité depuis la fin des années 80 et que certains ont connu avec son groupe Lyonnais MZ de 1999 à 2011. Pas moins de sept albums au compteur dont l'excellent « live de 2008 » !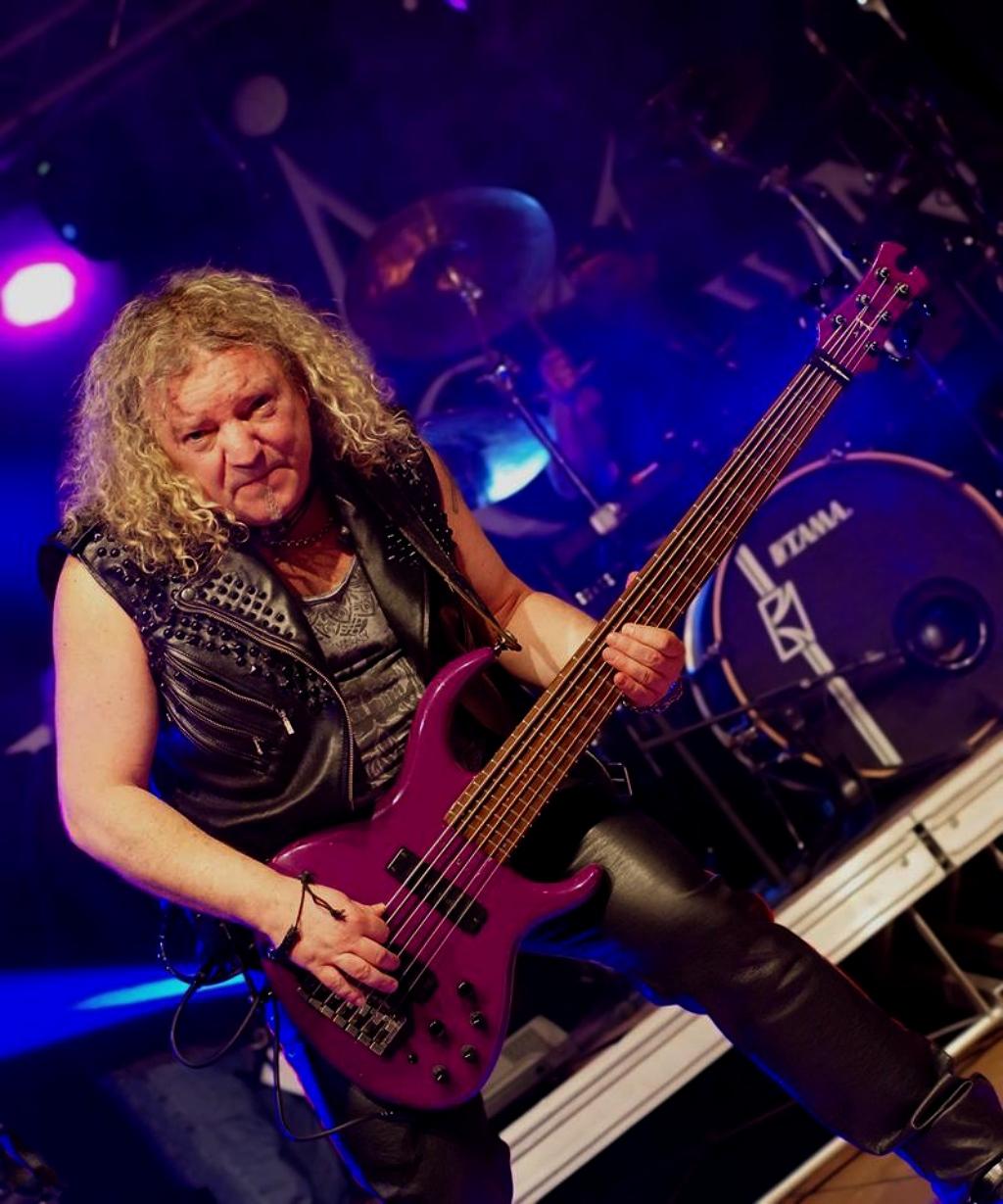 Markus Fortunato par Richard Leroy
Après le split de MZ, Markus a formé (sous sa propre bannière) Fortunato, comme une suite logique à son ancien projet avec de nouveaux chapitres à écrire, mais toujours dans un registre Néoclassique. Ce sera d'abord « Liberty » en 2012, « Restless Fire » en 2015 (disponible sur le Label Brennus Music), et aujourd'hui « Insurgency » pour le millésime 2021 dont nous allons découvrir avec attention les nouveaux titres.
Ce troisième album de onze titres pour cinquante-cinq, minutes sorti sur les plateformes numériques mi-avril, sera disponible en galette à partir du 14/05/2021 sur le tout nouveau label français Rock City Music Label, à qui je souhaite tout le meilleur !
[A noter que tous les membres du groupe ont travaillé sur les textes et la musique.]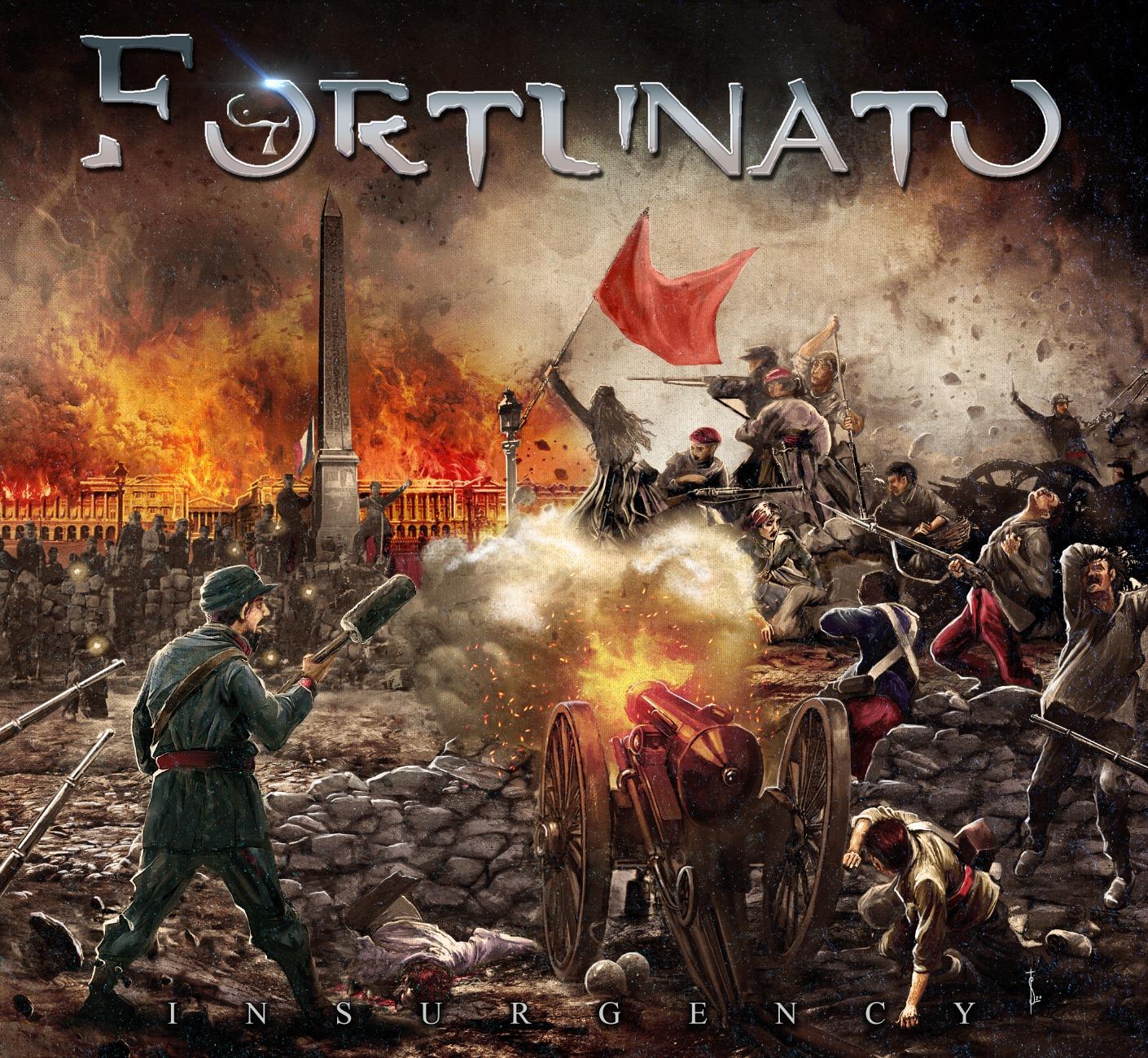 FORTUNATO, "Insurgency" (2021) - Cover Artwork Stan W. Decker
Tracklist :
01.Carry On To The Depths Of The Sea * 02.Blood Of The Unknowns * 03.For Eternity * 04.Fly Away * 05.The Sun Shall Never Shine * 06.Everywhere * 07.A Star In The Sky * 08.A White Cross On A Norman Field * 09.Big Time * 10.My Mother Was A Who ? * 11.Insurgency
---
1.- Ce troisième opus débute par « Carry On To The Depths Of The Sea » sur une courte intro rapide au « clavecin » d'inspiration très Bachienne et sa relance guitare aux influences Malmsteeniènes catapulte le chant de Markus, appuyé par un son de basse monstrueux. Le pont d'inspiration baroque que l'on entend au milieu du morceau permet de marquer une courte pause pour mieux relancer la machine. Les chœurs lyriques que l'on retrouve tout au long du morceau appuient cette ambiance Power Metal Symphonique, pour une communion solennelle avec cette nature souillée et polluée par l'homme. Le solo de Seb qui débute en tapping va permettre de clôturer ce premier morceau.
2.- « Blood Of The Unknowns » d'inspiration très Maiden, avec son riff d'intro et sa rythmique implacable, son refrain et ses chœurs très martiaux, sonne comme un hommage aux soldats tombés au champ d'honneur, une divine prière. Les parties batteries de David sont énormes et ses nombreux roulements résonnent comme des tambours de guerre.
3.- « For Eternity » avec son mid-tempo et sa batterie bien mise en avant, son refrain à la UDO / Accept est assurément le plus beau morceau de l'album, mon préféré du moins. Le solo de Seb et celui de basse de Markus avant le dernier chorus sont magnifiques, un requiem au piano conclut ce titre : sublissime par son texte et sa composition. La vidéo présentée par le groupe et agrémentée des paroles nous raconte l'histoire de ce soldat parti à la guerre conscient de son sort et qui livre son ultime testament à sa femme et ses amis.
4.- « Fly Away » est également un hommage militaire à la gloire de ces héros inconnus, un hymne porté au paroxysme par la puissance vocale de Markus. Ce titre démarre sur un riff guitare que l'on retrouve tout au long du morceau, et qui sert régulièrement de relance. Au milieu du morceau, on retrouve un pont guitare de toute beauté, avec une première partie, aussi émouvante pour moi que celui d'Ozzy avec son solo de « Mister Crowley » exécuté par le génial Randy Rhoads et qui finit en apothéose sur le deuxième solo lancé par de puissants bends et une montée chromatique atomique. Les parties claviers ainsi que les soli ciselés de main de maître de Seb renforcent l'ambiance délicieusement néoclassique du morceau.
5.- Si « The Sun Shall Never Shine » démarre sur une intro très calme ponctuée de magnifiques nappes de claviers, le tempo s'accélère rapidement comme un cheval au galop. La basse et la batterie martèlent leur rythmique pour soutenir les parties vocales de Markus dont le chant se veut toujours aussi puissant et incisif. La mélodie est toujours aussi carrée et les soli aussi tranchants et magistraux. Mention spéciale à la première partie du solo en son clair de toute beauté. On retrouve ici aussi les chœurs lyriques du premier morceau.
6.- Avec son intro en arpèges « Everywhere » est la ballade mélodique de l'album qui apporte ici son instant de sérénitude, et qui fait tout au long du morceau la part belle aux plans guitare (le solo pourtant simpliste n'a pas besoin d'en faire des caisses pour faire mouche). Une mélodie et un chant déchirant qui prennent aux tripes. Sublissime !
7.- « A Star In The Sky » démarre sans intro, pied au plancher ! La voix rocailleuse de Markus nous prouve encore sur ce morceau qu'en plus d'être un de nos meilleurs bassistes métalleux français, il est également un remarquable chanteur. Et que dire de ce solo de basse « hispanisant » sur le pont, tout simplement bluffant de technicité, et quelle originalité !
8.- « A White Cross On A Norman Field » débute par un bon riff très Black Sabbath et se poursuit par une rythmique appuyée par de nombreuses nappes de claviers, les breaks énergiques de batteries, le chant martial et mélodique de Markus ainsi que le long solo sur-vitaminé font de ce titre épique un petit bijou.
9.- Le très rock « Big Time » lorgne ici vers l'AOR. De superbes nappes de clavier enjolivent la voix de Markus pour un morceau qui sort des sentiers battus et qui fait figure d'outsider sur les onze titres de l'album. C'est pourtant un titre très bien ficelé tant sur la composition que sur la partie chant (un hymne facilement identifiable que j'aurai bien vu comme une suite à « The final countdown » d'Europe), mais qui ne plaira peut être pas à tous les puristes du groupe.
10.- « My Mother Was A Who ? » le titre phare qui a servi de teaser à l'album et que l'on a découvert en exclusivité sur Youtube est un vibrant hommage de Markus à ses parents et plus particulièrement une belle dédicace à sa maman. Ce morceau est lancé par une rythmique implacable et une partie chant particulièrement forte émotionnellement (renforcée par les chœurs de Mel Frs, Elsa Fares, Santa Phy, et Carine Pinto).
Les paroles racontent ce rêve un peu fou que fit Markus une nuit où se retrouvaient au Paradis sur scène une partie du défunt groupe des Who avec sa mère au chant, son père à la guitare, John Entwistle à la basse et le célèbre batteur Keith « Moon the Loon ».
11.- Le dernier morceau de neuf minutes, « Insurgency », qui donne son titre à l'album et qui clôture cet opus, démarre sur une sonate à la guitare, et se poursuit sur une bonne rythmique bien Power Metal Symphonique, avec de belles envolées lyriques. Une montée en puissance progressive, puis un intermède baroque qui sert de pont lance la dernière partie du morceau, avec son chant populaire de révolte et sa partie arpégée de fin comme un lugubre anathème, une ultime charge héroïque, un dernier baroud d'honneur…
Ce dernier titre se déguste comme un bon film sur grand écran. Il suffit de regarder le magnifique artwork de Stan, tout y est ! Nous sommes cent cinquante ans en arrière, juste après la défaite de la guerre franco-prussienne de 1870 et le siège de Paris. La Commune de Paris, qui est en pleine période insurrectionnelle, refuse de reconnaître le gouvernement issu de l'Assemblée Nationale, qui vient d'être élu. Ce vent de révolte durera soixante-douze jours et verra l'anéantissement de la Commune durant la « Semaine sanglante ».
---
Transformation réussie pour ce troisième album de Fortunato que les fans du groupe, et moi-même, attendions patiemment ! Les compositions sont homogènes, les textes très travaillés, la production de qualité. Le nouveau line-up est en parfaite osmose.
Amateurs de Néoclassique, de Power Metal Symphonique, d'Hard & Heavy et même d'AOR, cet album est à écouter d'extrême urgence. Pour ceux qui découvrent le groupe, je vous invite également à vous pencher sur les deux précédents qui contiennent eux aussi leurs lots de petits bijoux.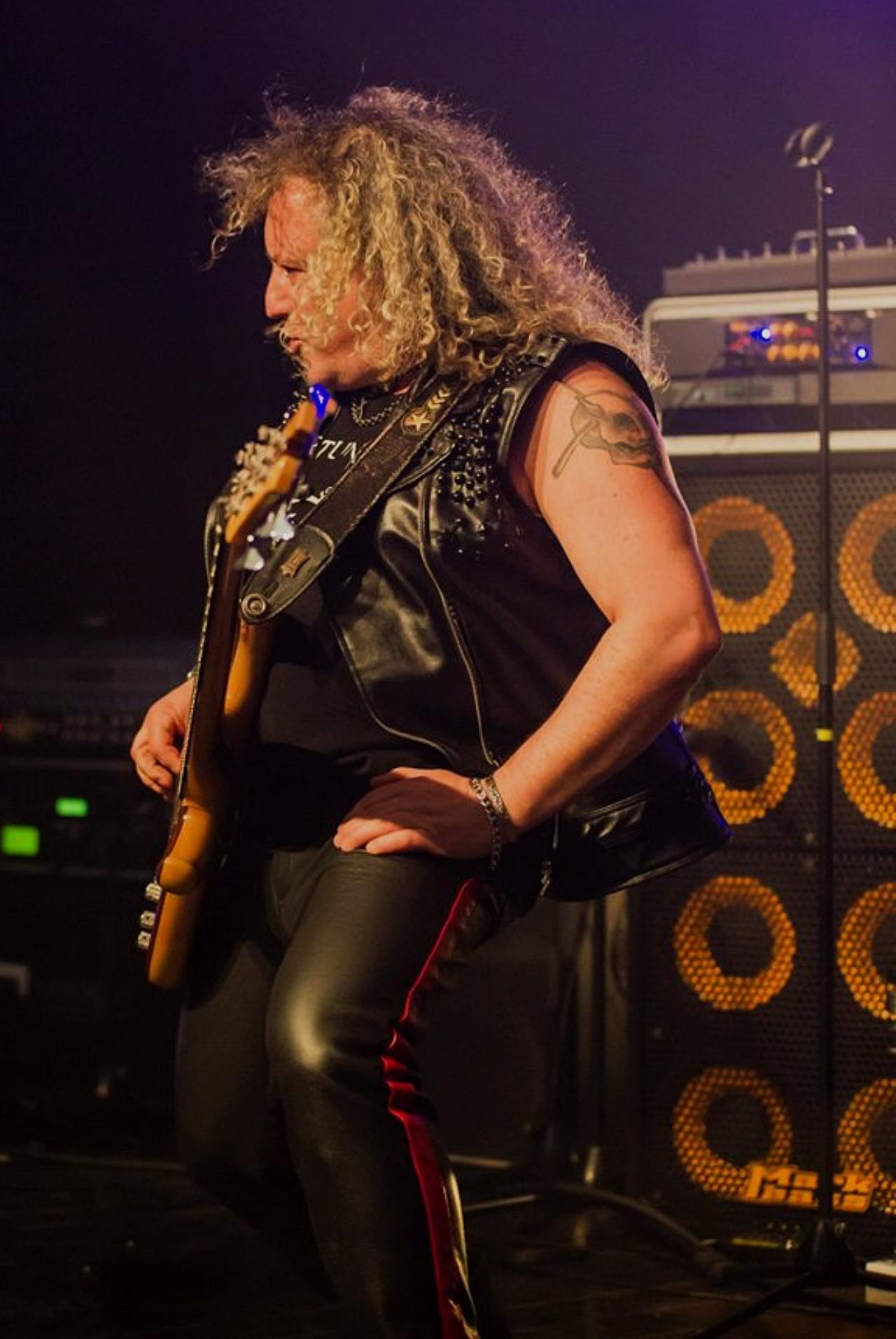 Markus Fortunato par Yannick Lartigue
---
LINE-UP :
Line-up actuel :
Markus Fortunato : Lead Vocal, Bass (ex MZ - Fury Age - Archange - KingCrown)
David Amore : Drums & Machines (ex Nightmare - Archange - KingCrown)
Seb Vallee : Lead Guitar, Backing Vocals (Vae Viktis)
Membres passés :
Sly Tale : Batterie
Jimmys Cerrulo : Batterie
Brice Cerullo : Guitare, Violon
Stephane Laurens : Guitare
Eliad Florea : Guitare, Violon
Band photo Esther W. Pink Photographer
Cover Artwork Stan W. Decker
Music & Lyrics Markus Fortunato
Recorded, Mixed by Markus Fortunato
Mastered by David Guezennec at "Shorelyne Studios"
Edited and post-produced by Baptiste Maisterrena
Label : Rock City Music Label
---
Matoscope* :
Markus : Basses US Tobias Design : Signature 6 (2007) / Basic 6 (2001) / Standard 6 (1991) / Killer Bs 6 (1993) / Classic 6 (1989 ) / Classic 6 (1984) - Ampli MarkBass Big Bang Black Beauty + baffle MarkBass 108 - Compresseur gate stereo DBX 266XS - Cordes Skull Strings Exposed Core Signature (32/45/65/85/110/135)
Seb : Guitare Fernandes AFR-85 (24 cases, micros actifs EMG 85 & EMG 60) - Ampli Bugera 333XL Infinium + baffle 4x12 Bugera - Pédalier Digitech RP1000 - Cordes Savarez Focus (10/52)
David : Tama Star Classic Custom (2 GC) - Stagg Cymbals Series Furia - Samples Roland SPX - Trigg Roland
* (Remerciements à Jeep et Markus pour les précieuses informations sur le matos utilisé).
---
LIENS UTILES :