Accueil

/

Les N'importe-Quoi d'Ahasverus : 111 - Le Chiffre du Malin
Les N'importe-Quoi d'Ahasverus : 111 - Le Chiffre du Malin
Publication originale mise en ligne en 2018.
Ce week-end, en surfant sur Facebook, je remarque une annonce pour un groupe nommé 111.
666 The Number of the Beast, d'accord, mais c'est quoi, ça, Un-Un-Un ? Le chiffre du Malin ?
Je vais dans la cuisine, je récupère mes lunettes en téflon qui protègent des radiations, puis j'ouvre Facebook à la page 111.
Là je tombe sur une photo. Il y a une fille brune. Elle me regarde de haut. Elle tient une pancarte à la main sur laquelle je lis « 111 viendra ce lundi cinq février dès vingt heures dans Le Rock à Kiki, l'émission (écoute, sinon je te pète ta gueule ! Oui !) ».
C'est curieux, quand même, cette histoire ! Pourquoi elle me menace, la fille ? Je la connais même pas ! En plus le cinq, je peux pas, c'est le jour des soins à domicile.
Je ferais mieux de prévenir la police... Je décroche mon téléphone.
Une patrouille arrive quinze minutes plus tard. Je fais entrer les trois policiers, je leur montre la photo.
« — Ah j'aurais parié ! C'est encore Emma Cordenod ! fait l'un d'entre eux en lissant sa moustache.
— Vous la connaissez ? je demande.
— Si on la connaît ? Elle est chanteuse, contrebassiste et bassiste ! Et aussi l'auteure d'In Uterock, une monographie sur le rock au féminin qu'elle a écrit avec Aurélien Maillet.
— Elle fait partie de 111, un power trio rock lyonnais créé en 2016, poursuit une policière. Elle est subversive ! Ca fait un moment qu'on la piste ! »
Ils hochent la tête. Je reprends :
« — Mais pourquoi elle me menace ?
— Mais parce que vous n'avez pas encore écouté Extended Play, leur album, mon pauvre monsieur ! me fait le troisième policier. Depuis ce matin, on en est à la douzième intervention pour le même motif !
- Mais je dois faire quoi ? »
Ils me regardent d'un air compatissant.
« — Faut l'écouter au moins une fois. »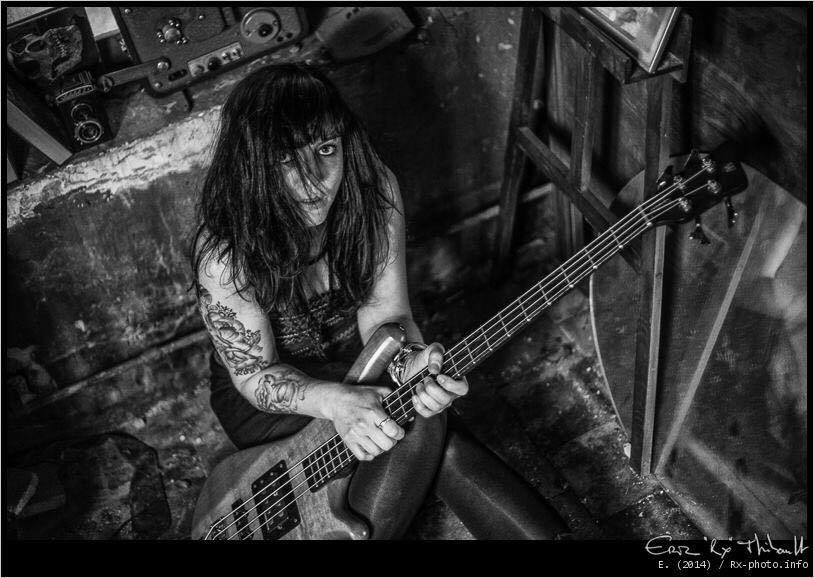 Emma Cordenod par Eric "RX" Thibault
Puis voilà que le policier moustachu me demande s'il peut disposer de mon ordinateur. Il va sur Soundcloud où le groupe a mis son EP cinq titres à disposition (bien sûr, vous pouvez aussi l'acheter sur les sites marchands qu'il me dit), et l'écoute commence. Un bon rock, avec une grosse personnalité, à la fois épuré et puissant. Une basse ou une contrebasse, une guitare, une batterie, une voix et des tripes. Mince, c'est bon, ça, je dis. Et je vois les policiers qui commencent à s'agiter progressivement sur Weaponless. Quand arrive Sweet Murderer, le troisième titre, le moustachu perd toute contenance, il jette sa casquette en l'air et se met carrément à gueuler "Your tongue is rough". Sur Mother, c'est encore pire, les trois reprennent en choeur "Hey ! Motheeeer". Et ils se mettent a faire des grands mouvements de balancier avec leur buste tout en hurlant.
C'est là qu'on sonne...
J'ouvre la porte, j'ai un nouvel équipage de police devant moi. Des CRS, je crois.
« — On vient pour le tapage, disent-ils.
— C'est vos collègues, je réponds.
— On sait. On a des plaintes depuis ce matin, un peu partout au fil de leurs interventions... »
Pendant ce temps, les trois premiers policiers, de plus en plus excités, dansent sur « Closer » , le dernier titre. Le troisième se roule même sur mon tapis en proférant des jurons en Anglais.
Les CRS regardent.
« — Vous ne les interpellez pas ? je demande.
— On va attendre la fin du EP, me répond l'un des nouveaux arrivants. Là c'est trop dangereux. Tout à l'heure il y en a un qui a tenté de me mordre.
— Et puis ce serait dommage de couper la musique ! » complète un autre, la mine réjouie.
L'EP se termine. Les trois CRS empoignent leurs collègues. « — Pas de résistance, on va s'expliquer au poste », disent-ils. « — Je suis de la maison » crie le moustachu. « — Les amendes je les fais sauter » hurle la policière.
« — Vous devriez quand même écouter 111 », me conseille en sortant l'un des fonctionnaires. « — Moi j'écoute que du Metal », je lui crie dans l'escalier. « — Il y a une telle force dans 111 que ça peut vous plaire quand même ! » me gueule-t-il. Puis tout le monde sort du bâtiment en reprenant « Mother » en canon.
Je retourne devant l'ordinateur. Emma Cordenod me regarde toujours, avec sa pancarte. Elle a pas l'air de déconner, Emma...
Vaudrait peut-être mieux que je le commande, cet EP...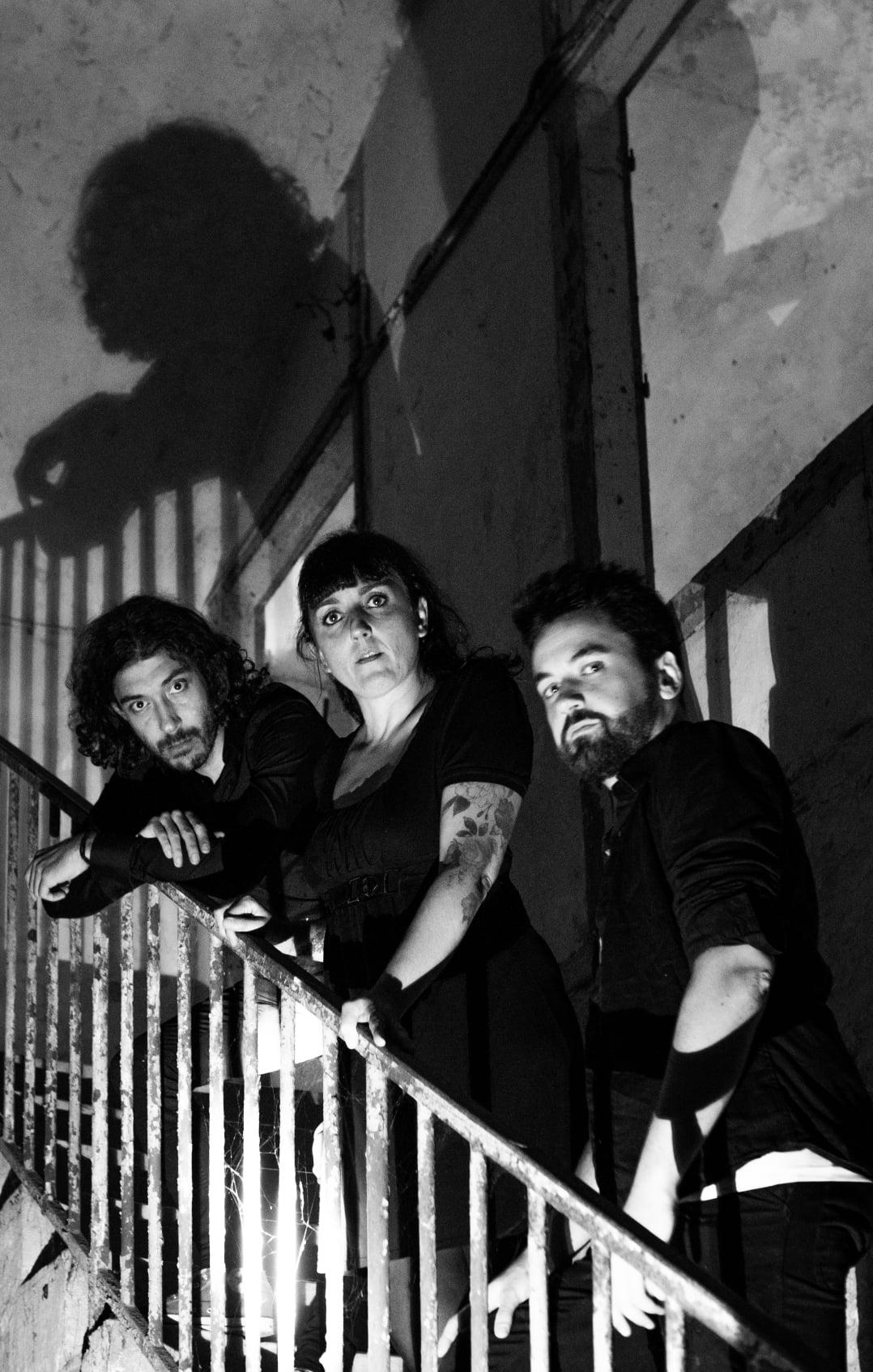 111 - line-up 2021 par Corinne Esposito.
---
Les Liens :
« Welldone » est le nouveau single de 111.
Articles similaires
(écrit initialement en octobre 2019 pour French Metal, Punk et Rock Promotion) K-LIZEÜM par Maëva Brifflot Voila longtemps qu'il voulait qu'on fasse un truc ensemble, Louis. « — J'aime bien ton style »,…
On a pour principe d'éviter les sujets polémiques chez Ahasverus-Métaux En Tous Genres. Mais trop, c'est trop. Depuis 1986, date à laquelle un nuage radioactif sans visa est resté prétendu…