Accueil

/

Republic Of Rock'N Roll, "Baudelaire Le Revenant" (2021)
Republic Of Rock'N Roll, "Baudelaire Le Revenant" (2021)
Groupe : Republic of Rock'n Roll
Album : « Baudelaire Le Revenant » (25/06/2021 - M&O Music)
Genre : Rock
Origine : Paris
On aime : une transposition pleine de fraîcheur
Par Ahasverus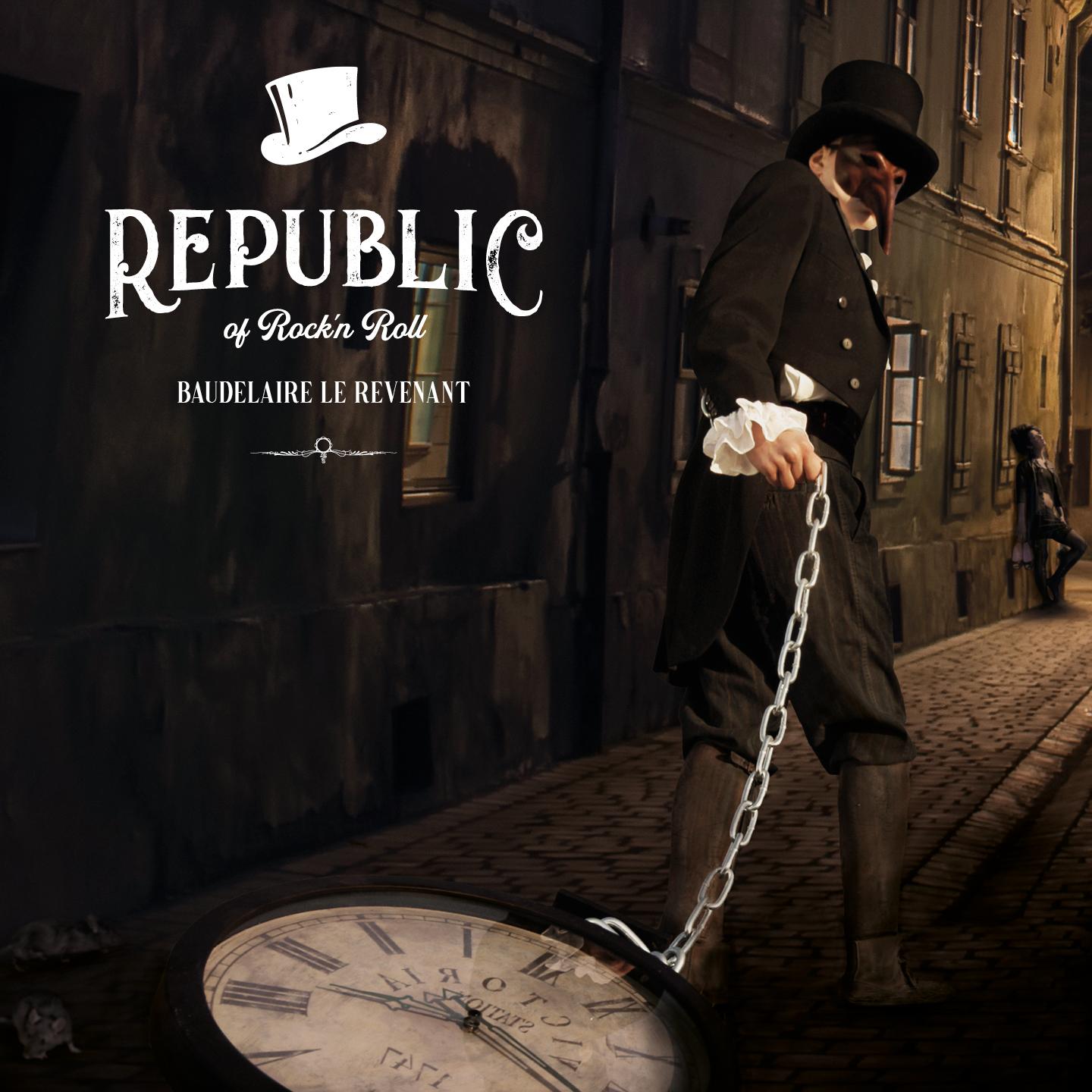 REPUBLIC OF ROCK'N ROLL « Baudelaire Le Revenant » (25/06/2021 - M&O Music)
« Baudelaire était un punk défoncé du matin au soir ! » affirmait en 2020 le romancier Jean Teulé à l'hebdomadaire Le Point.
(retrouvez l'interview intégrale ici : https://www.lepoint.fr/livres/jean-teule-baudelaire-etait-un-punk-defonce-du-matin-au-soir-24-10-2020-2397800_37.php)
Charles Baudelaire n'a pas volé cette réputation, lui qui s'opposait aux valeurs bourgeoises de sa famille, qui goûtait aux paradis artificiels, participait à la révolution de 1848, menait une vie dissolue et décédait de la syphilis.

Il se verrait condamné pour la hardiesse de ses poésies. Publiées en 1857, « Les Fleurs du Mal » vaudront à leur auteur et à leurs éditeurs une forte amende pour outrage à la morale publique et aux bonnes mœurs. « L'odieux y coudoie l'ignoble ; le repoussant s'y allie à l'infect », critiquera Gustave Bourdin dans Le Figaro du 05/07/1857. On était à l'époque où Flaubert dut répondre devant le même tribunal de la Seine de la conduite indigne d'Emma Bovary. Flaubert sera acquitté. Baudelaire point. L'ouvrage sera censuré et amputé de six poèmes : À celle qui est trop gaie, Les Bijoux, Le Léthé, Femmes damnées, Lesbos, et Les métamorphoses du Vampire quitteront la nouvelle édition.
A la demande de la Société des Gens de Lettres, la condamnation sera tout de même révisée en 1949, et la Cour de Cassation réhabilitera le poète et ses éditeurs.
REPUBLIC OF ROCK'N ROLL
C'est en cette année 2021 au tour du groupe Republic Of Rock'N Roll de rendre hommage à Baudelaire, dont on fête le bicentenaire.
Au travers d'un album d'une durée de trente et une minutes, qui prend pour titre « Baudelaire Le Revenant », les Parisiens on choisi d'adapter dix poèmes, et c'est l'une des pièces licencieuses (« A celle qui est trop gaie ») qui ouvre l'album.
Alternant les mélodies douces et les hymnes rock, Republic Of Rock'N Roll ne prend avec l'auteur que les libertés nécessaire à la musicalité, proposant un album à la fois esthétique, énergique et actuel. Le groupe trouve l'équilibre et le tempo pour s'approprier une oeuvre qui reste moderne et régurgite la langue du poète en un rock très frais qui lui donne, autant que de besoin, un léger bain de jouvence.
Quatrième album de Republic Of Rock'N Roll, « Baudelaire Le Revenant » est illustré par le clip « J'ai plus de souvenirs que si j'avais mille ans»
Baudelaire est enterré au cimetière du Montparnasse.
Déjà mis en musique par Léo Ferré ou Bernard Lavilliers, il trouve vie à nouveau à travers « Baudelaire Le Revenant ».
L'album est disponible sur vos plateformes depuis le 25/06/2021. (liens in fine)
Les Liens :
Articles similaires
Groupe : Quintana Dead Blues Experience Album : « 4 Lost Songs » (EP - 23/07/2021) Genre : One-Man Band Origine : Bordeaux On aime : le punch, le son cru Par Ahasverus Quintana Roo, Liga Quintana, Quintana... Depuis 1991 Piero Quintana…
LEONTAS est un duo de rock britannique né de la rencontre, à Londres en 2015 à l'occasion d'une audition, du chanteur/guitariste singer Alex Munteanu et du batteur Scott Collier. Leur objectif, nous dit la bio, est de sonner…