REDNEKK RAMPAGE
...Non, il ne s'agit absolument pas de la toute première BD de notre toute nouvelle décennie...
Le groupe :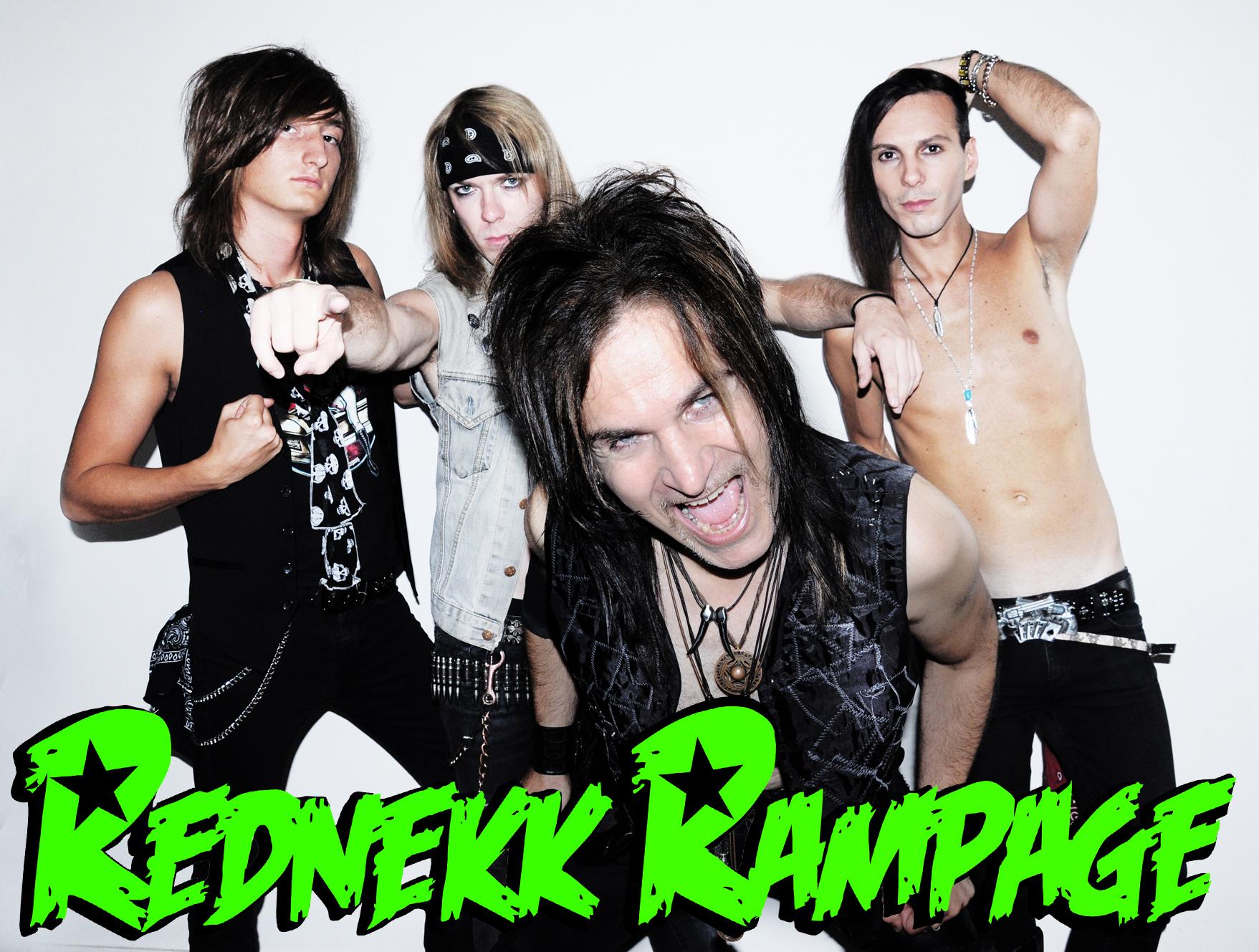 Ce groupe de Franciliens est formé aux alentours des années 2010 par un certain

Bob

, qui se languissait de pouvoir fouler de nouveau les planches encore toutes chaudes de certaines scènes. Le nom de ce front-man très aguerri par son extraordinaire expérience

Watcha

, raisonne encore dans nos oreilles :Butcho Vukovic , celui que certains surnommaient le "hurleur" du premier groupe français néo-métal ! - Hurleur, vous pouvez revoir votre copie messieurs les géniteurs de cette expression le concernant, car il pousse la chansonnette autrement que par vociférations rageuses déclencheuses d'acouphènes - (mon premier cri de guerre, ça défoule...).
Un autre membre talentueux vient le rejoindre ;


Iann Lewis

qui n'est autre que l'ex drummer de BlackRain. Bien ! quatre gambettes, mais pas suffisant... il faut s'encorder un peu plus pour oser l'ascension vers ce tentant projet. Un six cordes

B Whore

(babylon Whore), de son véritable nom

Dino Orsetti

,

complété par un quatre cordes Will Atkins (Lady Liberty) viennent renforcer le duo. La machine de guerre est formée sous Rednekk Rampage, et très vite, dans une simple chambre d'adolescent et armés d'un simple ordinateur, ces quatre "péquenauds" titi parisiens vont nous concocter une p*** de playlist de plus d'une dizaine de titres tout aussi rapidement que peuvent défiler les images d'une bande dessinée!
Et oui , je confirme : tout a pris pied dans la chambre du guitariste qui squattait encore chez papa et maman dans le XIVème arrondissement. Non son véritable prénom n'est pas Tanguy.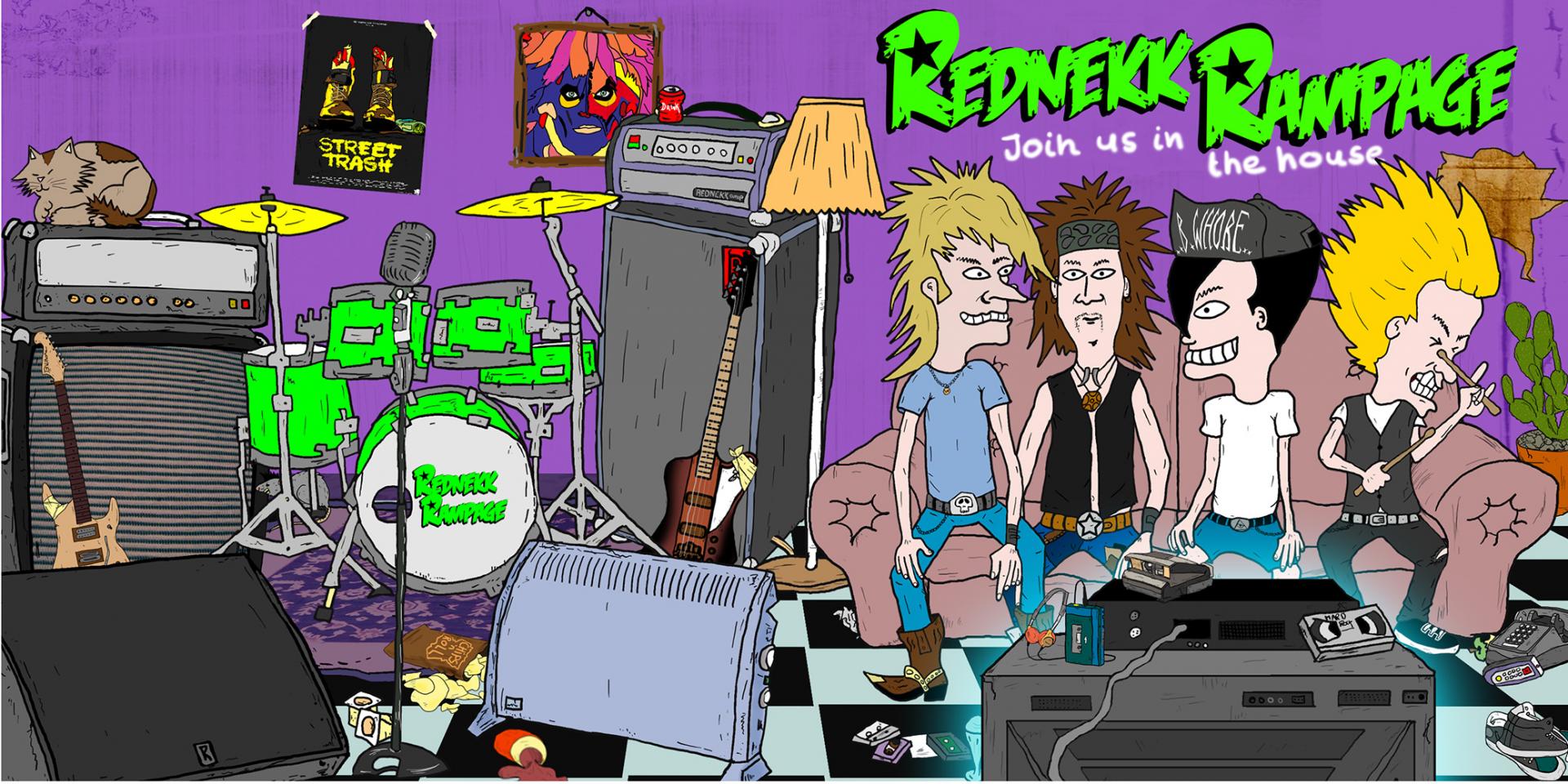 Et éviter d'imaginer la chambre dans ces circonstances où chips, pizza aux quatre vingt dix-neuf fromages (et oui ils baignaient jusqu'au neck dans le monde des dessins animés) et C..a .o.a pour potion magique ( non je n'ai fait aucune Pub...) ; la bière se sera pour plus tard!



Leur musique :
Le combo

s'éclate à quatre entre ces quatre murs qui vont finir par se fissurer à force de décibels

bien envoyées. Et comme leur terrain de prédilection c'est le bon Hard Rock des années quatre-vingt , ils nous lancent une extraordinaire invitation à les rejoindre dans leur joli "foutoir" avec "

Join Us In The House

", un trésor Hard US, pur jus, le genre d'élixir dont tous les amateurs de Hard des eighteens raffolent à s'en enivrer, à s'en faire exploser les esgourdes et à en devenir sourds (Investissez dans les actions "sonotones", vous allez vous enrichir).
Leur Hard Rock est parfois nuancé par des touches Glam, avec pour référence Mr Big, Mötley Crüe, ou Extreme. Des skuds envoyés par cette guitare tenue par un génie qu'est

Dino

(Dixit Butcho Vukovic), la basse endiablée de Will Atkins

en couple exemplaire avec les martèlements incessants et violents de

Iann Lewis

,

une voie puissante mais mélodieuse à souhait pour sublimer à la fois les textes et la musicalité décidée : telle est la recette de Rednekk Rampage . Et la mayonnaise monte. Les refrains sont largement fédérateurs et viennent investir les mémoires avec ou sans autorisation. On connaît la fascination que porte Butcho pour Georges Lynch et son style ; on ne s'étonnera donc pas d'en trouver référence dans le titre "

Join us in the house

".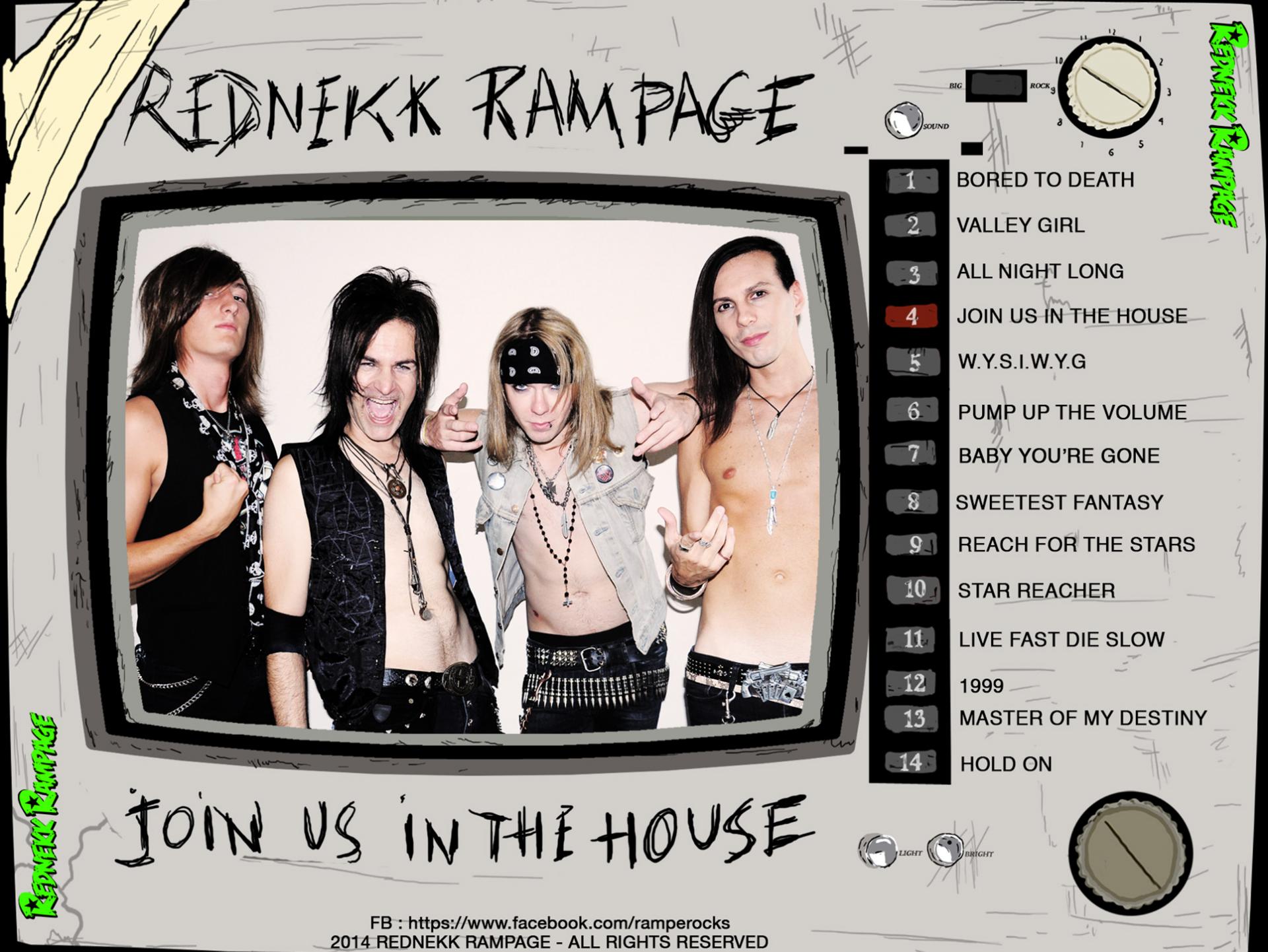 Les composition de Hard US sont bien envoyées, au groove qui vous fait headbanguer sans répit, à finir chez le kiné en urgence dès le lendemain. Monter les potards à fond la caisse pour "Pump up the Volume", "Bored 2 Death" à la guitare bien lourde, "Valley Girl" ou tout autre morceau pêchu, qui demandent que les fadeurs soient à fond les manettes ! Une véritable musique Hard Rock des mieux construites dans ses compositions, des plus vivantes, et des plus dynamiques et percutantes sur scène où le combo fédère un public accrocheur et demandeur. On peut rappeler leur franc succès aux ROCKALIES du 02/11/2013, pour son onzième festival, près de Caen.
Et cela ne les empêche cependant pas de proposer des ballades dont "Hold On" qui se termine aux notes de piano qui prennent étrangement la couleur de Mr Big dans "To Be with You" ou encore "Baby you're Gone", un joli slow qui dès la première mesure rappelle instantanément

les Platters

(le cri de guerre de fin en moins).
Discographie :
C'est bien là où le bât blesse!...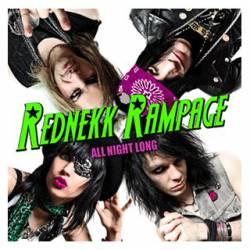 Un EP sort le 30 mai 2011 en auto-production, dont la tracklist propose trois titres :

Et malgré la qualité des compositions, malgré la qualité scénique du combo, malgré bien des qualités et des critères plus que positifs, les moyens financiers manquants et... malheureusement, aucun label qui s'intéresse au financement de cet opus tout prêt !!!
A noter que même l'Artwork était finalisé ! Tous les dessins de cette possible galette, qui vous sont présentés dans cette chronique, ont été dessinés par Butcho Vukovic, évidemment en clin d'oeil à

Beavis and Butt-Head .
Avec au minimum quatorze titres possibles qui déménagent au point de penser que Rednekk Rampage aurait pu être en tête d'affiche dans l'hexagone et outre hexagone avec un Hard US des plus solides et ciselés, aux g-Riff-es Dinosiennes acérées et aux notes azymutées du combo, la formation ne verra jamais sa galette se matérialiser et dans les bacs. Bien triste!... Et quel gâchis!...
ECOUTER REDNEKK RAMPAGE SUR BANDCAMP :
https://rednekkrampage.bandcamp.com/album/join-us-in-the-house
Articles similaires
« Nous avons été vraiment inspirés par Rudy Ray Moore et son parcours en tant que Dolemite. » SCATTERED HAMLET Sorti il y a tout juste deux heures, voici « Stereo Overthrow », le nouveau clip du groupe de …
JE T'AIME (Paris) - Le tour d'horizon sur le trio Genre: Post-Punk, Cold Wave Origine: Paris (2018) Par Dam'Aël JE T'AIME fait ménage à trois. No comment please ! Chacun s'organise comme bo…