Accueil

/

ORIGINE : Triple impact (interview)
ORIGINE : Triple impact (interview)
Après s'être produit sur scène avec un orchestre symphonique d'une centaine de musiciens, le trio Origine annonce pour le 15/10/2021 un triple album. Il prépare également sa tournée avec Orphaned Land.
Tristan, compositeur et claviériste du groupe, a bien voulu répondre à nos questions.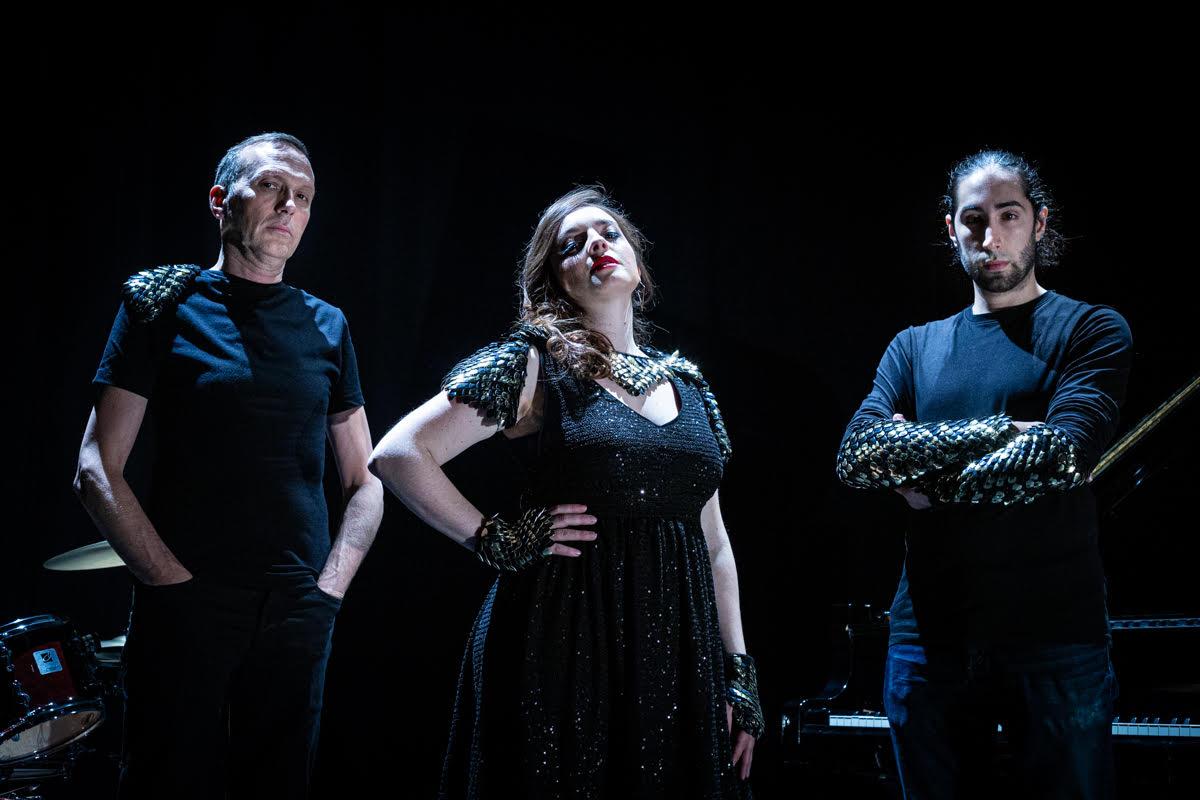 ---
« Chant, batterie et clavier. La mélodie, le rythme et l'harmonie. »
---
Bonjour Tristan. Tout ce que fait Origine est totalement hors normes. Le trio est-il une formule magique ?
Tristan : Nous avons connu plusieurs formations, à quatre, à six... mais au final nous avons fini par nous établir en trio pour garder l'essence primordiale de notre musique. Chant, batterie et clavier. La mélodie, le rythme et l'harmonie. Ce qui ne nous empêche pas de faire appel régulièrement à d'autres musiciens pour enrichir nos prestations.
Qui a eu cette idée folle de monter le projet « Ouroboros Orchestra » ?
Tristan : De par la présence importante d'arrangements orchestraux dans notre musique, ça nous a toujours trotté dans la tête de pouvoir jouer avec un orchestre symphonique pour sublimer nos compositions. Un jour, Sandrine Girier, de la 6MIC d'Aix-en-Provence oú nous répétions, nous dit que ça serait sympa de faire ce projet. Ça a été le déclic pour lancer ce gros spectacle.
Pouvez-vous m'en dire un mot ?
Tristan : C'est un spectacle orchestral que nous avons créé pour jouer nos compositions aux côtés d'un ensemble symphonique d'une centaine de musiciens et d'artistes issus de l'univers rock / métal. Ce mélange de styles et la grandeur du spectacle à donné un évènement qui restera gravé en nous. Une vrai galère à organiser, mais au final un moment musical et humain incroyable. Les vidéos des concerts sont disponibles sur notre chaîne YouTube Origine Musique. (https://www.youtube.com/channel/UCmq09Wz4xeWeX1h6nuAwXfQ)
Votre nouvel album, « The Sheep, The Octopus & The Pink Flamingo », sortira le 15/10/2021. Lui non plus n'est pas ordinaire puisqu'il s'agit d'un... triple album ?
Tristan : Exact, chez Origine on fait pas les choses à moitié. On a toujours eu un rythme de composition soutenu. Avec cet album on a voulu travailler un concept qui nous a permis de mettre à profit cette productivité.
---
« On voulait un album qui nous ressemble et pouvoir passer autant de temps qu'on veut pour ajuster chaque détail. »
---
C'est donc un concept-album ?
Tristan : Oui tout à fait. On nous a souvent reproché l'excès de variété dans les styles musicaux de nos compositions. Aujourd'hui on veut mettre cela en avant. On l'a fait en utilisant ces trois animaux totems qui représentent chacun un membre du trio. Manon le mouton pour son vibrato qui rappelle le bêlement. Manu le poulpe avec ses bras qui partent partout autour de la batterie. Et moi le flamant rose qui reste toujours debout sur un pied pour avoir accès à la pédale sustain du clavier.
Un triple album, c'est la direction que vous souhaitiez prendre quand vous avez commencé à plancher sur ce nouvel opus ?
Tristan : On a hésité au debut entre un double et un triple. Au fur et à mesure des réflexions on a voulu exposer notre style musical en trois parties, l'influence pop plus douce, l'énergie du hard rock / métal, et la richesse des arrangements orchestraux.
Un mot sur la manière dont l'album a été produit ?
Tristan : On a réalisé cet album en pleine période de confinement, donc avec toutes les complexités que ça implique. On a tout enregistré, mixé et masterisé nous même. On voulait un album qui nous ressemble et pouvoir passer autant de temps qu'on veut pour ajuster chaque détail.
Des musiciens additionnels sur cet album, ou tout vient de vous trois ?
Tristan : N'étant pas limités par le budget du studio d'enregistrement, on a pu faire appel à beaucoup de guests pour réaliser cet album. Au total plus d'une dizaine de musiciens additionnels sont présents pour parvenir à mettre en avant cette diversité musicale qui nous tenait à cœur.
Un mot sur l'artwork ?
Tristan : Comme sur nos précédents albums, l'artwork à été réalisé par la talentueuse Naeva Laurens qui nous connaît bien. Ça été drôle d'avoir chacun son petit animal totem. Le public n'a plus qu'à choisir sa team, Sheep, Octopus ou Pink Flamingo.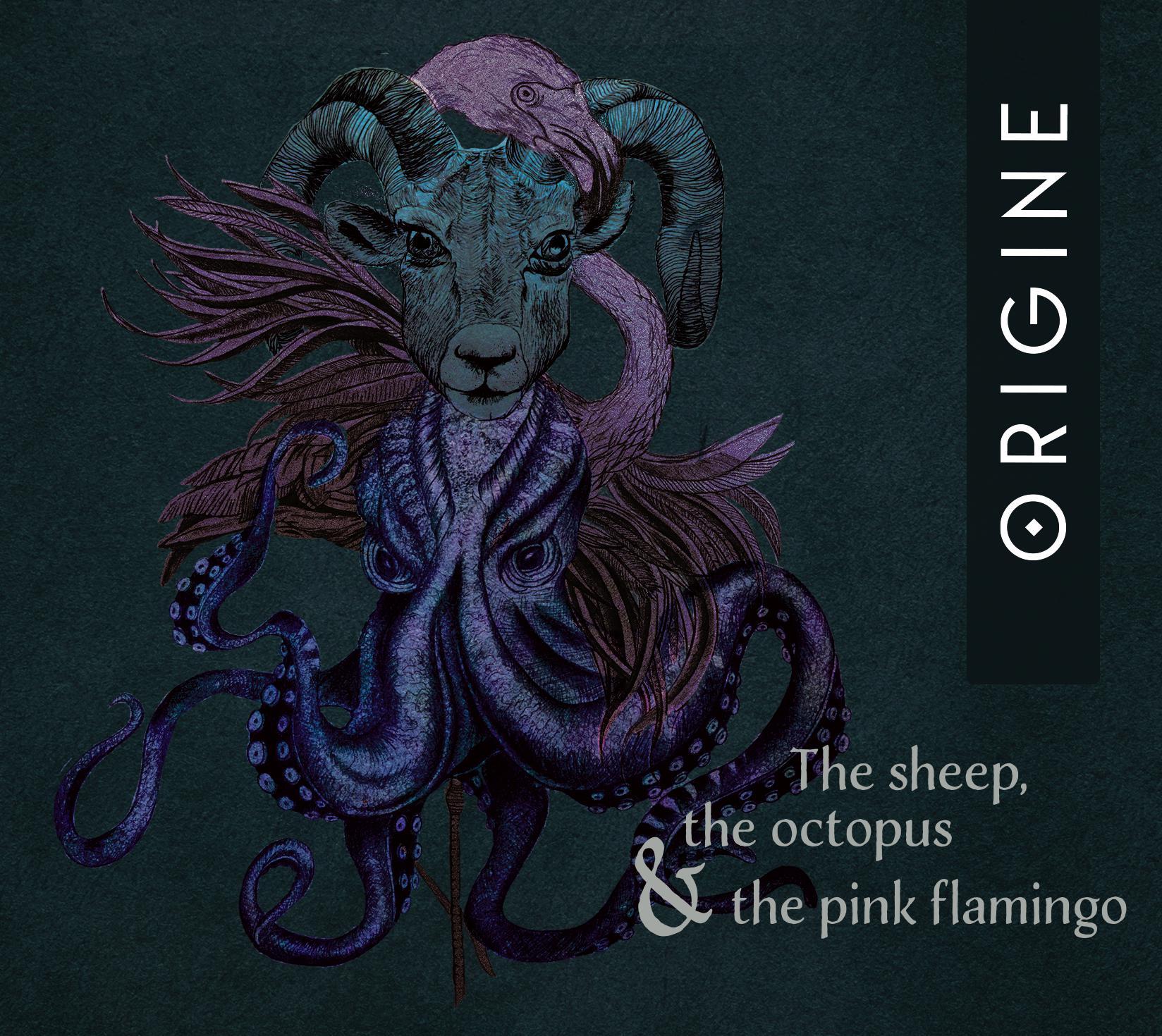 Je suis impressionné par la voix de Manon, capable de donner beaucoup de caractère à ses personnages en évoluant dans des timbres très différents avec la même aisance.
Tristan : Oui techniquement c'est vraiment pas évident de pouvoir jongler entre tous les styles. On arrive à ce résultats après de longs débats à base de termes de metteur en scène pour trouver la meilleure interprétation.
Pourquoi y a-t-il des textes en Français dans la partie Pink Flamingo ?
Tristan : Comme pour tous nos anciens albums, on tenait à la présence de textes en français. Ça nous permet de proposer des compositions où l'on se concentre sur le texte.
Vos compositions ont un ton symphonique, épique, ainsi qu'un côté celtique qui vous vont bien... Quels autres ingrédients avez-vous insufflé dans ce nouvel album ?
Tristan : C'est pas les ingrédients qui manquent, chez nous. On retrouve aussi bien évidemment l'influence de l'électro ou encore du métal notamment dans l'album Octopus. On a même fait un titre pour déclarer notre amour à ce style : metal heart !
Sous quels formats ce tripe album sera-t-il disponible ?
Tristan : Il sera disponible en pré-commande sur notre site http://www.origine-musique.fr/, sur toutes les plateformes digitales et également en vente à nos concerts.
Un mot sur le clip qui accompagne l'album ?
Tristan : Triple album oblige, nous avons préparé plusieurs clips pour le lancement de cet opus. Le premier est déjà disponible sur notre chaîne YouTube et s'intitule « Broken Game ». Il est assez représentatif de notre style musical qu'on a appelé Hard Pop. Le mélange de la fraicheur de la pop avec l'énergie du hard rock.
Que va faire Origine durant les prochains mois ?
Tristan : On a quelques concerts de prévus, mais on va surtout préparer notre passage en avril dans une petite tournée européenne en première partie du groupe Orphaned Land. On a vraiment hâte de faire cette expérience !
Merci Tristan de m'avoir reçu.
Tristan : Merci beaucoup de vous être intéressé à notre projet. À bientôt.