Accueil

/

NEPHILA, (Psychedelic Rock - Suède), "Nephila" (2021)
NEPHILA, (Psychedelic Rock - Suède), "Nephila" (2021)
Groupe : NEPHILA
Album : « Nephila » (04/06/2021 - The Sign Records)
Genre : Rock Psychédélique/Prog
Origine : Suède
On aime : le chant, le songwriting, l'interprétation.
Par Ahasverus
Nephila est une formation suédoise à sept têtes (line-up in fine).
Inspiré des scènes rock et folk des années 70, le groupe soigne son expression visuelle et veut faire de sa musique un voyage théâtral.
A l'exception de ses deux chanteuses, tous ses musiciens sont masqués.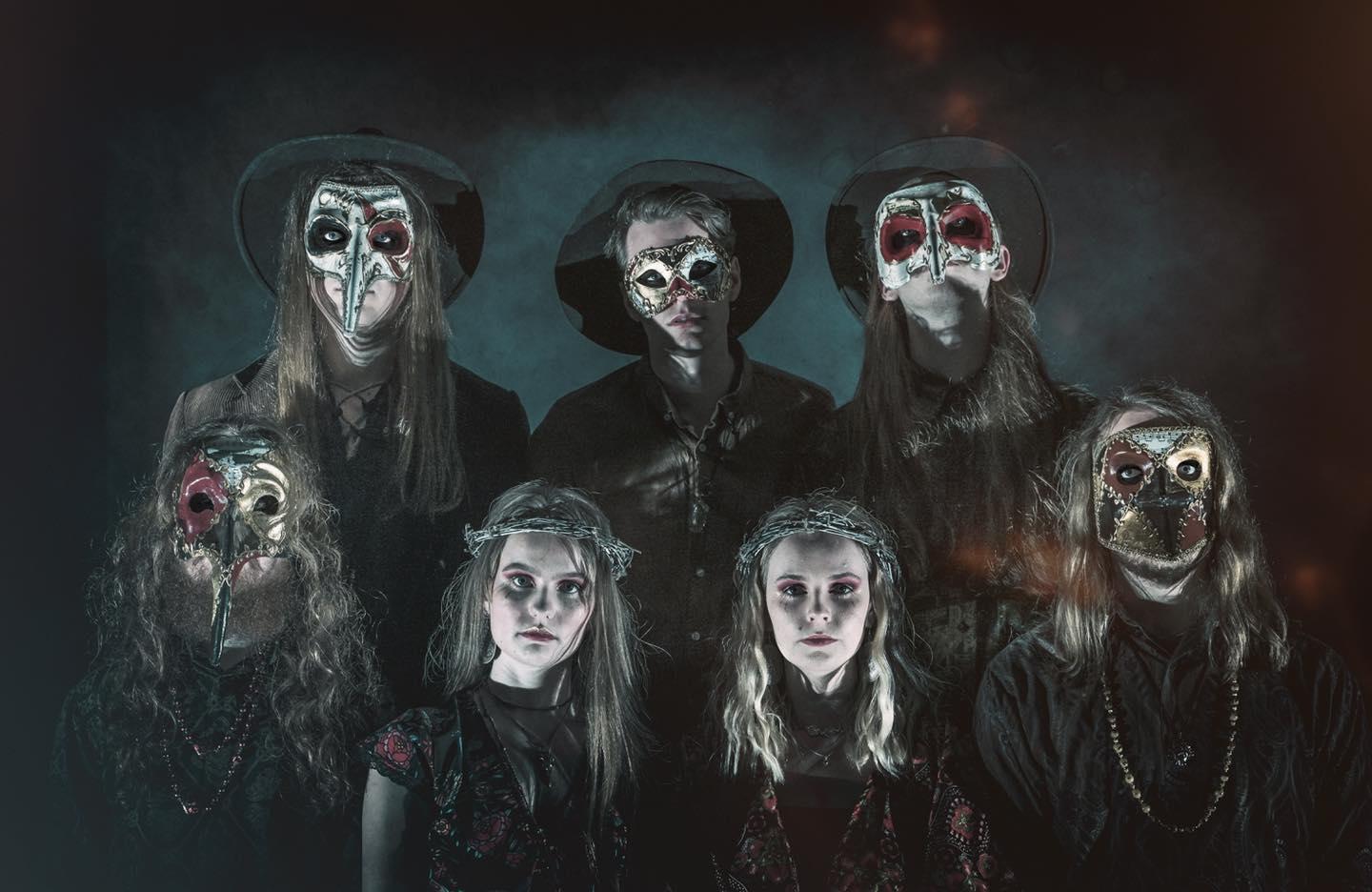 NEPHILA - Photographie : Erik Hansen
« La force de Nephila réside définitivement dans notre performance, déclare Stina, l'une des chanteuses. La mystique est importante. Nous avons tous une forte personnalité et nos masques créent encore une autre dimension. »
En 2018 Nephila sort un premier single intitulé « Growing Down ».
En 2121, Nephila revient avec un album éponyme d'une durée de plus de trente-cinq minutes à l'artwork coloré d'inspiration 70's signé Revolver Art :
« Nephila »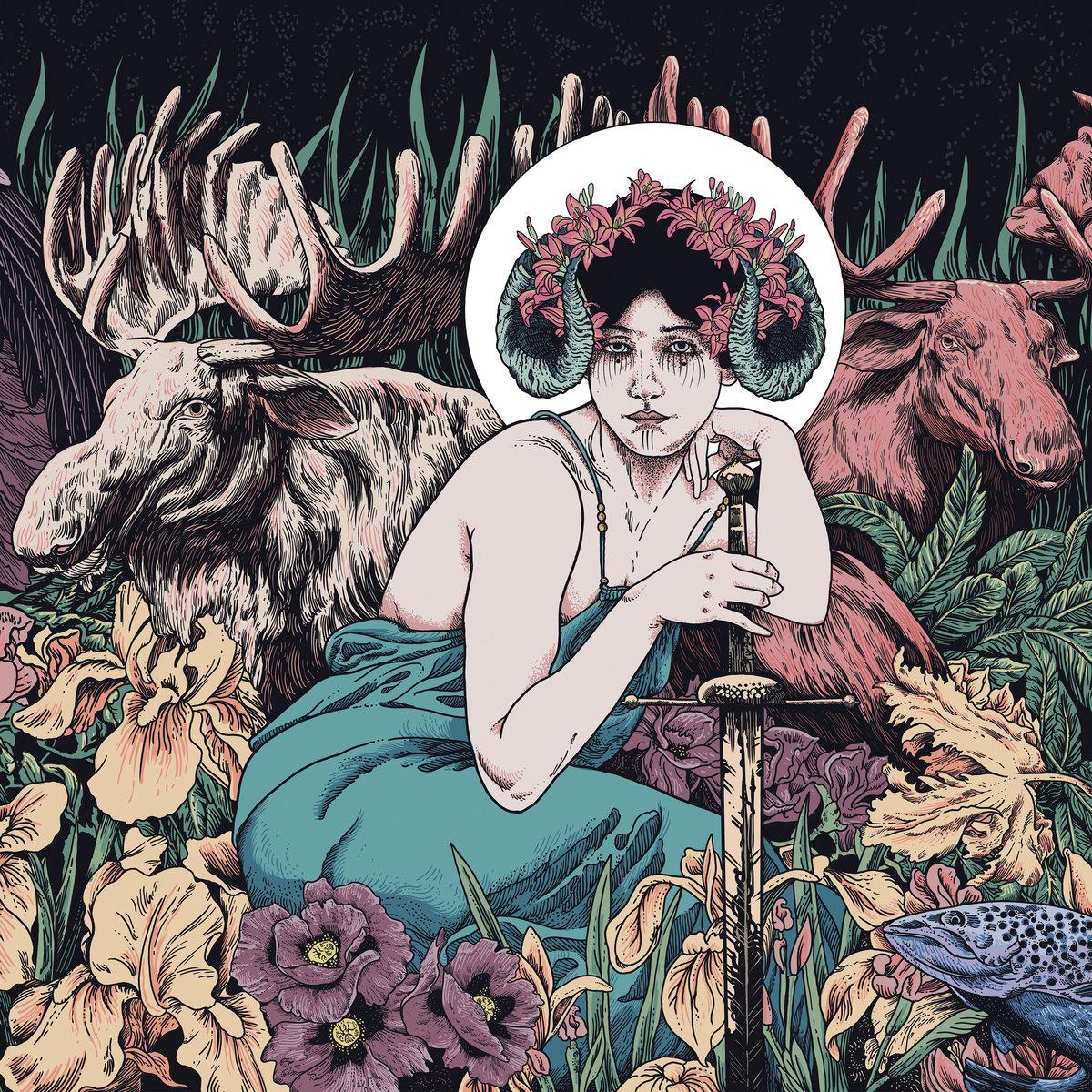 NEPHILA, « Nephila » (2021)
« Nephila » est servi par une excellente production, de belles nappes de claviers et de belles lignes de guitares et de basse.
Les titres très variés, parfois très hard, (« Clavata ») peuvent s'échapper à tout moment en des envolées progressives et psychédéliques (« Guidance To Agony »).
Le chant est puissant, soigné, d'une grande maîtrise, et se permet des lignes d'une belle variation. Les harmonies à deux voix sont incontestablement l'un des points forts du septuor (« Who Are You »).
Visitant le folk, le rock, le prog', le psychédélique, le progressif et le hard, l'opus se termine par une pièce d'un peu moins de dix minutes (« Alla Galaxers Centrum ») qui commence très doucement pour s'intensifier progressivement.
Prolongeant l'esprit des 70's, Nephila rappelle les pionniers du genre tels que Jefferson Airplane. On pensera aussi fugitivement aux premiers Deep Purple.
Un très bon premier opus, et tout simplement un excellent album de revival servi par un son actuel et des musiciens inspirés.
Disponible depuis le 04/05/2021 « Nephila » existe en formats physiques (Vinyle, CD) et numérique via le label suédois The Sign Records.
« Nephila » mérite incontestablement votre détour par la Suède. On vous le recommande.
Les Critiques :
"Les jérémiades sur la brièveté mises à part, c'est à l'aise mon nouveau groupe préféré de l'année. Peut-être qu'ils sera aussi le vôtre."


https://www.metalblast.net

"Si vous avez envie de quelque chose qui sort un peu de l'ordinaire, donnez de votre temps à ce groupe."


http://www.metal-temple.com

"Vaut vraiment le détour."


https://arrowlordsofmetal.nl

"Nephila est un soupir de soulagement pour votre vieux débris de serviteur qui est juste heureux de voir la jeune génération garder la meilleure musique en vie pour une toute génération naissante."
https://thegreatsouthernbrainfart.com
Le Line-up :
Stina Olsson - chant
Josephine Asker - chant
Johan Lööf - batterie
David Press - basse
Jacob Hellenrud - guitare
Anton Athley - guitare
Johan Larsson - clavier
La Tracklist :
1. White Bones
2. Who Are You
3. Mushroom Creatures
4. Belladonna
5. Guidance to Agony
6. Clavata
7. Alla Galaxers Centrum
Les Liens :
Articles similaires
« Pour commencer cette nouvelle année scolaire 2021-2022, nous allons étudier le cas Tarah Who? et son nouvel album ''Supposedly a man'', qui sait qui est Tarah Who? ??? Non Môôôssieur…
« Nous avons été vraiment inspirés par Rudy Ray Moore et son parcours en tant que Dolemite. » SCATTERED HAMLET Sorti il y a tout juste deux heures, voici « Stereo Overthrow », le nouveau clip du groupe de …