Accueil

/

High On Wheels : Welcome To My Nanar (interview)
High On Wheels : Welcome To My Nanar (interview)
Et de deux pour High On Wheels ! Trois ans après "Astronauts Follow Me Down" le trio stoner revient avec "FuZZmovies", un album de Desert Rock cinéphile et inspiré, sorti le 23/04/2021.
Entretien avec un groupe qui a su titiller notre curiosité...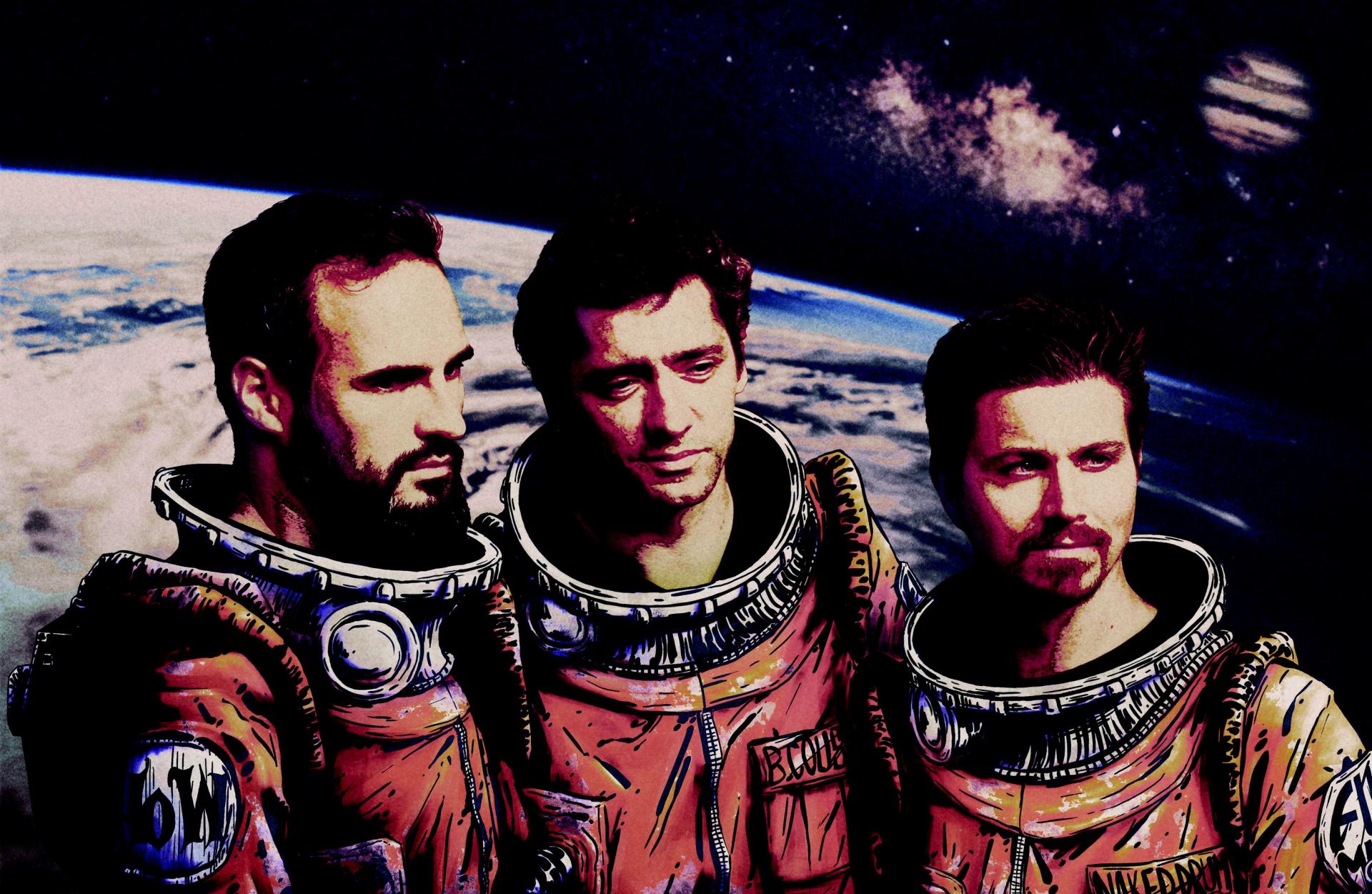 ---
"Un décor de cinéma planté dans un désert californien, c'est ça FuZZmovies."
---
Bonjour High On Wheels. Comment présenteriez-vous votre groupe à un lecteur qui le découvrirait ?
Greg (chant, batterie) : Je dirais que si t'aimes bien quand tes oreilles en prennent pour leurs jauges maximales de décibels, que le FUZZ est ta religion de base, que le son de basse digne de Lemmy himself te donne des chaleurs (j'en rajoute un peu là-dessus mais bon, il a une Rickenbacker tout de même !), que le psychédélisme n'est pas pour toi que le résultat d'une ingestion de champignons ou bien un mouvement contre-culturel des années 60, et si écouter "Viens içi que je te bute enculé" dans un titre ne t'effraie pas, et BEN T'ES SUR LE SON QU'IL TE FAUT !
Trois ans après "Astronauts follow me down", vous revenez avec un nouvel opus. Quelle direction souhaitiez-vous prendre au sortir de ce précédent album ?
Greg : Déjà on voulait des compositions crées par nous trois, alors oui c'est bizarre dit comme ça mais sur "Astronauts...", Gilles est arrivé juste avant l'enregistrement et du coup il n'avait pas composé les titres avec nous. Ensuite, on voulait un son brut, enregistré en live sans trop d'artifice autour, on avait fait la même chose sur "Astronauts...", et ça nous correspondait bien. Et pour finir, on voulait monter d'un niveau la qualité de l'enregistrement, c'est pour cela qu'on a invité un ami de Gilles pour enregistrer tout cela. On a choisi le Studio de la Vimondière pour son cadre (la campagne, trois lits dans le studio côte à côte, une maison avec un jardin rempli de nains de jardin...), et enfin un mixage en Bretagne avec mon beauf et plein de bonnes substances !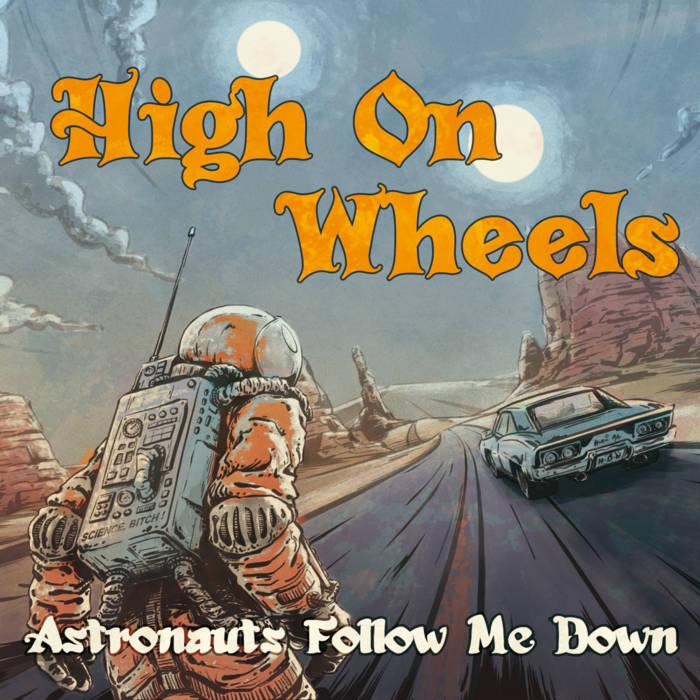 HIGH ON WHEELS, "Astronauts Follow Me Down" (2018)
Qu'entend-on au juste par "FuZZmovies" ?
Greg : Un décor de cinéma planté dans un désert californien, c'est ça FuZZmovies. Alors plus sérieusement on est assez fans de cinéma vintage, j'adore Russ Meyer, et depuis le début du groupe on a utilisé pas mal de sample de ces films, alors c'est pas du série Z c'est sûr, mais est venu rapidement "Hitman le Cobra", qui n'est pas non plus un film de série ZZ, quoique... Du coup, les titres s'entremêlent de sample de films et de de grosse Fuzz, donc FUZZMOVIES, nom de nom !
Le ZZ majuscule est-il une référence à ZZ Top ?
Gilles (chant, basse) : Ah ah ! Non. C'est les mots "fuzz" et "Z movies" qui se sont accouplés, ça a fait grossir les "ZZ". Puis ce qu'on aime le plus dans la fuzz, c'est ce bruit qui fait ZzzzzZZzzzzZZzzzz...
Le cinéma était déjà présent sur "Astronauts...". Les nanar et les séries B sont-ils une source d'inspiration inépuisable ?
Gilles : Inépuisable, je ne sais pas. C'est une source intarissable de moments uniques, en tout cas. Il y a un tel minerai de films complètement délirants, des projets où les mecs ne se sont mis aucune barrière, aucune limite... Tu te libères du jugement des autres et paf, tu crées un truc improbable, mais tu l'as fait avec tes tripes.
Le son guitare/basse, bien gras, est un vrai régal pour l'auditeur de FuZZmovies. Un mot sur l'enregistrement, le mix et le mastering ?
Gilles : C'est le travail combiné de Florant Mallet et Yann Chevrel. Pour cet album, on a voulu bosser avec des mecs de qualité qui savent ce que c'est qu'une live session. Flo a fait un super taf' au studio de la Vimondière, aidé par Vincent Liard. D'abord on a enregistré en live les instrus en mode DI, et après on a fait une journée de reamping qui a permis d'avoir une palette très riche. Yannos n'avait plus qu'à sublimer ça au mixage. Une bouteille de Don Papa plus tard, Bim ! Ça s'appelle Fuzzmovies.
Qui est ce Mr.Grrra qui fait un superbe travail sur vos artworks ?
Bruno (chant, guitare) : C'est moi, je plaide coupable ! Mais on a chacun notre petit blaze : le vrai nom de Greg dans le civil n'est autre que "The Naked Drum", et Gilles ne répond qu'au doux sobriquet de "Black Cousteau"... Mais sinon, comme j'ai une formation en dessin, je me fais salement exploiter depuis le début pour réaliser l'identité visuelle du groupe.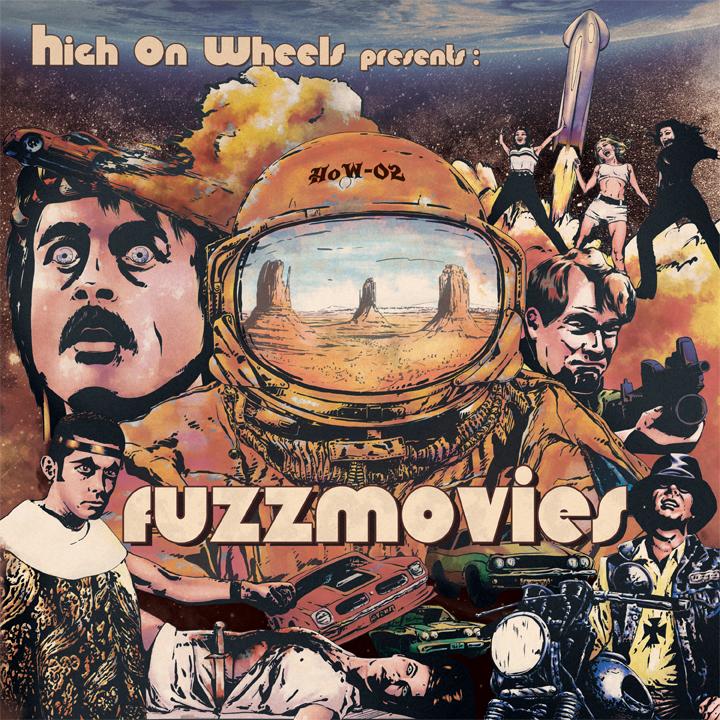 HIGH ON WHEELS, "FuZZmovies" (2021)
Quels sont les films auxquels "FuZZmovies" rend hommage ?
Bruno : Alors, dans l'ordre, on a : le fameux "Faster Pussycat, Kill, Kill !" de Russ Meyer, auquel Tarantino fait souvent référence ; "Blood Feast", l'un des tous premiers films gore ; l'incroyable "Hitman The Cobra" qu'on ne présente plus depuis que Nanarland l'a mis au devant de la scène internet francophone ; "Satan's Sadists", une sombre histoire de bikers ; "Cannonball", un film de course à travers les USA avec David Carradine ; et enfin "Rocketship X-M", film de SF de 1950 sorti chez nous sous le titre très "frrrooonçais" de "Vingt-quatre heures chez les Martiens".
Le clip "Hitman Le Cobra" est savoureux, mais le montage a dû prendre un temps fou !
Gilles : C'est pas si long le montage vidéo. Je pars toujours du principe qu'il faut une heure pour monter une minute. Parfois, quand on y passe trop de temps, on perd l'énergie de départ. C'est comme dans la compo musicale, d'ailleurs. Dans toute création artistique, je pense qu'il faut essayer de garder de la spontanéité. Le côté vivant... Live !
"Hitman Le Cobra" permet de découvrir un joyeux nanar et l'univers du réalisateur Godfrey Ho... On rêverait, du coup, d'un concert animé !
Bruno : De l'animation ? Haha, si seulement ! Mais c'est beauuuuuucoup trop de taf pour moi tout seul, et je tiens à ne pas mourir d'épuisement ! Quand on sera mondialement connus on pourra se permettre de commander une presta à Disney, mais en attendant on va se contenter de la musique et, si vous êtes sages et que les conditions le permettent, d'extraits des films en projection pendant qu'on joue.
Sur quels supports et comment FuZZmovies est-il distribué ?
Greg : FuZZmovies est distribué par Season Of Mist (CD et digitalisé) ; on a pressé un vynile qui sortira mi-juin, on espère, et qu'on distribuera nous même pour l'instant.
Vos activités dans les prochains mois ?
Greg : On reprend le chemin du booking (un concert programmé le 19 juin à Mantes la Jolie pour le festival West Motors & Tattoo Show) ; on bosse des compos pour le prochain album et on cherche toujours Philippe !
Justement, Philippe... Des nouvelles ?
Bruno : Oui. On sait où il se cache, ce salaud !
Merci High On Wheels d'avoir pris le temps de me répondre...
Bruno : Mais de rien, et bisous ! (NDLR : oui, mais avec le masque, et dans le respect des mesures sanitaires)
---
LES LIENS :
Articles similaires
Groupe : Athabas Album : « Undertaker » (06/06/2021) Origine : Franche-Comté Genre : Stoner/Metal On aime : le gros son, l'artwork Par Ahasverus Le Groupe : Athabas est un quatuor qui s'appelait initialement Th…
Groupe : High On Wheels Album : FuZZmovies (23/04/2021) Genre : Desert Rock Origine : Paris/Lyon On aime : Le son, les guitares, l'univers Par Ahasverus LE GROUPE : High On Wheels est un trio de desert rock formé en 2014. Parmi s…