Accueil

/

Il était un artwork : OLD'N'GLAM, "Ten Shades Of Glam" (2019)
Il était un artwork : OLD'N'GLAM, "Ten Shades Of Glam" (2019)
Sorti en 2019, "Ten Shades Of Glam" est le deuxième album de Old 'N' Glam
Son artwork représente le groupe dans un musée, face à un mur comprenant une série de tableaux représentant les dix nuances du Glam.
Voici les explications de la formation nancéienne sur la genèse de cet artwork.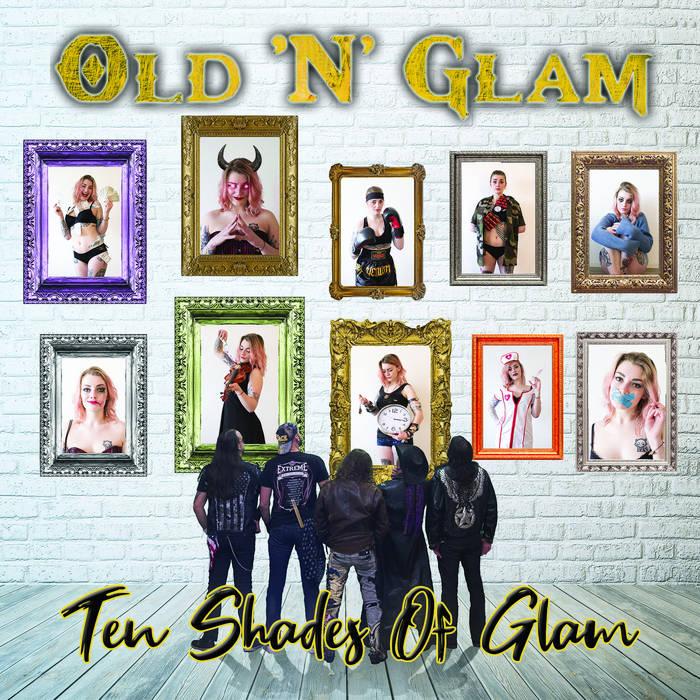 OLD'N'GLAM, "Ten Shades Of Glam (2019)
---
OLD'N'GLAM : On s' est vraiment appliqués pour apporter autant sur le musical que sur le visuel pour le CD. On voulait qu' il y ait autant à voir qu' à écouter. Il y a pleins de petits détails, des subtilités.
Un soir, nous nous sommes tous retrouvés pour discuter de tout ça autour d' une raclette. [Oui, on est des Lorrains et on se nourrit exclusivement de raclettes et de bière ! Surtout JM ! (rires)] Plus la soirée passait et plus ça partait dans tous les sens. Il y a eu l' idée d' appeler l'album « Hamburgirl », avec une photo de nous dans un resto et une serveuse qui apporte un gros hamburger avec une petite culotte a la place de la viande, et bien des centaines d'autres choses bonnes ou mauvaises, à mesure que la soirée avançait... Fallait-il donner à l'album le titre de l'une des chansons ou pas ? Et à un moment est apparue l'histoire d'un mur avec des tableaux. Ça a germé... Une photo en rapport à une chanson... Ça fait dix photos... on avait dû parler de cul (c'est sûr même !) peu de temps avant, hop ! Fifty shades of grey / Ten shades of Glam... Et voilà, on avait trouvé le concept !
Delf (Des photos au Poil), qui est une excellente photographe qui couvre beaucoup de concerts, et qui est également proche d' un des membres du groupe, était avec nous à son grand dam, (car c' est un truc d' extra-terrestres une soirée avec les Old 'N' Glam, personne n'en sort indemne, jamais ! Nos femmes sont blasées de supporter des gugusses comme nous. Partout ou Old'N'Glam passe, Xavier trépasse !) s'est portée volontaire - sous la menace - pour s' occuper des photos. Elle a trouvé la modèle, la joviale et pétillante Axelle Fescia, puis a organisé les mises en scènes, les accessoires et les photos, et tout et tout et tout...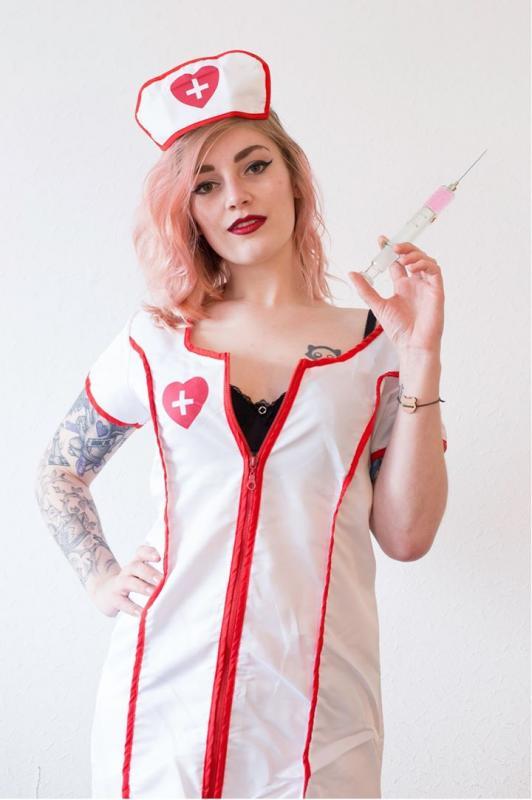 Doctor Love, vu par Des Photos Au Poil. Modèle : Axelle Fescia
Une fois les photos réalisées, Steve et Romain ont passé de longues heures à élaborer le livret, qui a évolué au fur et à mesure que ça avançait. Petite précision : Steve ayant des tentacules à la place des doigts quand il s' agit d' informatique, c' est Romain qui s' est finalement tapé toutes les manips, les mises en pages, les adaptations photos/couleurs/textes, etc ! Sans oublier la page centrale, une idée d' Alex, sur laquelle on vous dévoile tout. On y découvre toute la vérité sur qui nous sommes vraiment !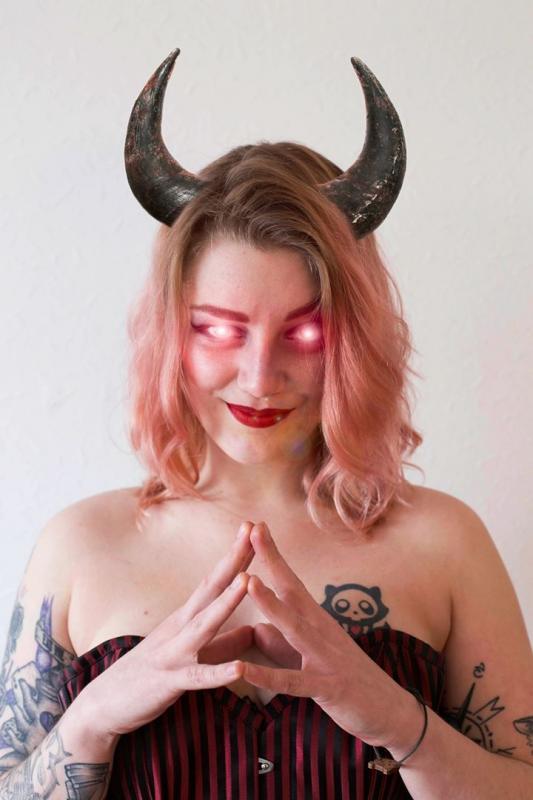 Devil Inside, vu par Des Photos Au Poil. Modèle : Axelle Fescia
---
Tracklist :
Be Nice And Shut Up !
Doctor Love
Who Wants To Be A Millionaire
Nothing's Free
Now Or Never
The Uloved Symphony
Stronger
72 Virgins
Matter Of Time

Devil Inside You
---
LES LIENS :
Articles similaires
Sorti le 05/03/2021, "Eclosion" est le premier opus de No terror in the bang, un groupe qui se décrit comme un cinematic metal band. Justement nommé, "Eclosion" représente un oeuf bleuté sur fond noir, oeuf …
Old 'N' Glam nous a gâté pour ce début d'été 2019 : "Ten Shades of Glam", leur nouvel album, présente dix nuances d'un Glam festif emballé dans un très beau packaging. …