Accueil

/

Dust Prophet (UK) The High Capital (single - 2021)
Dust Prophet (UK) The High Capital (single - 2021)
Le groupe de Manchester Dust Prophet a sorti son nouveau single « The High Capital » ce 19/08/2021.

La chanson est inspirée du Paradis Perdu de John Milton et sortira sur leur prochain album annoncé pour le printemps 2022.
Le guitariste//chanteur Otto Kinzel raconte :
« J'ai toujours aimé la littérature apocalyptique et les images qui en découlent. Le Paradis Perdu est une œuvre littéraire légendaire qui a inspiré d'innombrables artistes, et je ne fais pas exception. Je voulais écrire des paroles qui explorent le regret de nos décisions, et cette prise de conscience "oh j'ai vraiment merdé" qui vient avec l'introspection et le recul. Vous pouvez voir comment Lucifer traverse ce processus avant d'accepter enfin son destin, qui est un destin qu'il s'est imposé. Même si c'est une œuvre de fiction, je m'identifie à ce sentiment, comme je suis sûr que beaucoup d'entre nous le font. Donc, lyriquement, The High Capital parle de l'histoire de l'ange déchu, mais il s'agit aussi de mes propres regrets et de l'acceptation de ce que j'ai fait mon propre destin. »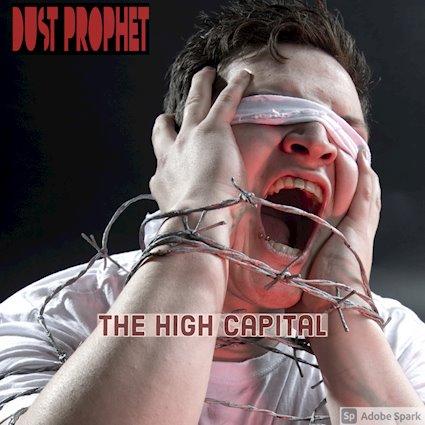 S'inspirant de l'existence fragile de l'humanité, ainsi que de groupes qui définissent le genre comme Black Sabbath, Kyuss, Electric Wizard, Tool et Clutch, Dust Prophet ambitionne de prendre d'assaut le monde du stoner et du doom metal. Le coup de main pourrait bien être couronné de succès !
Line-up:
Otto Kinzel - Guitare, chant
Sarah Wappler - Basse, clavier
Tyler MacPherson - Batterie
Les Liens :