Accueil

/

Chronique d'album : THE RADIOACTIVE (Metal alternatif), "Last Generation" (2021)
Chronique d'album : THE RADIOACTIVE (Metal alternatif), "Last Generation" (2021)
Groupe : The Radioactive
Album : "Last Generation" (21/03/2021)
Genre : Metal alternatif
Origine : Paris
Par Ahasverus
Le Groupe :
The Radioactive prend naissance à Paris en 2011.
Il s'agit initialement d'un groupe de punk-rock et c'est dans cette catégorie que le groupe classe ses premiers opus, "Self Control" en 2014 et "A Matter Of Time" en 2019.
Leur rock se teinte désormais d'éléments issus du blues, de la musique classique et du swing.
En 2021 The Radioactive revient avec un second album :
"LAST GENERATION"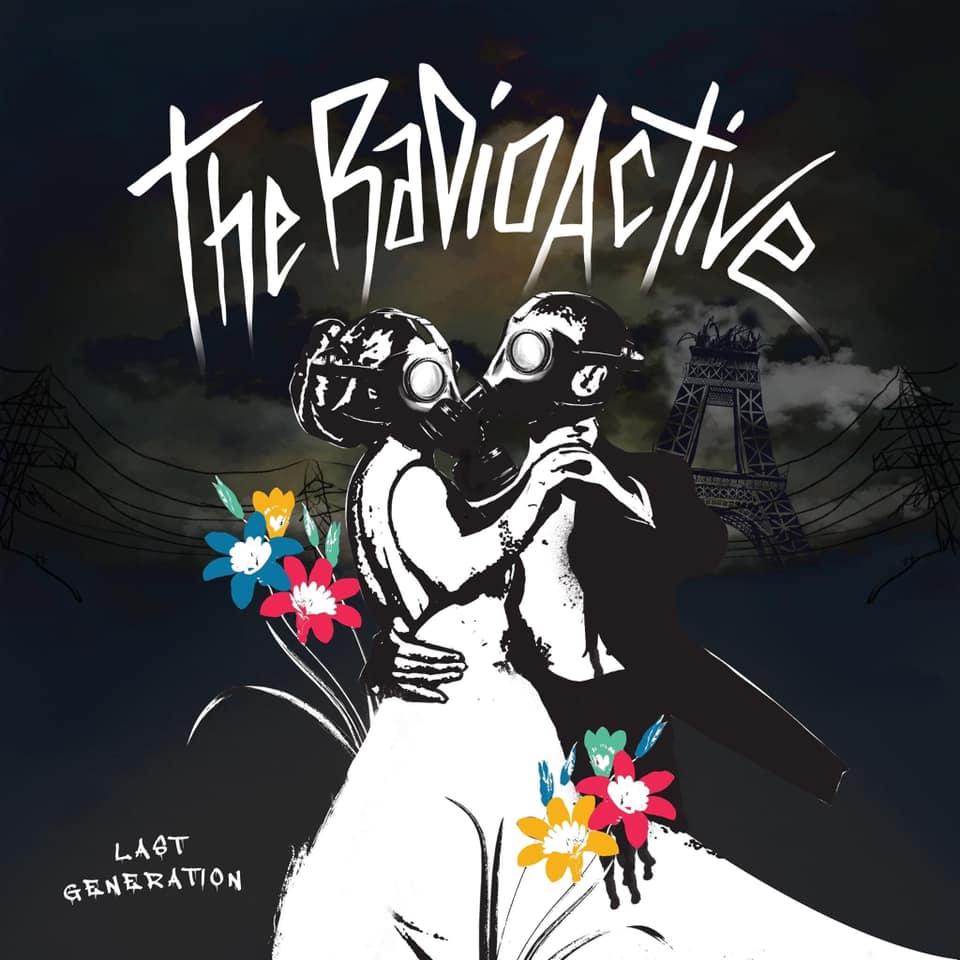 THE RADIOACTIVE, "Last Generation", (2021)
L'Album :
"Last Generation" est un dix pistes d'une durée d'environ trente-cinq minutes.
A propos de l'artwork, Oscar (chant/guitare) explique :


"Nous nous sommes inspirés de Banksy qui en plus d'être un artiste novateur se veut militant. J'ai eu l'occasion de visiter différentes expositions et elles m'ont toutes coupé le souffle ! Un parfait mélange entre actualité, messages chocs, mélancolie et espoir. Ce qui colle parfaitement à l'univers de notre album. Une jeunesse insouciante, pouvant être frustrée de ne pas être libre de ses mouvements et un univers futuriste, apocalyptique, semblant submergé par la radioactivité ambiante. Les fleurs colorées au premier plan, elles, rappellent que la beauté peut toujours émerger où que ce soit."

Augustin Post, pianiste, et Marie Phenglamphanh, chanteuse lyrique, sont invités sur l'album.
Réalisé par des membres du groupe "Release Your Rage" est le premier clip réalisé pour défendre le nouvel opus.

Les Critiques :
"The Radioactive, avec cet album Last Generation, vont faire parler d'eux, c'est plus qu'acquis !"


https://www.sensationrock.net

"Last generation est un souffle de vie, un cri de révolte contre la morosité ambiante."


https://litzic.fr
Notre Avis :
Nougaro popularisait un duel entre le jazz et la java ; The Radioactive ouvre les hostilités entre le swing et le métal. Un swing délicieusement porté par le touché de piano d'Augustin Post et la section rythmique, et qui singularise une musique qu'on peut très justement qualifier d'alternative.
Ces jeunes musiciens grandissants ont du chien, ils mettent de l'imagination dans leur rock. L'énergie du punk n'est pas écartée, on la retrouve dans des morceaux comme "Radioactive Lands" et "Get Stoned", un brûlot, sur lequel Oscar livre toute sa verve, et qui doit envoyer sévère sur scène.
Diversité, inventivité, talent, invités judicieusement disposés, font de ce "Last Generation" un album séduisant, une danse conduite avec brio, parfaitement servis par une production équilibrée. C'est ingénieux et d'une grande variété, aussi conviendra-t-il d'écouter l'album dans son entièreté et de ne pas essayer de se faire une idée sur la base d'un morceau. On applaudit et on suivra avec intérêt.
Les Liens :
Articles similaires
Ce 10/07/2021, Ronnie James Dio aurait eu soixante-dix-neuf ans. Lisa Mann, la tête pensante de White Crone, lui rend hommage au travers d'une cover du classique de Rainbow, « Stargazer ». Cinquième morceau de l'al…
Un chanteur baryton au phrasé unique, un véritable don pour écrire des mid-tempi et des ballades mémorables, voici deux des qualités indéniables de la formation heavy rock Hot Hell RooM. HOT HELL ROOM par …