Accueil

/

Chronique d'album : SEEDS OF MARY (Rock/Grunge) - Serendipity (2020)
Chronique d'album : SEEDS OF MARY (Rock/Grunge) - Serendipity (2020)
Groupe : Seeds Of Mary
Album : Serendipity (2020)
Genre : Rock / Grunge
Origine : Bordeaux
Par Ahasverus

Le Groupe :
SEEDS OF MARY
est un quintette bordelais formé en 2011.
Il mélange des influences issues des musiques rock, grunge et métal.
Son line-up actuel se compose de Jérémy, (chant), Julien (guitare), Raph (guitare, chant), Eliott (basse) et Aaron (batterie).
SEEDS OF MARY, "Seeds Of Mary" (2013)
"Seeds of Mary" est suivi par 'Choose Your Lie" (2015), illustré par le clip du même nom.
Le groupe s'affirme en 2017 avec la sortie de l'album "The BlackBird And The Diyng Sun", qui réunit l'esthétisme musical et visuel qui caractérisent son univers.
En 2020, Seeds Of Mary revient avec son quatrième album. Il s'agit de...

"SERENDIPITY"
L'Album :
"Serendipity" est un dix titres d'un peu plus de quarante-sept minutes.
Julien (guitare) signe à nouveau l'artwork de l'opus. Interrogé sur son choix, il nous explique :
"Le caméléon c'était pour plusieurs raisons... A l'origine la pochette devait être celle du livret. Mais finalement j'ai proposé celle avec le caméléon en reprenant les couleurs du livret, comme si celui-ci passait devant cette pochette et en prenait la teinte. Un caméléon albinos apportait à ce côté "sérendipité", et esthétiquement ça représente assez bien notre évolution en tant que groupe. Et puis l'idée m'est venue à partir du morceau "Chameleonic" (NDLR : en piste 6) qui est un morceau pivot dans l'album. Tout ça réuni a laissé peu de doutes sur le fait que ça allait être la pochette."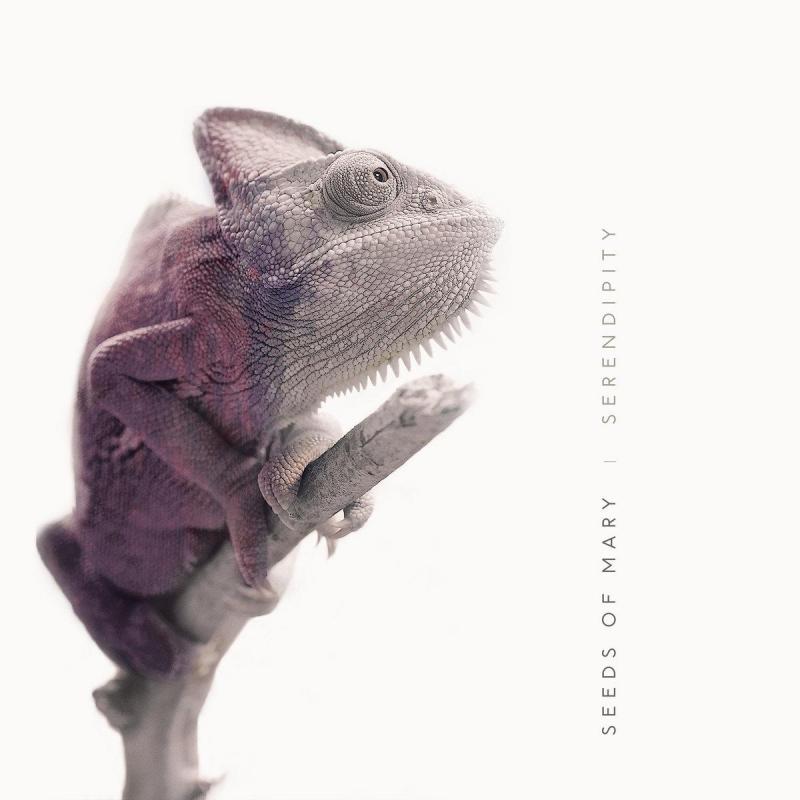 SEEDS OF MARY, "Serendipity" (2020)
Une citation de Marcel Proust dans le livret succède à celle de Friederich Nietszche choisie pour "Choose Your Lie" et à celle de Henry David Thoreau illustrant "The BlackBird And The Dying Sun". Explications de Julien :


"Dans chaque album j'ai inclus une citation qui permet au disque de dépasser le cadre purement musical. Cela fait de l'album une réelle expérience esthétique. En tout cas c'est l'effet recherché pour ma part. Ça montre que la musique est avant tout composée avec l'émotion et que nos influences en la matière se trouvent dans diverses formes artistiques. Cette phrase de Proust met l'accent sur le jeu du regard et des perspectives qui est un thème central dans les visuels mais qui a grandement influencé les paroles également."
"The Atheist" est le premier single choisi pour illustrer l'album.
Il est suivi par le clip "Rewind Me" :
Les Critiques :
"Un Seeds Of Mary au meilleur de sa forme. Bravo."


https://amongtheliving.fr

"Ce groupe va ravir les fans et les amoureux de ce style qui porte en lui une classe certaine et une empreinte assez personnelle. Du beau boulot !"


https://www.metalfrance.net

"Une musique ambitieuse très inspirée."


https://hardrock80fr.wordpress.com

"Les Seeds Of Mary nous ont habitués à du haut de gamme et une nouvelle fois nous ne sommes pas déçus !"




https://bratsindiemusic.wixsite.com

"Une véritable réussite qui saura plaire à un public très large."




https://chairyoursound.com

"Un album de qualité. Il serait dommage de le rater."


https://www.pavillon666.fr
Notre Avis :
Seeds Of Mary n'est pas bordelais pour rien : il cultive les grands crus et ne propose que des "produits" qui conjuguent classe et qualité.
Depuis "The BlackBird...", les Seeds ont un son. Un son unique. Pourtant, dès l'entame de ce "Serendipity", ils surprennent par la violence inaccoutumée du chant comme pour remettre des pendules à l'heure.
Alors oui, les Seeds ont un son, une identité. Et ils arrivent à en faire une singularité sans en faire un carcan. Au top de leur forme, ils poursuivent l'extension du territoire : les secondes voix de Raph prennent un peu plus de place ; Jérem part dans les basses (Sanity Is Statistical) et s'arrache dans l'agressivité (The Atheist). Leur complémentarité est idéale.
La musique est toujours aussi sombre et esthétique, mais plus sensible que jamais (Reinventing You), plus vindicative que jamais (The Atheist) ; chaque composition est ciselée avec un détail et une finition peu communes qui nourrissent l'écoute d'une richesse délectable.
Que les fans se réjouissent : le "Blackbird..." était un grand album ; "Serendipity" est au moins à son niveau, et probablement encore un cran au dessus.
En résumé, ce qui était l'une des sorties les plus prometteuses de l'année se mue en l'un des albums les plus réussis de l'année, confirmant qu'on a affaire à l'un des groupes les plus intéressants de sa génération.
Vous l'avez compris : "Serendipity" est unique, abouti, c'est une beauté dark d'une grande sensibilité, un must. Achetez-le.
On surligne en post-scriptum le magnifique travail de Julien sur les visuels, puisqu'un album de Seeds Of Mary c'est d'abord un bel objet. Vous choisirez donc une version physique, CD ou LP, elle vaut nettement les quelques euros de différence.

Les Liens :
Serendipity sur Spotify :
https://open.spotify.com/album/1SaMW5P3LHaQMjnubMRAJv
Serendipity sur Bandcamp :
https://seedsofmary.bandcamp.com/album/serendipity
Seeds Of Mary sur Facebook :
https://www.facebook.com/SeedsOfMary
Articles similaires
« Angel Speak » est le nouveau clip de l'Australienne (mais résidente britannique) Suzie Stapleton, il est issu de son album « We Are The Plague ». Suzie explique : « Angel Speak est peut-être mon morcea…
« Pour commencer cette nouvelle année scolaire 2021-2022, nous allons étudier le cas Tarah Who? et son nouvel album ''Supposedly a man'', qui sait qui est Tarah Who? ??? Non Môôôssieur…