Accueil

/

Chronique d'album : PRINCESSES LEYA (Métal parodique), "L'Histoire Sans Fond" (2021)
Chronique d'album : PRINCESSES LEYA (Métal parodique), "L'Histoire Sans Fond" (2021)
Groupe : Princesses Leya
Album : "L'Histoire Sans Fond" (12/03/2021)
Genre : Métal satirique
Origine : Paris
Par Ahasverus
Le Groupe :
Princesses Leya est né en 2017 de la rencontre de Dedo (chant) et Antoine Schoumsky (guitare, chant), musiciens, mais également comédiens, issus du théâtre et du stand-up, tandis qu'ils participent à la tournée des Insolents (avec notamment Blanche Gardin).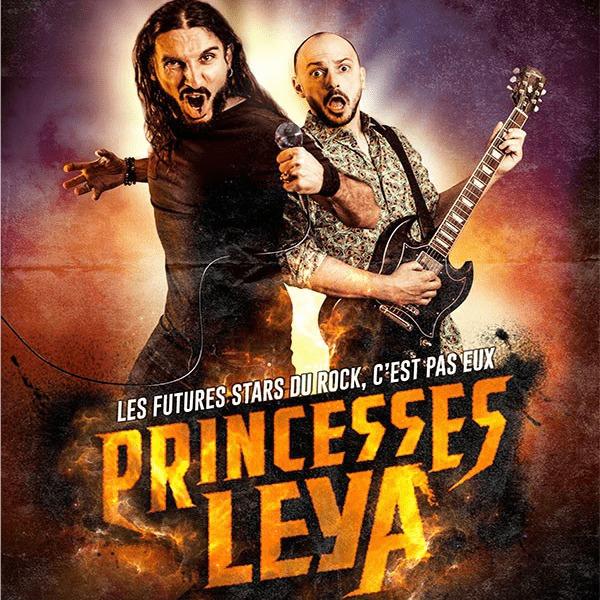 Princesses Leya était initialement un projet exclusivement scénique, mélangeant sketchs et musique métal.
Le groupe cite pour références Tenacious D, Flight Of the Conchords et Ultra Vomit.
A propos du nom du groupe, Dedo précisait à https://www.emaginarock.fr :


"On s'appelle les Princesses Leya parce qu'on on a de beaux cheveux, sauf Antoine, qu'on est gracieux et chevaleresques, sauf Fifou, et qu'on porte très bien le string, sauf tout le monde."

Une première mouture de spectacle naît, les cover cèdent peu à peu le pas aux compositions originales.
Le line-up se complète par Cléo Bigontina (basse) et Xavier Gauduel (batterie).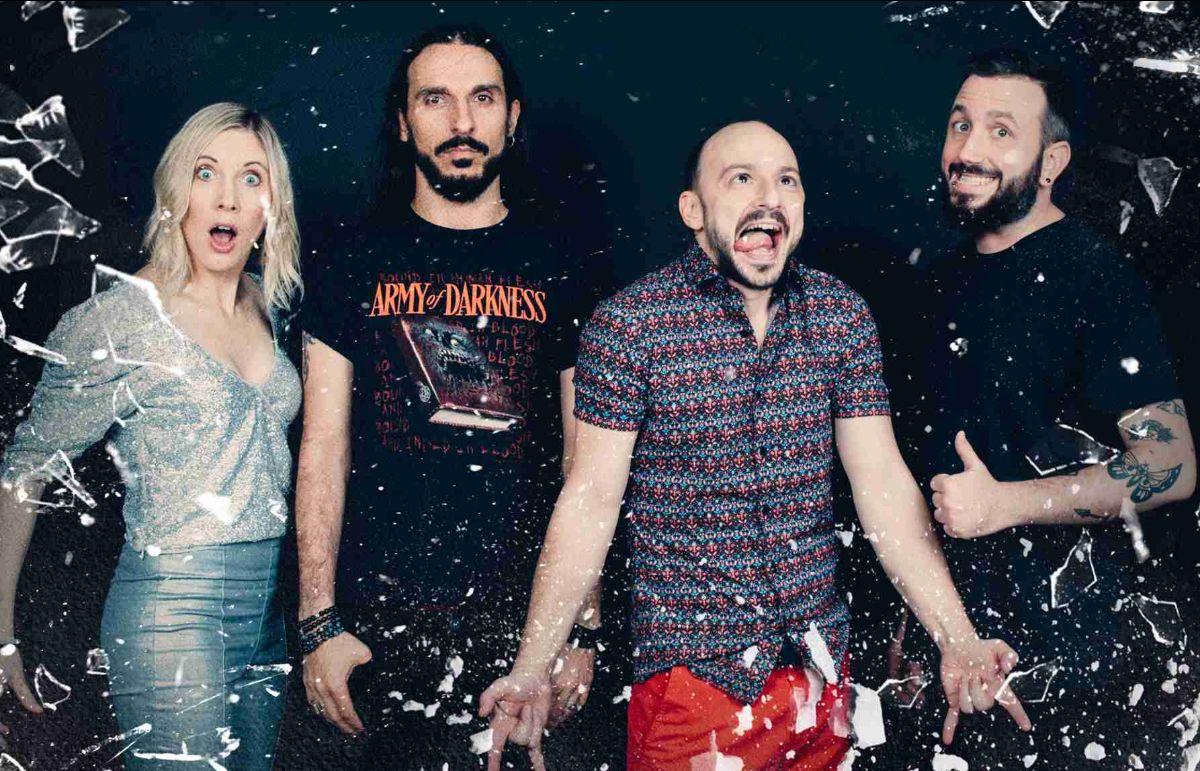 PRINCESSES LEYA - De gauche à droite Cléo Bigontina, Dédo, Antoine Schoumsky et Xavier Gauduel.
En 2019, Princesses Leya est à l'affiche de la tournée du Warm up Helfest, avec Mass Hysteria, Ultra Vomit, Tagada Jones et Dagoba.
Devant le succès du spectacle (cf la vidéo ci-dessus), Princesses Leya ose l'album. Il sort en 2021. Il s'intitule :
"L'HISTOIRE SANS FOND"
L'Album :
"L'Histoire Sans Fond" a été financé par un crowdfunding qui a permis de récolter 12500€, soit presque le double des 7000€ espérés.
Alternant chansons et sketchs, il est d'une durée d'environ une heure cinq.
Il s'agit d'un concept-album dont voici le sujet :


"Une malédiction viking dit qu'un jeu de mots de trop peut vous projeter dans une dimension parallèle. il n'en fallait pas plus pour que Schoumsky, Dedo et leurs acolytes tombent dedans et attérissent sur Chlamidia 4, une planète où le vocodeur a balayé la diversité musicale. Le QI moyen y est proche du teckel, les salons de coiffure et les maisons témoins y pullulent. Rapidement, les Princesses Leya apprennent que ce monde est contrôlé par Joffrey Bisous, un magnat des médias qui n'a qu'un seul but : l'ultra consommation des masses. Nos protagonistes au goût prononcé pour l'absurde vont devoir retrouver une légendaire partition secrète sans laquelle pas de libération des esprits ni de retour sur scène."

(source : Agence Singularités)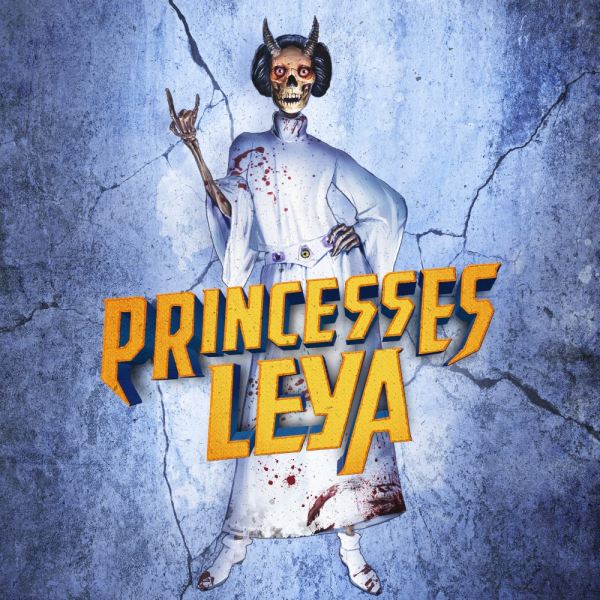 PRINCESSES LEYA, "L'Histoire Sans Fond" (2021)
Concernant la ligne directrice de l'opus, Dédo raconte à http://www.radiometal.com :


"Nous voulions que ce soit un album qui représente complètement ce qu'est le projet sur scène, comme sur CD. Le projet sur scène, c'est un vrai concert et à la fois un spectacle, une pièce de théâtre, un truc un peu dense, et l'album, c'est un peu la même chose."

"L'Histoire Sans Fond" est produit au studio Axone par Pierre Danel, guitariste du groupe Kadinja et Tom Gadonna.
Depuis 2019, de nombreux clips ont annoncé l'album. Ouais ouais ouais...
Les Critiques :
"Fins musiciens, interprètes inénarrables, auteurs bourrés de talent, les membres de Princesses Leya nous offrent donc la distraction de l'année, et un film pour les tympans bien supérieur à pas mal de productions Netflix ou Amazon Prime."


http://www.metalnews.fr

"Un bon moment gorgé de bonne humeur et de légèreté où la musique se met au service de l'humour."


https://www.musicwaves.fr

"On se laisse prendre au jeu et se créer un univers plaisant à l'écoute de leur aventure absurde en forme d'escape game."


https://hardforce.com
"

J'ai fini dans mon canap bidonnée par une histoire complètement surréaliste, des vannes bien trouvées."


https://mad-breizh.com

"Pourquoi vous priver d'une bonne tartine de divertissement metallico-burlesque ?"


https://www.auxportesdumetal.com

"Une note finale de 8.6 puisque 1664 c'était un peu trop élevé."


https://www.lagrosseradio.com
Notre Avis :
Un disque avec des sketch et de la musique métal ? En voila un concept gonflé ! Et d'entrée les vannes fusent dans cet opus qui vous apprend par exemple que le cacapo est un oiseau si stupide qu'il recherche parfois des prédateurs pour s'accoupler... Et oui, les Princesses osent tout dans cette partie carrée de l'humour, où chacun des musiciens/personnages se démarque par son caractère.
Côté chansons, la part belle revient aux compositions originales, dont de vibrants hommages (hem...) au club des vingt-sept (Joplin, Morrison, Cobain, et tous ces artistes disparus à vingt-sept ans) ou à la militante sud-africaine Miriam Makeba qui se voit saluée par un "Ma que bella, Miriam Makeba !". La prod', en revanche, ne fait dans la pantalonnade et place judicieusement chaque instrument.
Il faudra être bien mal embouché pour bouder son plaisir et ne pas rire et sourire à l'écoute de cette "Histoire Sans Fond", car Schoumsky et Dedo ont du métier, et leurs deux compères ne sont pas en reste. "L'Histoire Sans Fond" est une bouffée d'air frais qui tombe au poil en cette période, et l'album mérite incontestablement d'être nominé pour la compétition du Grand Nawak d'Or 2021.
Notez que les Princesses Leya donneront deux concerts à la Maroquinerie à Paris les samedi 12 et dimanche 13/06/2021. Les réservations sont ouvertes :
https://www.weezevent.com/princessesleya-maro
---
La Tracklist :
01. La Malédiction Viking *
02. Planète Chlamydia 4 *
03. Le Type Chelou en Capuche
04. La Mission *
05. Makeba
06. La Ziggurat *
07. Balls Balls Balls
08. La Salle Sans Intrus *
09. Ustensiles
10. Les Shitty Producteurs Zombies *
11. Single Lady Killer
12. Goule Jazz *
13. The Twenty Seven Club
14. Le Club des 27 *
15. La Vieillesse
16. Bibliothèque Paf *
17. Ouais Ouais Ouais
18. Décédés *
19. Renaissance *
20. Destruction Vaginale
21. Princesses Cocktails *
22. Grâce à l'Alcool
23. Eric Baudelaire *
24. Je Vous Emmerde et Je Rentre à Ma Maison
25. Home Sweet Home *
26. Tue Tes Parents
* Sketchs
---
Les Liens :
https://www.princessesleya.com/
---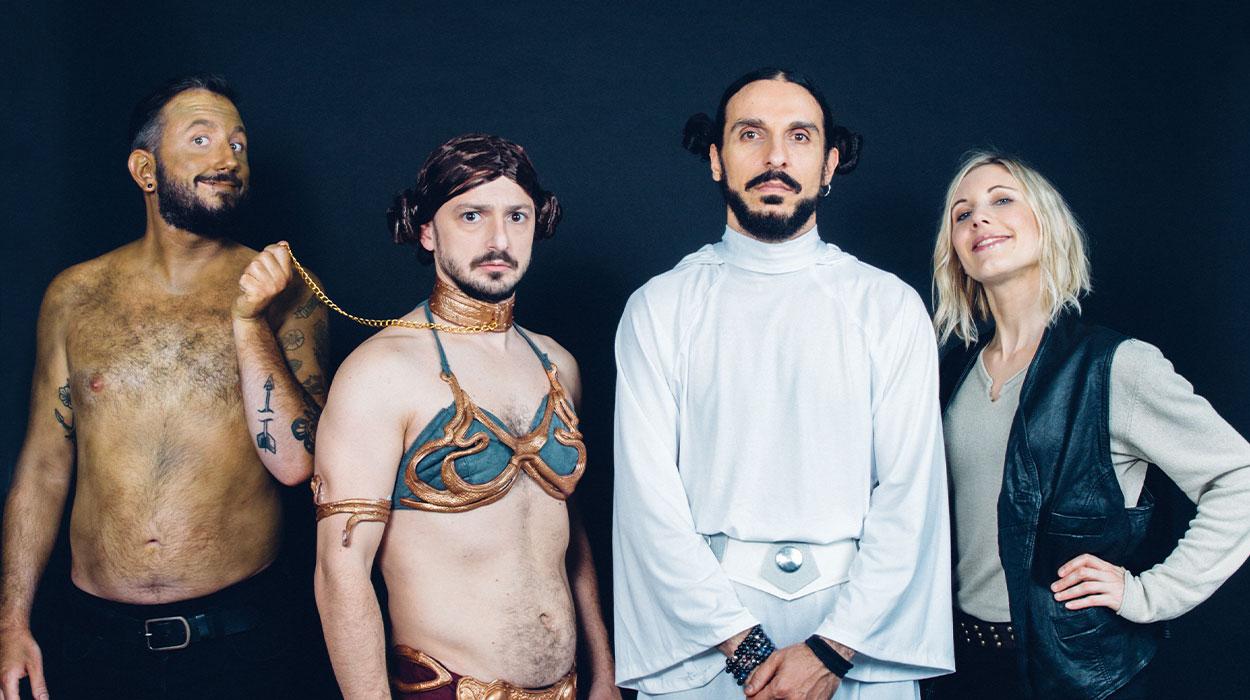 ---