Accueil

/

Chronique d'album : NIGHTMARE (Metal), "Aeternam" (2020)
Chronique d'album : NIGHTMARE (Metal), "Aeternam" (2020)
Le Groupe : NIGHTMARE
L'Album : Aeternam (2020)
Genre : Metal
Origine : Grenoble
Par Ahasverus

Le Groupe :
Nightmare est un groupe de métal formé à Grenoble en 1979.
Il connaît une première période d'activité jusqu'en 1987, durant laquelle il enregistre deux albums et fait la première partie de Def Leppard.
Il se reforme en 1999. Jo Amore, batteur du Nightmare première période, passe au chant, cèdant ses fûts à son frère David Amore. Ils garderont ces postes jusqu'en 2015, et Nightmare enregistrera sept albums dans cette configuration.
En 2015, Jo et David quittent Nightmare pour former le groupe de power metal KingCrown. La puissante Maggy Luyten (Ayreon, Virus IV, The Prize) est recrutée pour le poste de chanteuse. Nightmare aborde avec elle un virage plus agressif, illustré par l'album "Dead Sun". Il sera l'unique témoignage discographique de leur collaboration.
En 2019, Nightmare choisit Madie, vocaliste de Faith In Agony, jeune groupe grenoblois ne comptant que deux EP, pour remplacer Maggy Luyten.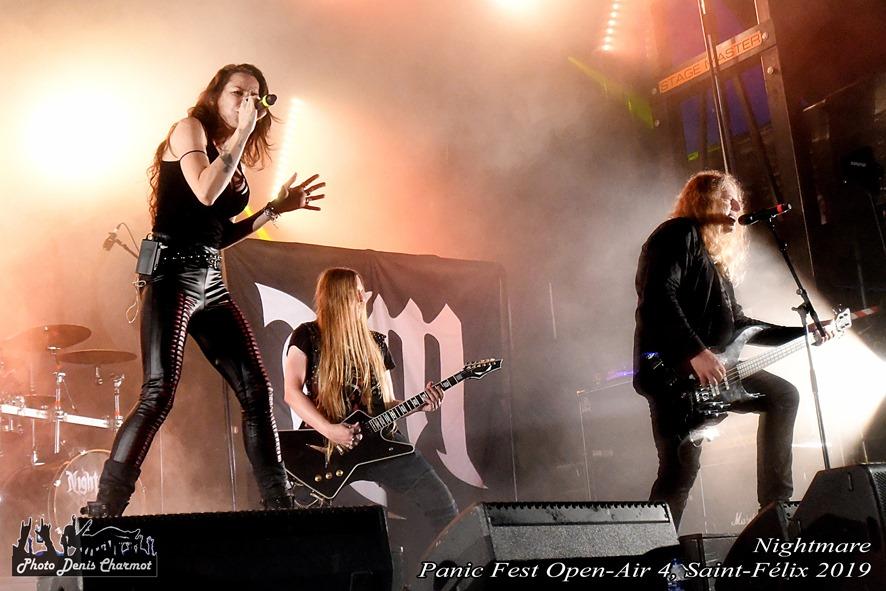 Nightmare, par Denis Charmot.
Madie se souvient :
"Un soir en rentrant du travail, Niels (Batteur) m'appelle et m'expose la situation complexe que traverse Nightmare : Maggy Luyten ne continue pas l'aventure, une date est prévue en juillet (nous sommes début mars…), il leur faut absolument quelqu'un pour la remplacer au pied levé. Je m'interroge, je questionne mon entourage, tout le monde me pousse et m'encourage, je valide donc mon choix." (ahasverus.fr)
Le Nightmare 2020 se compose donc de Madie (chant), Franck Milleliri (guitare), Matt Asselberghs (guitare/chant), Yves Campion (basse - seul membre fondateur du groupe encore présent) et Niels Quiais (batterie).
En 2020, Nightmare revient avec un nouvel album :

"A E T E R N A M"

L'Album :
"Aeternam" compte dix pistes pour près de quarante-neuf minutes.
L'artwork est signé Mickey Mythrid Art, qui a notamment collaboré avec Benighted et Asylum Pyre.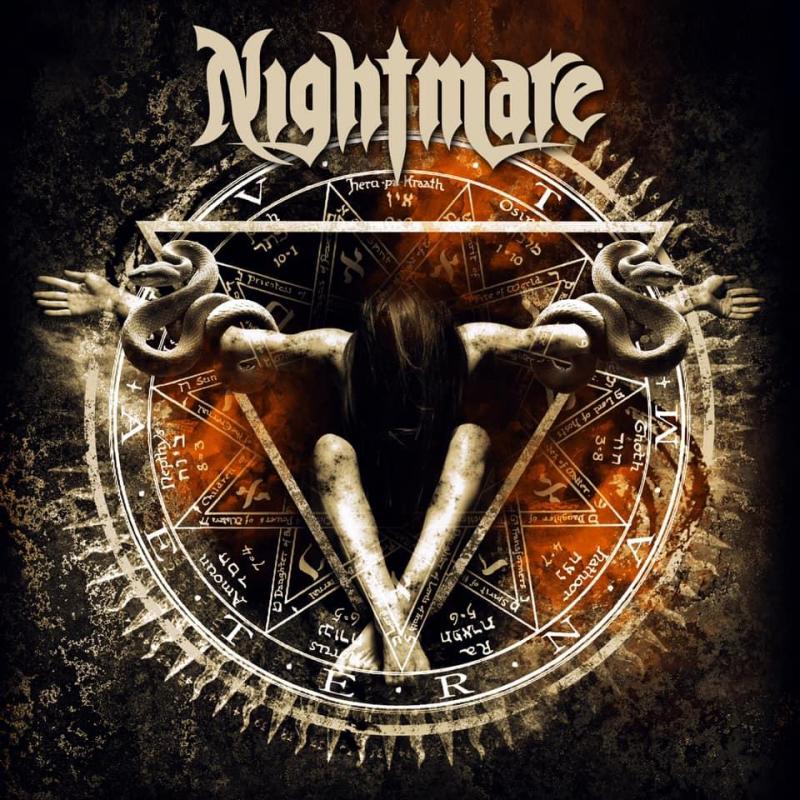 "Aeternam" s'est constitué à partir d'idées ébauchées avant le départ de Maggy Luyten. Il a été finalisé pendant le premier confinement de 2020.
Sur l'écriture des textes, Madie nous confiait :
"Beaucoup de riffs étaient déjà posés pour «Aeternam» mais aucun texte ou concept d'album n'avait encore été proposé. Nous avons donc longuement échangé sur le sens de l'album, des sujets que nous voulions aborder au cours des morceaux, de la manière d'écrire et d'interpréter ce qui allait en découler. Disons que j'ai proposé la trame générale des textes , quelques-uns ont été validés, d'autres ont été remaniés ensuite, «à la sauce heavy», des lignes mélodiques ont elles aussi été prises en compte ou gardées à l'identique afin d'apporter de l'exclusivité à Nightmare."
"Aeternam" est mixé et masterisé à San Marino, au Domination Studio (Michael Romeo, Eldritch, Vision Divine, Furies), studio du guitariste italien Simone Mularoni (DGM, EmpYrios).
Matt Asselberghs assure les voix masculines sur Anneliese, dernière piste de l'album.

Sur son travail des voix, Madie précise :
"Je débarque au milieu d'une histoire que je n'ai pas créée, d'un style qui contient des codes bien rodés, presque stricts. Il a fallu tirer un peu sur les rênes dans les premiers temps. Une fois la frustration tamisée, j'ai su m'adapter et apprécier ces codes, en faire ma petite sauce et proposer quelque chose. La plus grande problématique que j'ai pu rencontrer dans la concrétisation de cet album fut la préparation. Nous étions hélas très pressés par le temps mais refusions catégoriquement de bâcler la sortie de ce nouveau line up. Il a donc fallu s'adapter vite, très vite... J'ai la chance d'avoir une assez bonne amplitude vocale, ce qui a permis de nous balader un peu partout sur les mélodies."
Les Critiques :
"Aeternam prouve qu'après plus de quarante ans de carrière, le plus bel avenir de Nightmare est peut-être devant lui."


https://www.lagrosseradio.com

"Un très bon album aux accents Thrash, avec une très bonne chanteuse et des titres très bien composés qui installent définitivement le groupe parmi les chefs de file du Heavy Metal national."


http://lordsofchaoswebzine.com

"Clairement un retour en grande forme de nos Français."


https://www.auxportesdumetal.com

"Nightmare fait son retour de la plus belle des manières."


https://powermetalfrance.fr

"On peut clairement parler de retour en force et en forme pour Nightmare."


https://www.musicwaves.fr

"L'un des meilleurs albums du groupe à ce jour !"


http://rockmeeting.com

"Aeternam donne naissance au meilleur album du groupe à ce jour."


http://www.loudtv.net

"Même si vous n'êtes habituellement pas fans de NIGHTMARE, laissez-vous tenter, vous pourriez avoir une très belle surprise avec "Aeternam"."


http://metal.nightfall.fr/

"D'excellentes compositions servies par un travail d'écriture irréprochable et interprétées par des artistes dont le talent n'est plus à prouver."


https://hardrock80fr.wordpress.com

"Nightmare nous colle mandales sur mandales avec une malice qui frôle le sadisme… ou le Madisme… C'est comme on veut, au point où on en est !"


http://www.soilchronicles.fr
Notre Avis :
Meilleur skeud de Nightmare, "Aeternam" ? Je l'ignore.
Nightmare, c'est quand même onze albums, une histoire musicale qui balaie quarante ans de musique rock , un registre qui est allé du hard-rock jusqu'à bien au-delà du power métal.
N'empêche, il en faut un toupet pour aller recruter une quasi-inconnue ! Brillante certes, mais officiant dans un registre totalement différent. Il en fallait de la confiance en soi pour remplacer une pointure comme Maggy Luyten et un ténor comme Jo Amore. Il fallait avoir l'oreille sûre et le nez drôlement fin, pour arriver à emballer certains zines spécialisés désormais convaincus que "Aeternam" est le meilleur album des quarante ans d'histoire de Nightmare...

C'est qu'avec "Aeternam", les pionniers continuent à faire la trace, passant du mélodique à l'agressif, ouvrant le chemin à coups de riffs, à coups de blasts, parfois jusqu'aux limites du death, reprenant souffle dans les espaces dégagés par de légers claviers ("The Passenger"), s'accordant une courte respiration (la superbe intro de Crystal Lake) avant de repartir en rafales, innovant avec un chant masculin / féminin bien séduisant ("Anneliese").
Quand à Madie, la nouvelle recrue, qu'on croyait éloignée de ses bases, elle virevolte, elle est partout chez elle. Alors elle touche à tout, agressive (Black September, Downfall Of A Tyrant), délicate (Crystal Lake), aérienne sur les secondes voix (Lights On). Et on prend les paris - écrire au zine - qu'elle n'a pas encore dévoilé toutes ses facettes.
Loin de capitaliser sur des lauriers accumulés du haut de ses quarante ans, Nightmare en remontre donc à nombre de jeunes loups, construisant un mur du son de niaque et de modernité (l'énorme "Aeternam" qui donne son nom à l'album). Ils feraient bien de prendre leur mal en patience, les jeunes loups, parce que les vétérans en ont sous la semelle, ils ne semblent pas pressés de céder la place.
Nightmare est aujourd'hui un paquebot d'envergure internationale. Il est conduit de main de maître malgré les écueils qui jalonnent sa route. Il a bâti "Aeternam" sur un triptyque de puissance, de technique et d'agressivité. Et l'édifice est impressionnant.
Les Liens :
Facebook : https://www.facebook.com/nightmare.france
Spotify : https://open.spotify.com/artist/3gSYde7QNAYJhvZnRtSCG5
La photographie de Nightmare en live est de Denis Charmot, que nous remercions cette fois encore.
https://www.facebook.com/DenisCharmotPhotos
Articles similaires
Tandis que NIGHTMARE est dans les starting-blocks pour le lancement de son nouvel album ("Aeternam", qu'il présentera le 11/09/2020 à Paris puis le 18/09/2020 à Grenoble) nous avons questionné Madie, sa jeune…
Ce 10/07/2021, Ronnie James Dio aurait eu soixante-dix-neuf ans. Lisa Mann, la tête pensante de White Crone, lui rend hommage au travers d'une cover du classique de Rainbow, « Stargazer ». Cinquième morceau de l'al…