Accueil

/

Chronique d'album : Bliss Of Flesh (Black Metal), Tyrant (2020)
Chronique d'album : Bliss Of Flesh (Black Metal), Tyrant (2020)
Groupe : Bliss Of Flesh
Album : Tyrant (30/10/2020)
Genre : Black/Death Metal
Origine : Calais
Par Ahasverus
Le Groupe :
Bliss Of Flesh est un groupe de Black/Death Metal qui s'est formé en 1999 à Calais.
Son line-up se compose de Necurat (Chant), Sikkardinal et Pandemic (Guitares), J. Poizon (Basse) et Fleshstigma (Batterie).
Après deux démos (en 2001 et 2005), un EP (en 2006), un split-CD avec Bloodhammer (2007) et une trilogie (2009/2013/2017) tournant autour de la Divine Comédie de Dante, le groupe revient avec un nouvel album en 2020...
"TYRANT"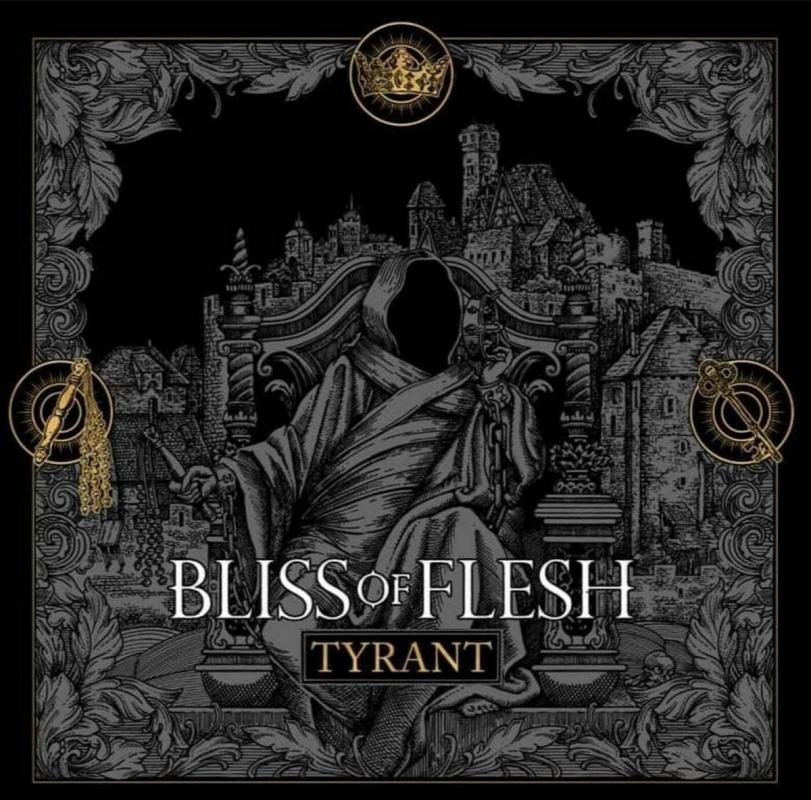 L'Album :
"Tyrant" est un neuf pistes d'environ quarante cinq minutes.
Sa musique a été composée en quinze jours par Sikkardinal, guitariste du groupe.
Pour mieux s'imprégner de l'ambiance des compositions, Fleshstigma a enregistré certaines parties de batterie dans le noir.
L'album a pour thématique le "discours de la servitude volontaire" écrit par Etienne de la Boétie aux alentours de 1575, qui veut que seule la servitude de l'homme permet au tyran de rester au pouvoir.
"Tyrant" a été enregistré aux Vamacara Studio (Dagoba, Loudblast) de Clisson par HK Krauss.
L'artwork est signé par le tatoueur/illustrateur hongrois Balázs Jacsó.
L'opus est distribué par Listenable Records. Il existe en édition vinyle limitée, noir ou or. Il n'en reste, sous ce format, que quelques exemplaires.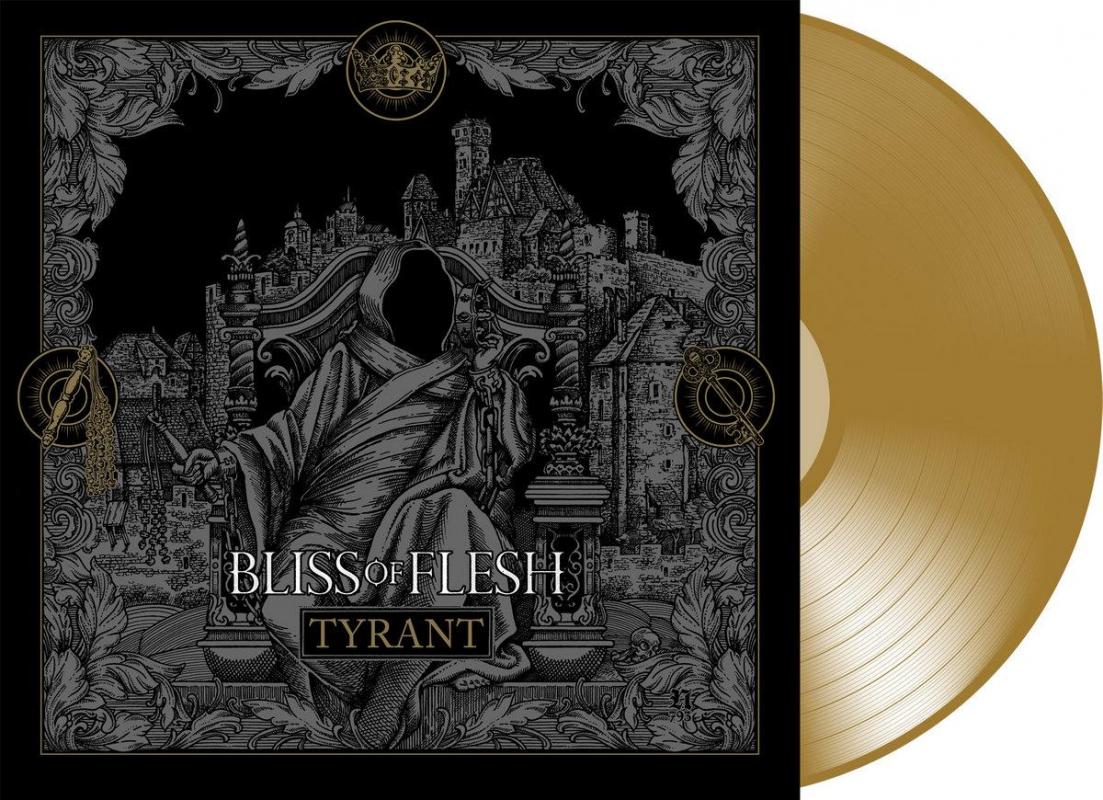 Les Critiques :
" Il se dégage de cet opus un univers auditif ambitieux dans le bon sens du terme."


https://www.metalfrance.net

"Encore une fois Bliss of flesh nous offre un album majestueux de death metal avec des accents de black tout à fait énorme !"


https://www.artnroll.net.

"Une ode à la tyrannie qu'il ne faut surtout pas rater."


http://www.soilchronicles.fr.

"Un album de black/death metal exceptionnel qui ne manquera pas dans les années à venir par se faire une place au Panthéon des albums français du genre."


https://hardforce.com.

"Chaque titre à quelque chose à proposer aussi bien sur le plan musical que sur le plan du concept et de l'ambiance."


https://www.metalmadtv.com.
Notre Avis :
"Tyrant" est le fruit d'un travail remarquable.
Généralement impressionnant comme un bulldozer sans freins laché dans une descente, il sait se parer d'une belle finesse pour nous laisser respirer quelques instants au milieu de paysages martyrisés par le pilonnage basse/batterie et par les salves des guitares qui parachevent l'ouvrage par des dissonances bien senties.
Comme les dorures de Balázs Jacsó donnent du relief à son artwork, des choeurs féminins viennent aérer les compositions, tandis que Necurat use de son chant pour multiplier brillamment les personnages et les ambiances.
L'ensemble nous est servi efficacement par le Vamacara Studio avec du gros son. Et puis il y a cet assemblage bien pensé, neuf morceaux qui s'enchaînent comme si chacun se voulait la suite de l'autre.
Tout cela fait de "Tyrant" une réussite, et surtout une oeuvre plutôt qu'une suite de chansons.
Black, beau et puissant, cet album peut rivaliser avec n'importe quelle sommité du Black international. Il est à même de susciter des vocations, des conversions pour le style. Il est donc à écouter sans tarder.
Les Liens :
Bliss Of Flesh sur Facebook :
https://www.facebook.com/BLISSOFFLESH

Bliss Of Flesh sur Spotify :
https://open.spotify.com/artist/0Ek9oxwwOmxeZkkiICquQe

Bliss Of Flesh sur Bandcamp :
https://listenable-records.bandcamp.com/album/tyrant
https://blissofflesh.bandcamp.com
Articles similaires
Groupe : 1914 Album : « Where Fear And Weapons Meet » (22/10/21 - Napalm Records) Genre : Black Metal Origine : Ukraine On aime : La composition, le développement du concept Par Ahasverus « Là, loin, loin de la mer/ …
Après « ...And a Cross Now Marks His Place », premier single de « Where Fear and Weapons Meet », le futur album de 1914 dont nous vous parlions récemment et qui voyait la participation du chanteur de Paradise…