Accueil

/

Chronique d'album : 7 WEEKS (Grunge/Rock), "What's Next? (The Sisyphus Sessions)" (EP - 27/11/2020)
Chronique d'album : 7 WEEKS (Grunge/Rock), "What's Next? (The Sisyphus Sessions)" (EP - 27/11/2020)
Groupe : 7 WEEKS
Album : What's Next? (The Sisyphus Sessions) (EP - 27/11/2020)
Genre : Rock
Origine : Limoges
Par Ahasverus
Le Groupe :
7 Weeks est un quatuor originaire de Limoges. Il est formé en 2006 par Julien Bernard (chant, guitare, basse) et Jérémy Cantin-Gaucher (Batterie). Fred Mariolle (guitares) et PH Marin (claviers/guitares/backing vocals) complètent le line-up.
Sur l'origine du nom de la formation, Jérémy Cantin-Gaucher expliquait à https://amongtheliving.fr/interview/7weeks/ :
"Nous avions sorti une démo en 2006 qui s'appelait 7weeks, tout bêtement parce qu'il y avait eu 7 semaines entre la toute première repet du groupe et l'enregistrement de cette démo. Du coup, vu que l'on cherchait un nom au groupe, il s'est imposé de lui-même."
Sur le style pratiqué par le groupe, il précisait :
"C'est un mix entre Queens Of The Stone Age, Nine Inch Nails et David Bowie. Pour faire très vite… trois influences assez importantes et diversifiées.
(source : http://metal-eyes.com/interview-7weeks)
Le groupe sort son premier EP en 2007. Il s'intitule "B(l)ack Days".
La même année, 7 Weeks donne un concert acoustique au quartier des femmes de la maison d'arrêt de Limoges.
En 2008, il est à l'affiche du Printemps de Bourges, en 2013 à celle du Hellfest.
En janvier 2020, il sort "Sisyphus", son cinquième album.
Il revient le 27/11/2020 avec un EP...

"What's Next? (The Sisyphus Sessions)"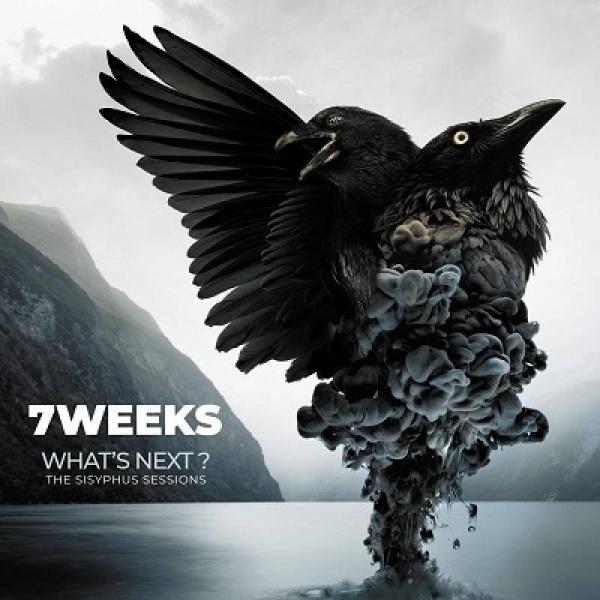 L'Album :
"What's Next?" est un cinq titres d'environ vingt et une minutes.
Il comprend un inédit ("Intimate Hearts"), une cover de King Crimson ("Circus") et trois reprises acoustiques de titres figurant sur "Sisyphus" ("Gone", "Idols", "Sisyphus") capturés live au festival «Des Lendemains Qui Chantent» à Tulle le 16/07/230) 2020.

Son artwork est signé Gilles Estines. (https://www.facebook.com/mekaa33/)
Concernant la cover, "Circus", 7 WEEKS expliquait son choix :
"Nos influences de 'surface' sont connues et nous avons déjà repris sur scène de nombreux morceaux de Soundgarden, QOTSA, Motörhead, Metallica, Led Zeppelin ou autres.
Pour une première reprise sur disque, on voulait quelque chose de plus 'sinueux', de plus original, et King Crimson (comme Bowie ou Pink Floyd) fait partie de nos influences 'souterraines', celles qui n'apparaissent que par fulgurances dans notre musique. Nous sommes fiers de rendre cet humble hommage à la bande de Robert Fripp."
Cette cover et l'inédit avaient été jugés l'une trop longue, l'autre trop sombre pour l'ambiance solaire de "Sisyphus".
"What's Next? (The Sisyphus Sessions)" existe en version vinyle avec un titre bonus inédit, "My Valhalla".

Les Critiques :
"Le superbe "Intimate Hearts", avec son thème à la guitare d'une gravité poignante, contraste avec la puissance lumineuse qui habitait l'album "Sisyphus".


https://www.spirit-of-metal.com

"La reprise du « Cirkus » de KING CRIMSON est tout sauf un caprice de complaisance, et le long morceau retrouve même l'atmosphère un peu cotonneuse de Sisyphus, sonnant presque comme un original du groupe."


http://www.metalnews.fr

"Trois titres acoustiques, trois reprises de leurs titres...et trois réussites !"


https://www.coreandco.fr

"7 Weeks réussit le tour de force de transformer cette année 2020 de lose en grand cru avec un solide et éclectique Sisyphus frisant la perfection dont sa progéniture, What's Next, hérite tout en mettant en lumière les côtés les moins évidents du groupe. "


http://clairetobscur.fr

"Malgré cette construction « tripartite », il ressort de son écoute une pertinence et une cohérence remarquables, qui font de cet EP un opus loin d'être accessoire dans la discographie de 7 WEEKS."
https://www.unitedrocknations.com

"Le groupe démontre plus aisément dans cette exercice que la place qu'il a choisi d'accorder aux claviers dans son écriture a sa réelle importance et pertinence."


http://www.shootmeagain.com
Notre Avis :
Dans le prolongement de "Sisyphus", sorti fin janvier 2020, 7 WEEKS nous fait le coup du père François : il revient fin novembre pour la fameuse "tenaille à la française" avec un EP cinq titres - six si affinités.
Disons-le tout net, ce prolongement de l'album est loin d'être superfétatoire : L'inédit "Intimate Hearts est un excellent titre aux couplets un peu sombres, au refrain bien catchy ; la cover de King Crimson rend justice à l'original avec sa profondeur, son crescendo et ses descentes de manche ; le brio de l'adaptation et de l'interprétation des titres acoustiques n'est pas sans rappeler la qualité du "Unplugged" d'Alice In Chains, "Gone" et "Idols" semblent même avoir été écrits pour ce format tellement l'affaire est entendue.
Tout ça a été magnifiquement ficelé par une série de clips, l'un illustré par les images de "Freaks" (1932), film culte et indémodable qui avait déjà inspiré les Ramones et leur "Gabba Gabba" ("Pinhead").

7 WEEKS est décidément un label de qualité, capable de faire frémir le fan de rock et headbanguer le métalleux, car la musique de ce groupe fiable convient aussi bien aux premiers qu'aux seconds.
"What's Next?" est un bijou qui complète subtilement la parure dont "Sisyphus" était la première pièce. A l'évidence, on recommande.

Track-listing :

01. Intimate Hearts (inédit des enregistrements de « Sisyphus »)
02. My Valhalla (inédit - LP uniquement)
03. Cirkus (inédit - KING CRIMSON cover)
04. Gone (acoustic version)
05. Idols (acoustic version)
06. Sisyphus (acoustic version)

Les Liens :
Suivez l'actualité de 7 Weeks :
https://7weeks.fr/
Vous pouvez liker 7 Weeks est sur Facebook :
https://www.facebook.com/7weeksmusic
"What's Next? (The Sisyphus Sessions)" est sur Spotify :
https://open.spotify.com/album/58eB5ydp54tXRTObdxyxga
7 WEEKS est sur toutes les plateformes :
https://7weekssisyphus.lnk.to/k4XEw
Articles similaires
Groupe : Nothing But Real Album : "Nothing But Real" Genre : Rock Alternatif / Metal / Punk / Stoner / Fusio…
Le Groupe : Renaud Hantson L'Album : Tatoués à Jamais (2020) Genre : Rock Origine : Paris Par Ahasverus Le Groupe : Renaud Hantson est un batteur, chanteur, auteur, compositeur et interprète français. Il fr&ea…