Accueil

/

ALKEMY : le point sur Resilience "bis".
ALKEMY : le point sur Resilience "bis".
Groupe : Alkemy
Album : Resilience (2020/2021)
Genre : Métal symphonique
Origine : Genève (CH)
Par Ahasverus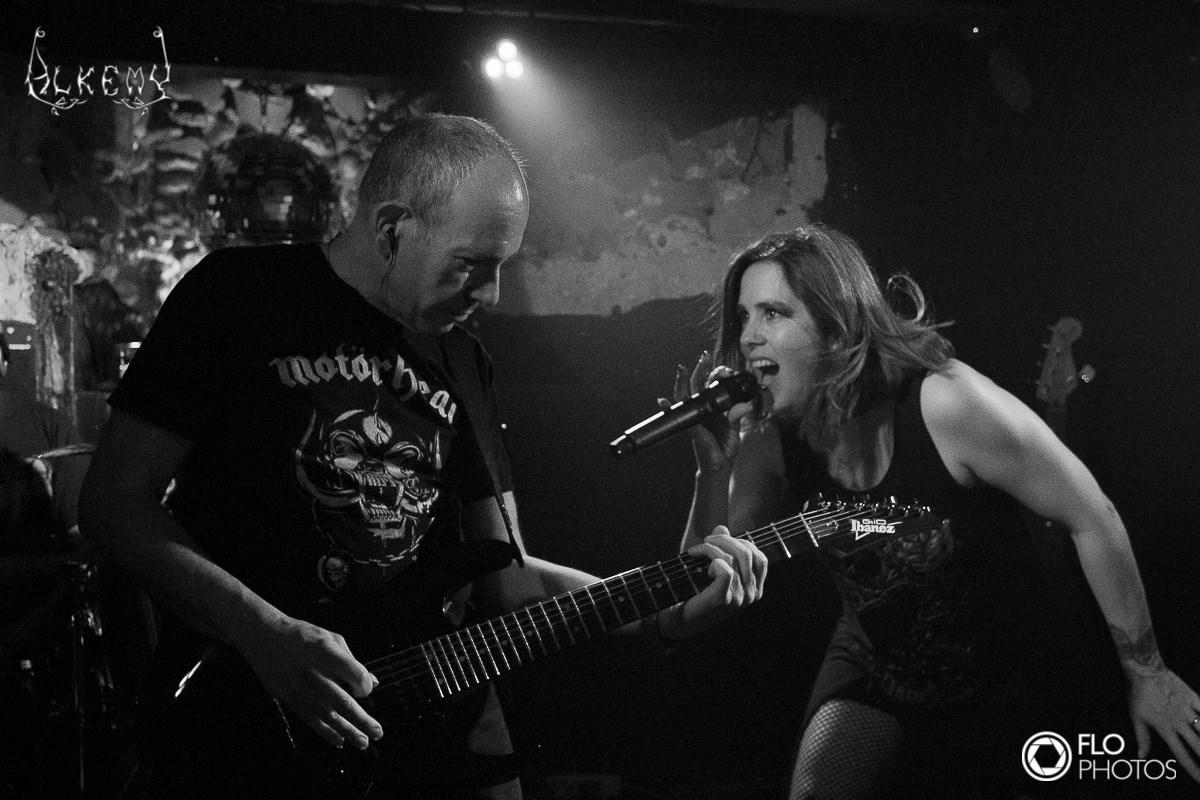 Alkemy par Flo Photos
En été 2019 sortait "Resilience", le premier album du groupe de métal symphonique Alkemy.
En octobre de la même année, patatras ! Les Suisses annonçaient qu'ils retiraient cet opus des ventes suite à des problèmes de droits portant sur les titres "I do not belong to anyone" et "Resilience".
Malgré que l'album soit déjà distribué, Alkemy décidait de revoir sa copie, et proposait aux fans l'ayant déjà acheté de leur renvoyer gratuitement la nouvelle version avec trois chansons supplémentaires.
Un peu plus d'un an après, nous avons demandé à Katia, fondatrice et chanteuse de la formation, un point sur ce "Resilience-bis".



"L'album "bis" sortira au printemps 2021 avec les mêmes chansons et des nouvelles."
Katia : Nous avons en effet sorti un album en 2019 sous le nom de la Résilience, que nous avons dû retirer des ventes car une collaboration s'est retractée, un peu par ma faute aussi... je m'explique : j'ai produit le CD et envoyé le tout au pressage... je n'ai pas rempli tous les formulaires de la SUISA (équivalent SACEM). Je comptais le faire bien sûr, mais le temps est passé et j'ai mis cette tâche au second plan... c'est une longue histoire car le contexte est particulier sur cette retractation. Du coup on a décidé de retirer le CD physique des ventes lors de nos concerts, commandes en ligne etc, pour ne laisser plus que les versions validées/signées en ligne - dématérialisées. C'est pourquoi nous travaillons sur l'album "bis" qui sortira au printemps 2021 avec les mêmes chansons et des nouvelles, sans les covers, par manque de droits (je n'ai pas fait les démarches et ne compte pas les faire malgré tout le gros boulot et les coûts investis).
Y a-t-il encore des guest sur les chansons de la version "bis" de Resilience ?
Katia : Oui il y a encore des guests, selon les chansons :
Resilience : sera rechanté par un autre homme - nous avons eu trop de soucis avec le chanteur précédent et on renonce à poursuivre avec lui.
Coupable d'etre victime : est une collaboration avec Stéphanie Y. Fischer, qui a publié un livre du meme nom. Elle a écrit les paroles en francais, on les a adaptées.
Escape to be free : c'est du 100% Alkemy.
The Eyes of the Other : Alkemy et Steff Perronne, un ami qui a adapté les paroles selon un texte que je lui ai envoyé.
My friend : une amitié avec mon amie Jess, avec qui j'ai fondé Alkemy en 2010. Elle nous a quitté en 2016 pour d'autres projets de musique country/rock.
I do not belong to anyone : collaboration avec une amie qui s'est retractée. Du coup on vient de sortir en ligne la nouvelle version, "I belong to no one".
Fighter's Way : parle du parcours du combattant, en lien avec mon histoire toujours, et assez révélatrice, comme la prostitution...
Forgiveness : parle du pardon.
Un point sur le line-up et le rôle de chacun dans le groupe ?
Katia : Je compose les orchestrations sur ordi en MAO (NDLR : musique assistée par ordinateur). Mon métier de base c'est d'ailleurs la publication assistée par ordinateur. J'écris les paroles (mon histoire) et je fais les voix. Michel compose et enregistre sa batterie. Jack compose et enregistre ses guitares (rythmiques et solos). Bibi compose et enregistre sa basse.Olivier gère notre son live. On est totalement indépendants (in-ears sur tablettes, etc). Seule la batterie est gérée par la salle.
Enfin on a créé l'association Wings Music & Events en 2014, en même temps que notre premier festival Female Metal Fest, et du coup l'asso gère également les finances du groupe Alkemy. Personne ne perçoit d'argent, tout est ré-investi pour organiser des concerts et donc se produire, en plus du festival annuel. Bien sûr 2020 n'a pas pu voir se réaliser la sixième édition du fest, on espère la retrouver en 2021.
Ahasverus remercie Katia pour son accueil et sa disponibilité.

Ecoutez et soutenez Alkemy :
https://www.alkemy.ch/music


Les liens :

Wings Music & Events :
www.wingsmusicevents.ch
Female Metal Fest :
https://www.facebook.com/FemaleMetalFest
Articles similaires
Groupe : Ever After Album : Lost Control (EP - 2020) Genre : Metal Symphonique Origine : Lyon Par Ahasverus Le Groupe : Ever After est une formation de Metal Symphonique formée en 2017 à l'initiative de sa chanteuse…
Des envies de voyage à l'approche de l'été ? Vous êtes sur la bonne page ! "Hard French Metal - le Zine qui vous régale" a décidé de vous emmener à la rencontre de nos voisins f…