Accueil

/

The SoapGirls Underground (english version)
The SoapGirls Underground (english version)
This is the english version from an interview released in french for https://www.lalegionunderground.com/
. Hello, The Soap Girls. First of all, could you introduce your group to our readers who wouldn't know you yet ?
Hi everyone ! We are The SoapGirls : Camille (bass) abd Noemie (guitar). We are sisters born in Paris and grew up in South Africa. From ages eight to nine, we start street performing and selling soaps to raise funds for childrens hospitals and other causes in South Africa, and got into music professionally when we were twelve and thirsteen. It's been a long and crazy road, but we love what we do and being independant artists we have no limits on our expression of freedom.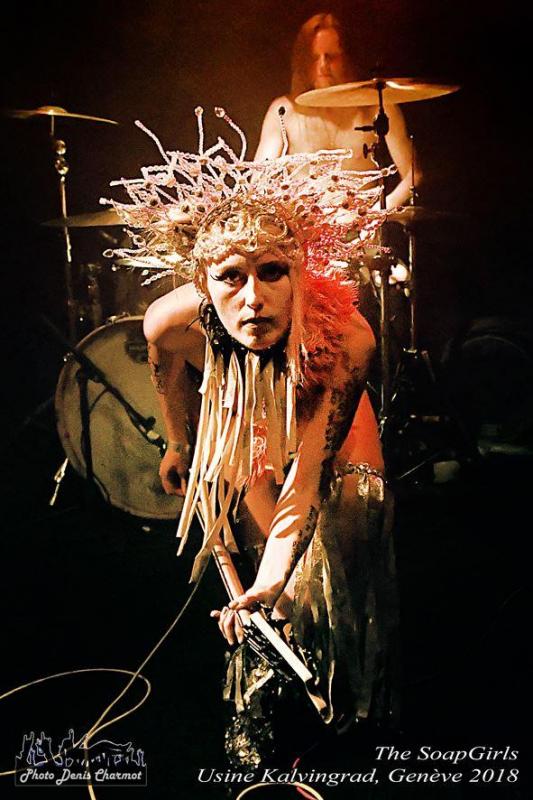 The SoapGirls during the Stinks LIke Punk Tour 2018. Photograph : Denis Charmot (https://www.facebook.com/DenisCharmotPhotos/)

. Your attitude seems as important as music. Do you have any ideals that you defend on a daily basis ?
Our attitude is reflected in our music and everything we do and stand for it's not easy in a hypocritical society that tells people they're free yet imposes every limit to stop that very freedom. We feel its important, no matter what others may say to stay true to what you believe in and speak out against injustice and censorship . We come from South Africa, a very conservative country where woman are raped everyday. So when people say ignorant things such as her clothes caused her to be attacked, we like to confront an educate people on this subject as we get a lot of shit and judgement just for how we dress.
. Do you feel feminist-like? What is the definition of "feminism" for you and what woman best embodies this movement ?
Our opinions are divided when it comes to the word feminist as it stands for equality for all sexes but seems to be reserved solely for people who dress and look a certain way. Some people also confuse the word and think it's a license to attack other woman on their choices, and men, for being men, they don't seem to understand that feminism was created so that we could all have an equal choice and right to live and be the way we want to without fear. So, to answer your question, we believe in equality of all
Camille : Madonna embodies my idea of what feminism is. She is strong, fearless and daring while never compromising her femininity.
Noemie : For me, any person male/ female that has fought for and been true to their beliefs in the fight for equality to me is the epitome of a "feminist". There seems to be a twisted confuse - and I suspect political instigation - into what is a feminist and h0w they should act, live ,dress or be which is completely not what feminism is about

. After a European tour with nearly one hundred and thirty dates, you returned to South Africa about two months ago. Holiday or work ?
Work ! We love what we do and never stop whether it's writing or recording or shooting DIY videos. We're always on the go, we are enjoying the beach and the sunshine while we are off tour aswell.

. You are currently preparing the future album. Can you tell us more ?
This next one is going to be our Third album as independent musicians. We are very excited and have just finished writing it. We will be recording it soon and heading out on tour from April with 15 new songs .
Every album is different and this one is no exception our sound is constantly evolving and we look forward to releasing an performing them live.
One way street is one of the songs of the future album.

. You sign your songs "Camille Debray/ Noemie Debray" or "The SoapGirls". In concrete terms, how is the composition process going ?
Every song is written by both of us so therefore signed off as The soapGirls. When we write a song it's a balance sometimes its a chorus first or a verse and we're always writing about life as we're experiencing it . Each of us brings a different element and new dimension to songs all our songs we write/compose are written from a personal story/experience
. What part of your artistic activity do you prefer ?
We both love going into studio and recording the songs that have been bursting to be released , but nothing compares to the energy and satisfaction of seeing people reacting and moving to the music and performance. Getting to meet our fans is such a privilege for us and we love seeing how music can bring people regardless of age race or creed together
. In 2011, The SoapGirls was a duet of Pop Music that sold very well. In 2015, you overturn the tables and commit "Calls For Rebellion", with its Revolt Rock turn. You did not choose the easy way out! What happened ?
We were signed to a major label at a young age and we can look back now and be proud of that achievement but we were restricted in our creativity and although an easier road in some ways in many ways it wasn't it was like being given wings made of lead. The label only saw us in one way so it was a constant struggle between being true to ourselves or doing what they wanted and in the end after fighting for many years to be released from our contract with them we eventually told them to fuck themselves and were released , we were robbed soon after and everything including our guitars we're stolen so we had nothing except that we were finally independant . We made a plan to get ourselves to New York to record the songs that we wanted to do unfortunately greedy people had the same ideas as the record label and although they offered us a huge sum of money and a record deal we couldn't bring ourselves to lose our creative freedom again. They'd taken our songs and turned them into something completely different to what we'd recorded and we felt no connection to what we heard. We left New York and worked really hard saved up put everything into our music recorded Calls For Rebellion and got ourselves to England and embarked on our first international tour the support of our fans has been amazing and we are so greatful.
The SoapGirls - Calls For Rebellion (2015)

. What are your most striking scenic memories ?
Noemie : Well, this is one of my funniest moments on stage but I was wearing an all white body suit and I was playing singing having fun and during all of this warm liquid was running down my thighs and i remember seeing the audience in the front looking shocked and surprised and I looked down and saw red everywhere. I'd gotten my period but the people in the audience thought it was staged and fake blood so were taking the blood and using it like warpaint on their faces I didn't have the heart to tell them it was real blood .
Camille : We had a show in Wales and this 80's years old woman got on stage during our song bad bitch took off her bra and started swinging it in the air. It was epic seeing someone so free and having so much fun at our show
. Camille, what is Noémie's biggest defect ?
Camille : Noemie's biggest defect is she can be very impatient and gets mad when things aren't perfect .

. Noemie, what's Camille's biggest defect ?
Camilles biggest defect she can be too sensitive sometimes and takes things to heart easily shes also extremely hardworking and can be bossy.

. The 2019 tour will start in a few months. It will go through the USA and Europe, according to my information. Do you have any details on the French dates ?
The Girl Next Door Tour will also include The USA for the first time. We are still booking shows, so we don't have all of the dates yet, but cant wait to be back in france !
. Will drummer Sam Ogden, who was with you on the Stinks Like Punk Tour, be present on the new tour ?
No, we killed him on the last tour... Only Kidding, yes he is !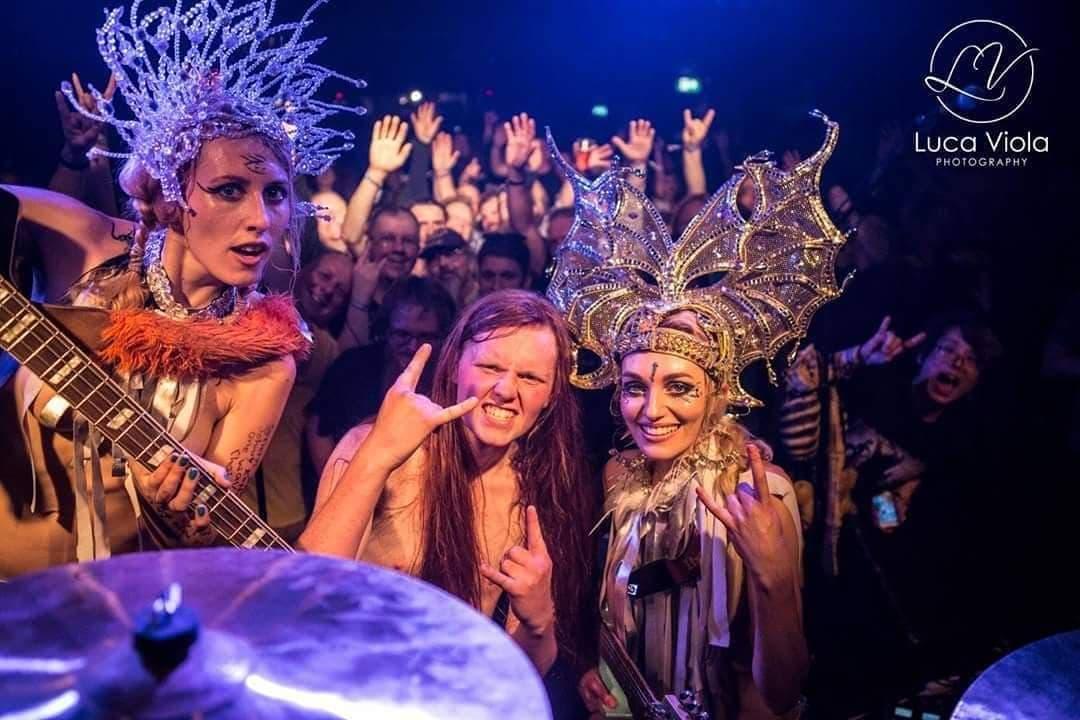 Camille Debray, Sam Ogden and Noemie Debray during the Stinks Like Punk Tour 2019. Photograph from Luca Viola.

. Thank you, The SoapGirls, for answering our questions. You have the last word.
Thank you so much for the opportunity to spread and share our music it is much appreciated !
Thanks to the greed of the politicians amd governments life is getting harder an censorship is on the rise again. Stand your grind and fight for your freedom. You can make a difference !


The SoapGirls on Facebook : https://www.facebook.com/thesoapgirls/
The SoapGirls are also here : https://thesoapgirls.com/
The SoapGirls on Bandcamp : https://thesoapgirls.bandcamp.com/
Articles similaires
Interview réalisée par Vanessa et Ahasverus pour https://www.lalegionunderground.com - Mis en ligne le 14/02/2019. ​"Nous étions signées sur une major dès notre plus jeune âge. Quand on regarde en …
En 2015, après des débuts dans la pop music, The SoapGirls renversaient les tables et commettaient "Calls For Rebellion", le premier acte d'un revolt rock qui allait devenir la marque de fabrique de ce duo sud-africain. Nous avo…