PSYKUP
Groupe : PSYKUP
Album : "Hello Karma!" (05/02/2021)
Genre : Metal Moderne
Origine : Toulouse
Par Ahasverus
Le Groupe :
Psykup est un groupe de métal formé à Toulouse en 1995.
Il se compose de Julien Cassarino (chant, guitare), Matthieu Miegeville (chant), Brice Sansonetto (batterie), Julian Gretz (basse) et Victor Minois (guitare).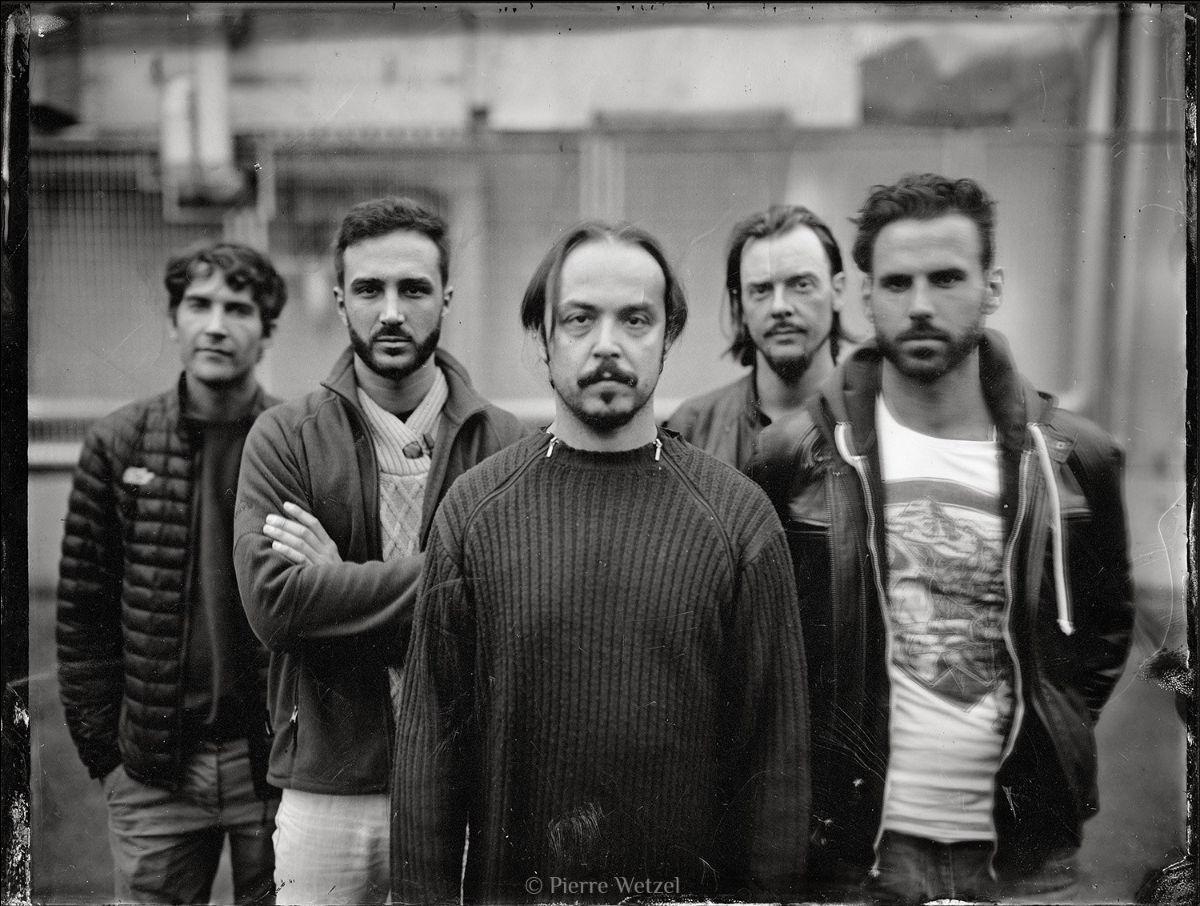 Psykup par Pierre Wetzel
Julien Cassarino définit ainsi l'univers de sa formation :
"Psykup est un mélange de mille influences diverses et variées, allant du jazz au death metal, et il faut être avant tout ouvert d'esprit et curieux pour apprécier notre musique."
https://chairyoursound.com
Psykup a notamment partagé la scène de Soulfly, des Eurockéennes de Belfort, du Hellfest, et de la plupart des grands du métal français (Loudblast, SUP, Sidilarsen, etc).
En 2021, Psykup sort son cinquième album (discographie in fine) :
"HELLO KARMA!"
L'Album :
"Hello Karma!" est un douze pistes pour environ quarante-quatres minutes.
Mixé par Fred Duquesne (Mass Hysteria, Watcha, No One Is Innocent) il a été masterisé par Thibault Chaumont (Trepalium, Klone)

Planifiée sur huit jours, la durée de l'enregistrement a été ramenée à trois jours seulement en raison du contexte sanitaire, obligeant le groupe à s'adapter coûte que coûte.
Il est servi par le clip d'animation "Lucifer Is Sleeping", réalisé par Nicolas Leroy, qui a notamment travaillé avec Ultra Vomit pour le clip animé "Le Train Fantôme".
L'artwork, signé Jouch, graphiste et guitariste/chanteur du groupe de prog' toulousain Naïve, (https://www.jouch.com/), représente deux personnes allongées dans des rocking chair devant un champignon atomique. Au verso, la photo au filtre tout aussi orangé d'un couple faisant un selfie tandis qu'il se baigne en masque et tuba sur fond de centrale nucléaire.
Julien Cassarino en explique ainsi l'intention à https://chairyoursound.com :
« Le monde est en crise sanitaire, écologique et humanitaire. Il nous paraissait essentiel d'en parler, toujours avec un certain décalage. "Hello Karma!" est un lanceur d'alerte pour nous tous, Psykup y compris : à nous de regarder plus loin que notre nombril. »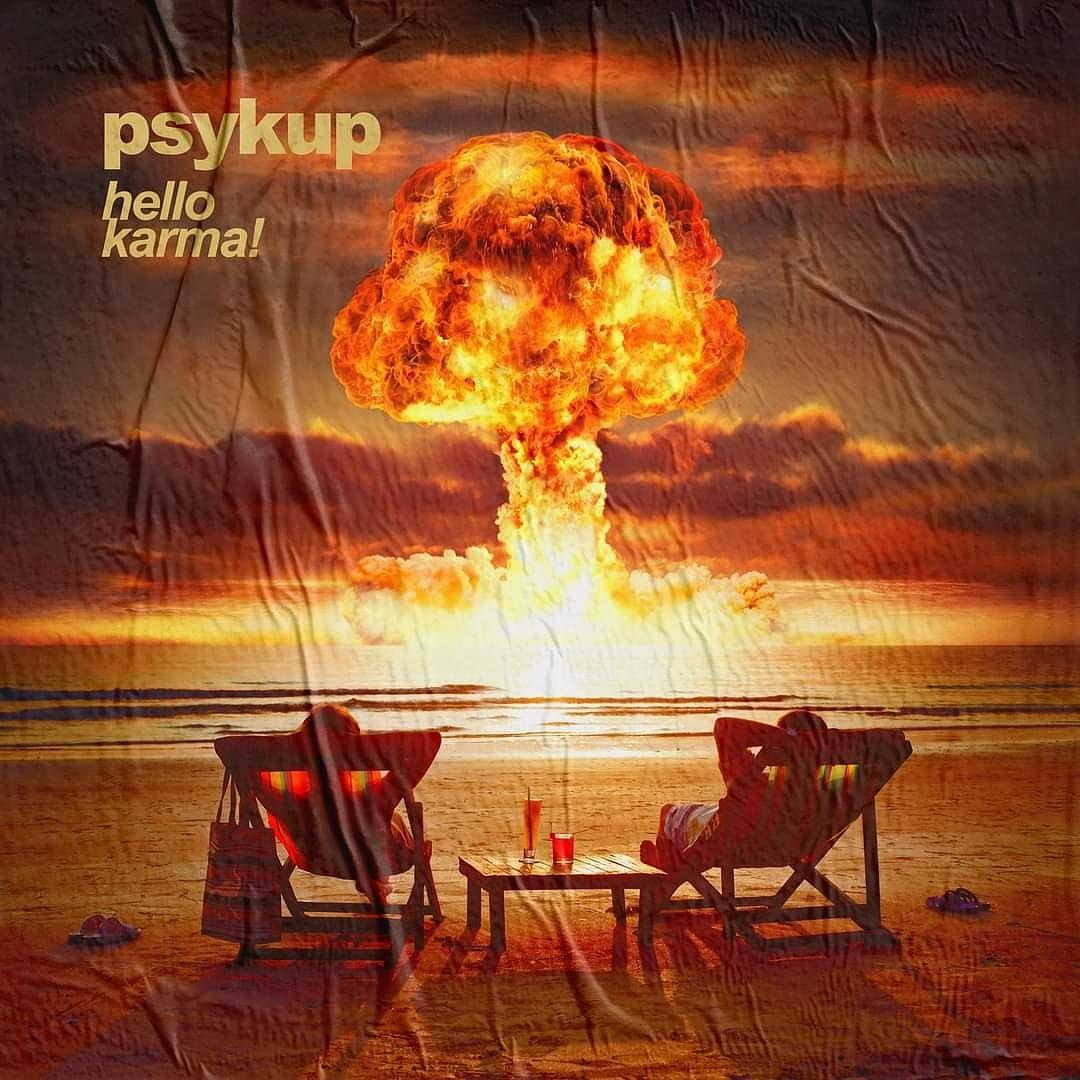 PSYKUP, "Hello Karma!" (2021)
Sur le travail de composition, le groupe explique :
« Pour l'album "We Love You All", on était partis très loin, trop loin, dans les expérimentations. Et avec le recul, on s'est rendu compte que ça rendait l'album un peu indigeste. Donc, quand on a recommencé à jouer ensemble, on s'est mis d'accord sur l'idée qu'il fallait composer une musique plus épurée, plus efficace. »
http://www.heretik-magazine.fr
Julien Truchan (Benighted) apparait sur le titre "Nice To The Bone".

Le titre "Letter To Greta" est une lettre ouverte à Greta Thunberg.
Les Critiques :
"Un tourbillon de riffs qui donneraient la jaunisse à Billie Joe Armstrong."


https://www.coreandco.fr

"Franchement, Psykup, c'est des barjots…"


http://metal-eyes.com

"Si la masturbation a échoué, que tu t'es encore endormi devant Attrapes-moi si tu peux, et que ta lettre à Greta n'a rien donnée, ouvres Hello Karma, mets cet album dans ton mangedisques (oui même si il est cassé) et laisses-toi emporter par cet exutoire totalement jubilatoire."


https://www.auxportesdumetal.com

"Leur travail de déconstruction des codes du genre est d'une précision diabolique."


https://www.musicwaves.fr

"Des morceaux déjantés et déroutants, mais le tout avec une sacrée maîtrise et tout cela s'enchaîne presque naturellement."


https://mad-breizh.com

"Douze titres, passionnant de noirceur, douze trips bien barrés, qui forment un tout à l'efficacité inattendue. Une grosse baffe…"


https://lust4live.fr

"Moins jusqu'au-boutiste, toujours hors de sentiers battus. Mission accomplie."


https://www.guitarpart.fr

"Les titres, les textes, les thèmes, les idées d'arrangement ponctuelles, la présence d'un accordéon et une introduction à l'influence klezmer, des chœurs angéliques sur des textes salaces ou encore certaines mélodies absurdes sont autant d'éléments à la fois grotesques et captivants qui nous prouvent qu'en dépit des années et d'un style exigeant, Psykup n'a rien perdu de son mordant, de son cœur, ni de son humour à la gaieté communicative."


http://www.radiometal.com
Notre Avis :
S'il fallait résumer notre point de vue sur "Hello Karma!" par une image, ce serait celle du loup de Tex Avery dont la mâchoire se décroche face à Betty Boop. Car tout est impressionnant dans cet album, barré certes, mais barré de main de maître. Sa virtuosité laisse pantois et ses douze pièces foisonnantes mises en boîte en seulement trois jours échafaudent une fantasia permanente. Déjanté et accrocheur, "Hello Karma!" est une leçon de métal bondissant, brillant à l'extrême sous ses allures badines. A classer dans le "Big Four" de la scène moderne : vous n'êtes pas prêts de venir à bout des détails cachés dans son métal-cartoon.
Discographie :
Sors La Tête (EP – 2001)
Le Temps De La Réflexion (2002)
Acoustiques & Remixes (EP – 2004)
L'Ombre Et La Proie (2005)
We Love You All (2008)
Ctrl+Alt+Fuck (2017)
Live In Bikini (Live – 2018)
Hello Karma! (2021)
Les Liens :