OVTRENOIR
Groupe : O V T R E N O I R
Album : Fields of fire (disponible le 23 octobre 2020)
Genre : Post Metal / Post Hardcore / Cold Dark (?)
Influences : The God Machine, A Storm Of Light, Breach, Cult Of Luna
Origine : Paris
Par Pépé St@kaTTo
Line-up
William Lacalmontie - Guitar, Vocals (Throane)

Dehn Sora - Guitar, Backing Vocals, Drones, Theremin (Throane / Treha Sektori)

Julien Taubregeas - Drums (The Great Divide / Throane)

Angéline Seguelas - Bass, Backing Vocals (Throane)

Olivier Dubuc – Guitar Live (Throane / ex The Last Embrace Band)
Le Groupe
Ovtrenoir, dont le nom fait initialement penser aux œuvres abstraites du peintre Pierre Soulages* et à son usage des reflets de la couleur noire, « noir-lumière » / « l'outrenoir » est un groupe de Post Metal.
Son nom tout trouvé, le ton général est donné : il sera sombre, atmosphérique, mélancolique et brutal. Tout comme « le contraste violent avec le noir et le blanc sur l'entière surface de la toile *», les morceaux d'Ovtrenoir chercheront en permanence à trouver cet équilibre d'ombre et de lumière.
A son origine trio Post Rock acoustique le line-up du groupe sera finalisé en 2015 avec l'arrivée du 4ème membre le graphiste et musicien Dehn Sora, rejoignant ainsi le photographe William Lacalmontie (guitare et chant), Julien Taubregas (batterie) et Angeline Seguelas (Basse). Ovtrenoir va ainsi se doter d'un son beaucoup plus massif, épais et saturé et s'atteler à la composition de son 1e EP.
C'est chose faite en 2016 avec « Eroded » et son single « Inherit the dust ». L'album à la très belle pochette noire et blanche (Dehn Sora) enregistré et mixé au Studio Sainte-Marthe par Francis Caste (Hangman's Chair, Regarde Les Hommes Tomber, Comity), sortira sur le label belge Consouling Sounds.
Ce premier album de cinq titres est massif et homogène, avec des morceaux riches en ambiances multiples et aériennes (tantôt Sludge, Doom, Hardcore voire Dark Ambient). Les guitares omniprésentes sont fortes en distorsions et fuzz, appuyées par une basse sourde et une batterie qui distille des tempi bas et enveloppés, le chant à la voix hurlée légèrement en retrait est quant à lui primaire, puissant et animal.
Le potentiel du groupe parisien est énorme et les compositions riches de par leurs architectures font ainsi de ce 1er album une réussite.
La discographie
Single « Inherit the dust » (2018)

CD « Fields of fire » (2020)
Quelques faits d'armes …
Espace B avec Rosette & North - Paris (2017)

OTB Fest au Glazart avec Jaye Jayle / Emma Ruth Rundle / Dälek – Paris (2017)

Avec Dirge & Throane : Farmer de Lyon, Ferrailleur de Nantes, Raymond Bar de Clermont Ferrrand, La Machine à Coudre de Marseille, Bifröst de Rouen (2018)

Au Point Ephémère avec Rosetta & Wiegedood - Paris (2018)

Roadburn Festival de Tilburg - Pays-bas (2019)
Le nouvel album
Le deuxième album du groupe qui sortira le 23 octobre 2020 très attendu par les fans devrait constituer pour Ovtrenoir l'épreuve ultime du feu et j'en suis persuadé sa consécration.
OTVRENOIR, Files Of Fire - artwork Hideyuki Ishibashi et Dehn Sora.
Ce nouvel opus de sept titres d'une quarantaine de minutes prénommé « Fields of fire » a comme le premier EP également été enregistré et mixé au Studio Sainte-Marthe par Francis Caste et toujours distribué par Consouling Sounds. Artwork de l'album avec des photos de Hideyuki Ishibashi et layout de Dehn Sora.
05. Those Scares are Landmarks
06. I Made My Heart A Field Of Fire
A la première écoute je retrouve cette ambiance ténébreuse et lourde d' « Eroded », sensation froide et glaçante que j'ai pu éprouver en découvrant les albums « Seventeen second » et « Pornography » de The Cure dans les '80, cette impression d'errer seul par une nuit sans lune dans une dimension irréelle, de sombrer en plein brouillard pour finalement se perdre dans un marécage de mélancolie sombre et humide, entouré de sons glauques et enveloppants.
Ovtrenoir c'est tout cela à la fois … de « Phantom Pain » qui démarre son intro par un riff entêtant, à « Wires » qui enchaine le deuxième morceau sur un tempo plus rapide et un début de chant guttural dès la première mesure, les minutes défilent sans être lassantes.
Le troisième morceau de 8'23 « Echoe » commence tout en douceur sur des « drones », marque de fabrique du Post rock et savamment utilisés par Ovtrenoir. Les riffs de guitares se répondent dans une ambiance lourde et pesante, le chant toujours aussi lancinant se veut moins hurlant que sur le précédent album mais reste bien mis en avant. La cassure au milieu du morceau permet de relancer avec plus de puissance la deuxième partie.
Vient ensuite « Kept Afloat » ce morceau acoustique (le plus calme et le plus lent de l'album) semble évoquer un rêve avec une voix détachée posée sur des nappes d'accords de guitares dronés (en open), sorte d'écho d'une conscience libérée … Charon attend votre obole et en échange vous fera traverser le Styx et enchainer sur « Those Scares are Landmarks » véritable hymne aux cicatrices de la vie.
« I made my heart a field of fire » qui donne son titre à l'album est lui aussi bien lourd et oppressant, avec une sensation de « destruction massive » de feu et de cendres.
Le dernier morceau « Slumber » est quant à lui hypnotique avec des paroles qui tournent en boucle et, loin de nous faire basculer dans un sommeil profond nous rappelle juste qu'après le chaos et l'obscurité vient la lumière et la renaissance …
Un excellent second album pour les amateurs de Post Metal (Cold Dark ?), ce style de musique au premier abord déconcertant (tempo bas, gros murs du son, riffs de guitare abrasifs, percutants mais toujours très mélodiques, grosse caisse bien sourde et forte appuyée par une basse percutante, voix rugissante et grave) demande plusieurs écoutes pour en cerner toutes les nuances et en ressentir toutes les subtilités.
Une véritable toile de maître qui m'a permis de découvrir le Post Metal et Ovtrenoir et qui j'espère piquera à votre tour votre curiosité…
Matoscope
Guitares : Ibanez AS103BM Exotic Explorer & LTD Eclipse Deluxe EC 1000

Amplis : Peavey xXx (Cab Marshall) & Orange

Effets : pédales BOSS (DD20 - RV6) & ZOOM (G3)…
- Fields Of Fire sera disponible le 23 Octobre 2020 -
Sa release-party, quant à elle, se déroulera le vendredi 06 novembre 2020 au Bus Palladium (Paris).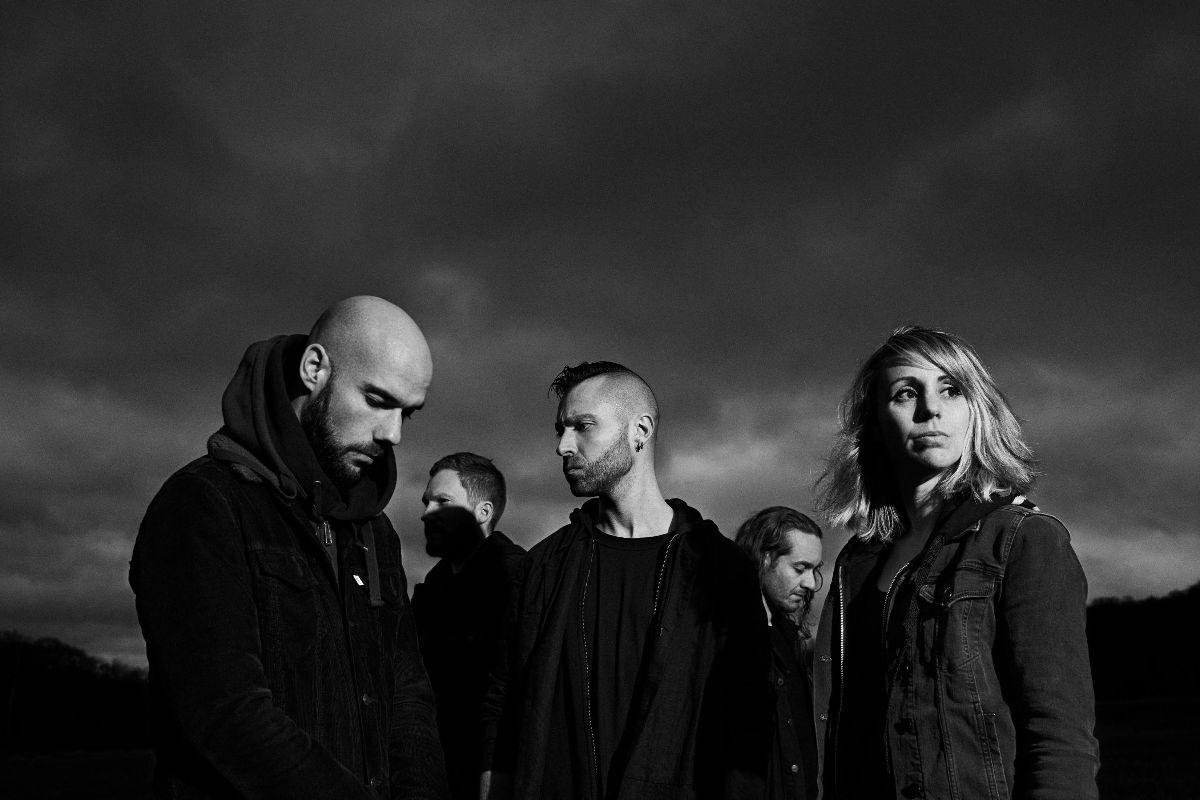 Photographie © David Fitt