JUNON
Groupe : JUNON
Album : "The Shadows Lenghten" (EP - 09/02/2021)
Genre : Post Metal
Origine : Béthune
Par Ahasverus
Le Groupe :
Junon est né des cendres de General Lee, formation originaire de Béthune auteur de sept opus entre 2003 et 2015.
En 2015, General Lee décide de mettre un terme à sa carrière.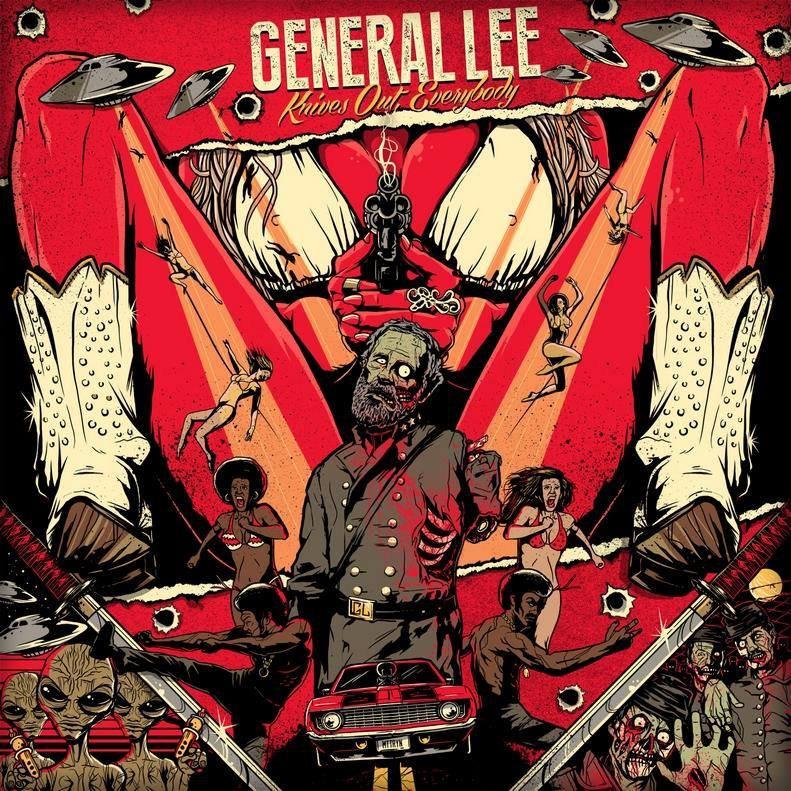 "Knives Out Everybody !" (2015), dernier album de GENERAL LEE.
Arnaud s'en explique dans une interview à https://cacestculte.com :
"C'était en juin 2016 avec notre dernier concert au club de l'Aéronef de Lille. Un split que l'on croyait définitif et qui s'est lentement transformé en pause à durée indéterminée, plus que nécessaire afin de recharger les batteries et retrouver l'envie de cramer de nouveau des amplis après 15 ans d'activité non-stop."
Concernant l'univers de Junon, il explique à http://www.heretik-magazine.fr
"cet EP condense en quatre titres les différentes facettes du groupe : entre explosions Hardcore, envolées post-rock et toujours cette bonne dose de mélodies salvatrices et déchirantes, le tout soutenu par une palette de chants plus variés et aux textes inspirés par la littérature fantastique (Poe, Lovecraft…) et par le combat perpétuel de la planète face aux attaques répétées de ses hôtes."
Le line-up de Junon est constitué de Alex Renaux, Fabien Zwernemann et Martin Catoire (guitares), Arnaud Palmowski (chant), Florian Urbaniak (batterie) et Vincent Perdicaro (basse).
Le nom de Junon est une référence à un morceau de General Lee présent sur le premier EP de la formation, "The Sinister Menace".
En 2021, Junon présente son premier EP :
"The Shadows Lenghten"
L'Album :
« The Shadows Lengthen » est un quatre titres d'environ dix-neuf minutes.
JUNON, "The Shadows Lenghten" (EP - 2021)
Enregistré en trois jours "The Shadows Lenghten a été mixé et masterisé au Boss Hog Studio par Clément Decrock, premier batteur de General Lee.
« The Shadows Lengthen » est soutenu par le clip "Carcosa, tourné dans le cadre du FRAC (le Fond Régional d'Art Contemporain, autant dire le musée d'art moderne de Dunkerque).
Les Critiques :
"Ces quatre années de pause ont été une bonne chose pour Junon, dont la motivation est désormais aussi intense que le son."


https://actainfernalis.com

"Je le dis HAUT et FORT j'ai pris une claque avec ce premier opus de Junon."


https://www.bgpmusiclive.com

"L'une des plus belles sorties de ce début d'année !"


https://rstlss.com

"Les quatre titres font étalage de tout le savoir-faire du groupe."


https://amongtheliving.fr

"Junon a du talent à revendre, ce EP nous le prouve."


https://www.auxportesdumetal.com

"Un EP tout bonnement magnifique de la première à la dernière note."


http://www.emaginarock.fr

"Un EP excellent qui permettra aux fans de General Lee de se rassurer et aux nouveaux fans d'avoir un avant-goût de ce qui approche : du très très lourd ainsi que du très très planant."


https://allrock.fr
Notre Avis :
"Rude Awakening", c'est ainsi qu'aurait dû s'appeler cet EP qui botte le cul ! Ce qui est clair, c'est que "The Shadows Lenghten" donne envie de se lacher au niveau du son, histoire d'éduquer ses voisins avec un cours de post-metal. Vous l'aurez compris et tous les zines l'affirment : les quatre titres de "The Shadows Lenghten" envoient du lourd et sont une belle illustration d'un genre de métal à la fois explosif et planant. Les mecs de feu General Lee ont retrouvé la niaque, ils vous la déclinent en quatre leçons.
General Lee s'appelle maintenant Junon, son retour avec cet opus bluffant ne passe pas inaperçu.
La Discographie :
Junon : The Shadows Lenghten (EP - 2021)
Junon : Carcosa (single - 2020)
General Lee : Kinves Out, Everybody ! (2015)
General Lee : Split w/ Euglena (Split - 2014)
General Lee : Roads (2010)
General Lee : Hannibal Ad Partas (2008)
General Lee : Split w/ As We Bleed (Split - 2004)
General Lee : The Sinister Menace (EP - 2003)
Les Liens :